Nothing is too far for team US Racing, when it comes to drag racing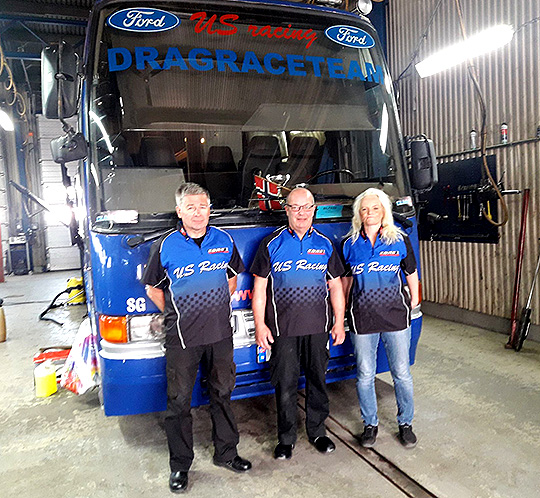 Team US Racing is right now loading their buss for a long trip around Scandinavia. Super Gas driver Christer Uhlin who sits behind the wheel in the bus and in the blue and silver coloured Ford Fairlane he´s racing, always start the race trips from Malvik outside Trondheim Norway.
Team US Racing does not ever hesitate to go as far as it takes to hit a dragstrip. One example is a 10 hours drive to get to Tierp Arena in Sweden and they have´nt missed a race.
Now, when the racing season is a bit awkward and we just can offer a short and unsure series, Christer have decided to take his own Scandinavian tour. No one remembers a coward.
Team US racing starts in Malvik to take the trip up north to pass the Norwegian/Finnish border and then south to Kauhava for the august event.
– Then we continue thru Finland to Helsinki and take the ferry to Estonia and the Haapsalu event, says Christer. From there the ferry over to Sweden and then straight to Norway, without a stop. Then we do not have to stay in quarantine when back in Norway. This trip is going to be about 4000 km in all and it going to take us 2-3 weeks to fulfil.
Then they go back home to pick up Marit (Christers girlfriend) and turn around for the Gardermoen event in september, as a final run for the team this year.
This big enthusiasts do not give in on drag racing. Is there an opportunity the team does not hesitate! Miles is not a problem.
– Racing is life! Says Christer.
We wish them all luck in this three countries event trip!
Photo credit: US Racing/Lena Perés