Just before lock-down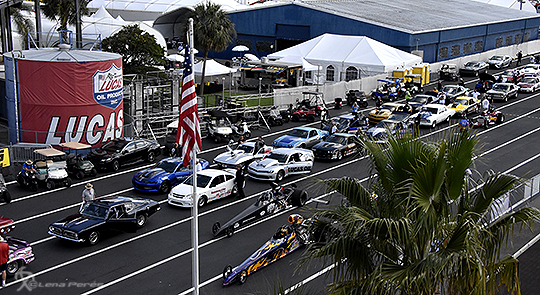 In these troublesome times, we need to try to look for and appreciate some of the positive things, and here is a report from the other side of the Atlantic before everything started going on a lock-down.
It wasn't what we had planned for and it turned into an odd and remarkable experience. We, Helene Rapp, Anette Heleander, Eva-Karin Brinell and Lena Perés travelled to Gainesville, Florida, for attending and working at the third NHRA drag race of the season, the Amalie Motor Oil Gatornationals. Everyone was fired up for this race, teams as well as track crews together with a big audience from around the world. Though with only a few hours notice, the event was called for a postponement on Thursday, the first day of sportsman racing.
Everything was set for a fantastic race weekend with all the professional and sportsman teams on site when the news of the postponement was made public on Thursday morning. Many visitors from Europe were present and the people in our group were set up to work at the event.
"We got the message when we were on the way to the track on Thursday morning", says Annette Heleander who would have worked with the NHRA Safety Safari all weekend, "it felt like the wind got knocked out of us. We were of course very charged up for this weekend and had planned this trip for a long time".
On the Wednesday, all trailers were in place and the teams all set and ready to race, but on arriving Thursday morning, most professional category drivers had left the pits. Some teams remained and were noticeably dissatisfied with the situation. They would have liked to run event race in front of empty bleachers since they were already on site. Racers are a problem-solving species though and pretty soon many had found alternate activities such as going off on an air boat excursion or making for a family weekend with other pleasantries.
Good enough, we ran into a well-known Swede and two-time NHRA TAFC champion Jonnie Lindberg who had flown into Gainesville for the day to build a seat for nitro Funny Car ace Tim Wilkerson.
"A great job", said Jonnie, "too bad I don't have time to stay and hang out, I have far too much to do in the shop and have to travel home already tonight".
That's a nice situation to be in, having the talent and the network in the racing business and we're happy for Jonnie in his success in his US venture.
Other well-known racers for Swedes are Bo Butner and his partner Randi Lyn Shipp who were also on site. Randi of course competing in Stock Eliminator and Pro Stock driver Bo who did a season in Europe a couple of years ago and did like it very much. We hope to see them both back in Europe in the future.
Though the postponement of parts of the event, there was racing on Thursday and Friday with the sportsman classes running in front of empty bleachers. We met up with Stig "StigO" Olsson from Sweden who's competing in a number of NHRA races with his front-engined dragster in Competition Eliminator. Unfortunately, Stig went out in the first elimination round against Randy Daniels at this event.
"So far, things haven't been going well at all," Stig says, "three events and not a single solid run so far. We have lost the settings window and have no good ideas as how to get back in there. Now we're packing up and are looking for flights back home to Sweden, which can be tricky as most departures to Europe are cancelled".
Stig and Bente made it home OK and can now plan for a season here in Sweden which we hope will not be too limited in its scope.
On the weekend before Gainesville, there was the now famous and inaugural Drag Illustrated World Doorslammer Nationals, a huge big dollar shoot-out race for Pro Stock and Pro Mod cars. It was contested at Orlando Speed World Dragway just a few miles east of Orlando. It made for very good racing and in retrospect it really made up big time for the disappointment of the loss of this years Gatornationals.
We found a few Sweeds at this event also, offcourse! Pro Mod-team Kunc and Micke Gullqvist was on site. And we also found a long lost Pro Modified friend. Bruno Bader was on site working in a sportsman team, and he got plans for FIA European dragracing season. 
The idea of running a race like this was the brainchild of Drag Illustrated founder and editor Wes Buck together with Richard Freeman of Elite Motorsports and Orlando Speed ​​World Dragway owner Ozzy Moya. After some fine tuning of the logistics and planning there was a great number of the world's quickest and fastest NHRA doorslammers in attendance. All of 18 Pro Stock and 33 Pro Modified teams were in place to shoot it out for $75 000 and $50 000, respectively. The track conditions were outstanding, resulting in the fastest NHRA-legal Pro Modified field in history. Justin Bond ran the quickest Pro Mod time ever with 5.623 seconds in qualifying. It made for a 16-car ladder with ETs between 5.623 for #1 Bond and 5.739(!) for Steve Matusek in the #16 spot.
With that event under our belts, our travel group got to experience a positive and historical drag race. Though in all this trip of course did not turn out as planned, but we all got back home safe and sound. We expect to come back sooner than later. Now, be safe out there!
See you at a track somewhere soon!