Drag Challenge with first time winners
Ida Zetterström made history by claiming the victory in Super Street Bike at Gardermoen Raceway, being the first female rider to win a race in the EDRS Pro Nordic Motorcycle Championship SSB category. Greger Johansson was the winner in Super Twin Motorcycle, and after a difficult start of the season, it was a well-deserved win for the Swedish rider who also recorded the quickest elapsed time of the event with 6.90 seconds in the semi-finals. For Thomas Pettersson the victory in Top Fuel Motorcycle at the Drag Challenge was also his first win of the season and a major step towards another EDRS Pro Nordic MC title. In Super Comp Bike Peter Svensson took the win, while in Super Gas Bike Jonathan Edwards was a very happy winner.
The Drag Challenge at Gardermoen Raceway in Norway was the third round of the EDRS Pro Nordic Motorcycle Championship. The riders from the FIM Europe European Drag Bike Championship who attended the first two rounds of the EDRS Pro Nordic MC were not at Gardermoen, and although that was of course a pity, racing was once again exciting and in some cases full of surprises. And the riders who were not at Gardermoen missed the opportunity to make many runs on an excellent track. After three days of bright sunshine with high temperatures, it was a bit cooler on race day at Gardermoen's 2019 Drag Challenge. The track crew did an excellent job again in preparing a great track under all conditions. With six qualifying runs for Top Fuel Motorcycle, Super Twin Motorcycle and Super Street Bike, and no fewer than eleven qualifying runs for Super Comp Bike and Super Gas Bike, nobody had a reason to complain about lack of track time.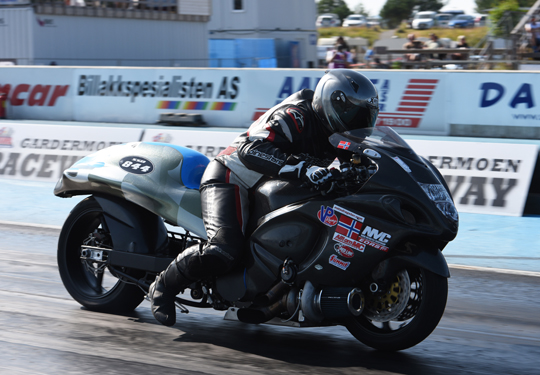 Super Street Bike
In qualifying Mathias Bohlin claimed the number one qualifying position with a great 7.12 seconds. But it was not a trouble free qualifying for the reigning champion as he had to swap engines after he damaged the engine he started qualifying with.
Ida Zetterström wanted to delete the bad Gardermoen memories she had after last year's crash of her boyfriend Kim Hilander and made a good start with that by recording the second quickest time with 7.15 seconds.
Championship leader Vesa Ruhanen was third with a far from perfect 7.24 seconds, with Anders Blanck fourth (7.36 seconds) and Björn Friström fifth (7.40 seconds). Local hero Dag Wagenius suffered persistent gear shifting problems and was seventh, behind Kimmo Pulakka, but in front of Ole Jonny Johnsen.
In the first round of eliminations Friström took a holeshot win over Blanck, while Ruhanen was back to form with a stunning 7.01 seconds elapsed time to defeat countryman Pulakka. Wagenius had solved most of his shifting problems, but it was still not enough to threaten a winning Zetterström. In the semi-finals Zetterström had to face championship leader and the this season undefeated Ruhanen. While Ruhanen suffered some wheelspin at the start line, Zetterström stormed to a winning 7.28 seconds and advanced to the final for the second consecutive race this season.
In the other semi-final Bohlin defeated Friström, thus the numbers one and two qualifiers had to face each other in the final. Zetterström had saved the best for the last, as in the final the Finnish rider stormed to a new personal best of 7.10 seconds to defeat Bohlin (7.18 seconds).
Zetterström is the first female rider to win a race in the EDRS Pro Nordic MC Super Street Bike category. With her win Zetterström reduced the gap in the championship standing to Ruhanen to 15 points, making the final race at Tierp even more interesting.
Super Twin Motorcycle
Although he suffered all kinds of mechanical problems and the 7.03 seconds was far away from his personal best, Svein Olav Rolfstad gave the home crowd something to cheer about with a number one qualifying position.
Torsti Kettula was second, with Trond Høiberget third and Erling Opheim fourth. Greger Johansson's problems from the start of the season continued as the Swede was fifth, with Kristin Hegre sixth and Teemu Kettula seventh.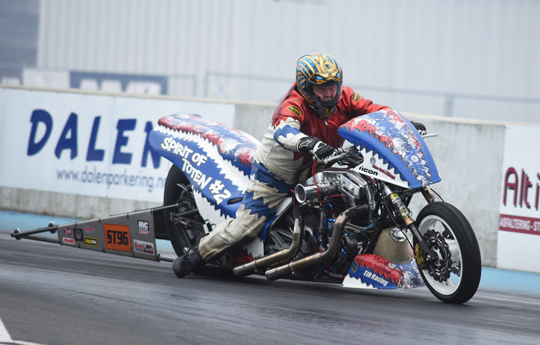 In the quarter finals Hegre surprised with a win over Høiberget, while Torsti Kettula improved to a great 7.04 seconds to defeat Teemu Kettula. On the other side of the ladder Rolfstad had a bye run in the quarter finals, and Johansson as well when Opheim was not able to start.
In the semi-final Johansson was back to form with a great 6.90 seconds, the quickest elapsed time of the event, to defeat Rolfstad, who suffered mechanical problems. Kettula advanced to the final after a win over Hegre.
In a great final Kettula was away first, but Johansson had the better run and claimed the win in 7.06 seconds vs the 7.77 seconds for the Finn.
Top Fuel Motorcycle
Top Fuel Motorcycle had only three entrants at Gardermoen. It was not a major surprise that Jan Sturla Hegre claimed the number one qualifying position with 6.46 seconds. Thomas Pettersson was once again far more consistent and with a great 6.60-second pass only marginally slower.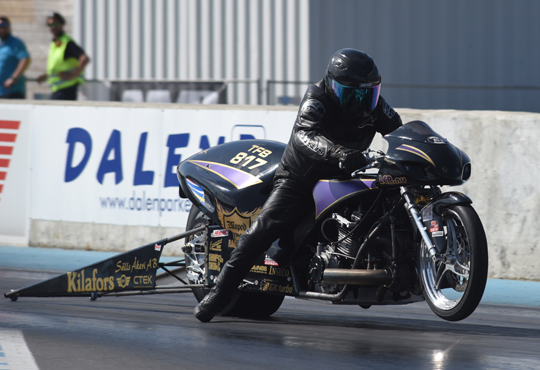 In the semi-final Pettersson improved to 6.59 seconds to defeat number three qualifier Hans Eriksson. In the other semi-final Hegre had a bye run and recorded 6.53 seconds. With a marginally quicker Hegre facing a more consistent Pettersson, the final could have been close.
But Hegre had suffered engine damage in the semi-final and couldn't come back for the final, handing the win to reigning champion Pettersson, who is also the new leader in the championship standing.
Super Comp Bike
With no fewer than four riders within 0.005 seconds of each other, qualifying in Super Comp Bike was extremely close. Tomas Jonsson claimed the number one qualifying position with an almost perfect 8.502 seconds in this 8.5-second index category.
Per Olsen was second with 8.503 seconds (!), Kjell Aagnes third with 8.504 seconds (!) and championship leader Peter Östlund fourth with 8.507 seconds (!).
There was a bigger gap to number five Rasmus Östlund (8.53 seconds), while Peter Svensson, Kathrine Wagenius and Emil Östlund, the numbers six, seven and eight, were also still in the 8.5 seconds.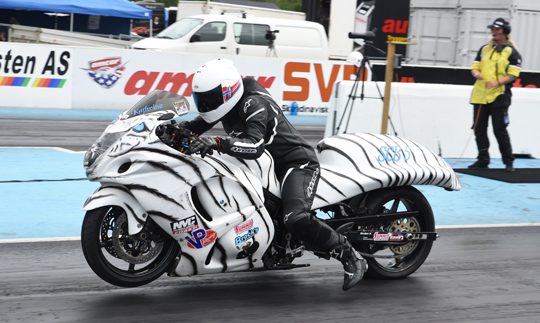 Although in eliminations everything is possible, especially in index classes, it was number one qualifier Jonsson who advanced to the final after a bye run and wins over Rasmus Östlund and Wagenius, although that last win was a close one.
On the other side of the ladder Svensson surprised with a win over Peter Östlund in the quarter finals, to advance to the final with a bye run in the semi-final.
In the final Svensson surprised again as the number five qualifier was away first to record a great and winning 8.53 seconds to defeat number one qualifier Jonsson (8.62 seconds).
Super Gas Bike
In Super Gas Bike qualifying was also exciting, but not in the way we want to see it. Malin Johnsen, Tore Hanzal and Linda Horne made a high wheelie, lost control of their bikes and crashed. With a painful ankle and a dislocated shoulder, the injuries were not that bad, but still it was not what we want to see and all three riders had to withdraw from eliminations. We hope to see the three riders back on track as soon as possible and wish them a speedy recovery.
Bo Sorensen claimed the number one qualifying position with 9.51 seconds, with Heikki-Juhani Koskinen in second position with 9.55 seconds and Jonathan Edwards third (9.56 seconds).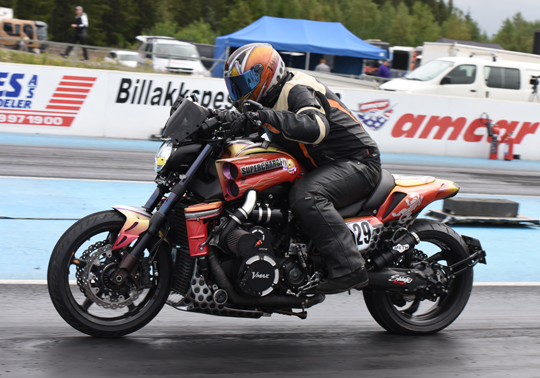 In eliminations Sorensen was surprised in the quarter finals by number ten qualifier Wille Skinnars, who advanced to the final after a bye run in the semi-final. On the other side of the elimination ladder Edwards took a holeshot win over Koskinen in the semi-final to advance to the final.
In the final Skinnars couldn't surprise again and so Edwards claimed his first win.
The EDRS Pro Nordic Motorcycle Championship continues August 22-25 with the final race of the season, the Summit Racing Equipment Internationals at Tierp Arena.
All the results of the Drag Challenge can be found here: https://ndrg.no/eliminations-4-august-2019/
For the points standings after the Drag Challenge see: https://www.dragracingeurope.eu/edrspro/wp-content/uploads/sites/5/2019/03/NM-POINTS-2019-RD3.pdf
More photos of the Drag Challenge: https://www.dragracingeurope.eu/edrspro/gardermoen-nor-1-4-august-2019/