Winners crowned at Gardermoen Drag Challenge
After four days of great racing it was celebration time for the winners of the Summit Racing EDRS Series categories at Gardermoen Raceway. In many classes the racing was exciting with several surprises and in some cases the reaction times were decisive.
After three days of bright sunshine with high temperatures, it was a bit cooler on race day at Gardermoen's 2019 Drag Challenge. The track crew did an excellent job again in preparing a great track under all conditions. Several track records were reset and with 11 qualifying runs in three days in almost all categories (and six in Pro Modified), nobody could complain about lack of track time.
In Pro Modified Michael Gullqvist was the number one qualifier with a great 5.91 seconds, with Jan Ericsson in second position with 5.93 seconds. But Gullqvist had to withdraw from eliminations after he suffered rear axle damage in qualifying. Qualifying ended even worse for Olof Andersson as the Swedish driver went into the sand trap at the end of the track and severely damaged his orange Chevy.
Here the pictures of all finals and podiums of the Summit Racing EDRS Series categories at the Drag Challenge. All winners are on the left on the podium
Pro Modified, winner Jan Ericsson, runner up Lars Järpler (far lane)
Competition, winner Björn Johansen (far lane), runner up Lars-Georg Johansson
Pro Street, winner Michael Maderer (far lane), runner up Seppo Raussi
Super Pro ET, winner Mikael Nilsson (far lane), runner up Emil Höglund
Pro ET, winner Tore Johannessen, runner up Björn Terje Nordin (far lane)
Super Comp, winner Mats Wanvik (far lane), runner up Elin Aarvik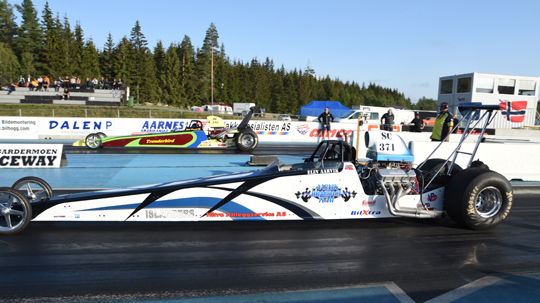 Stock/Super Stock, winner Thomas Strand (far lane), runner up Björn Bondesson
Super Gas, winner Christer Uhlin, runner up Bent Arild Strøm (far lane)
Junior Dragster, winner Håvard Kongshem, runner up Christian Emilsen-Langø (far lane)
ET Street Bike, winner Arve Myrbostad, runner up Asgeir Hoel (far lane)
Junior Bike, winner Oliver Amundsen, runner up Hanna Amundsen (far lane)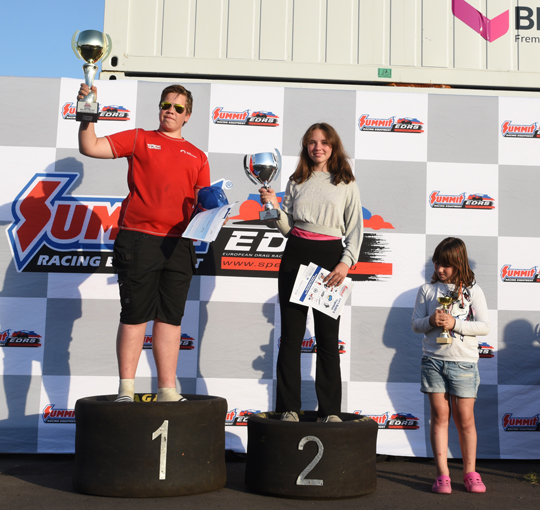 For all eliminations results see: https://ndrg.no/eliminations-4-august-2019/
For all qualifying results see: https://ndrg.no/results-3-august-2019/