Filippos Papafilippou, Marcus Christiansen, Kalle Lyrén and Mathias Bohlin number one qualifiers at EDRS Pro Nordic MC season-opener
Filippos Papafilippou (Top Fuel Motorcycle), Marcus Christiansen (Super Twin Motorcycle), Mathias Bohlin (Super Street Bike) and Kalle Lyrén (Pro Stock Motorcycle) claimed the number one qualifying positions at the Tierp Internationals at Tierp Arena and will lead their respective categories into Sunday's eliminations at the season-opening round of the EDRS Pro Nordic Motorcycle Championship.
Sunny and great weather conditions at the second day of qualifying for the Tierp Internationals, round one of the EDRS Pro Nordic Motorcycle Championship at Tierp Arena.
In Top Fuel Motorcycle Filippos Papafilippou, from Greece, stormed to a stunning 5.78 seconds to claim the number one qualifying position. Friday leader Rikard Gustafsson improved to a great 5.85 seconds, but dropped into the number two position, with reigning champion Thomas Pettersson third.
In Super Twin Motorcycle number one qualifier Marcus Christiansen couldn't improve on his Friday performance but the 6.42 seconds was enough to remain in the number one position. There was a major improvement for Tommy Grimes who recorded a great 6.46 seconds to claim the number two position. Gert-Jan Laseur stormed to 6.72 seconds and jumped from outside the elimination ladder into the number three position. Harri Piensalmi is fourth (6.733 seconds) closely followed by Samu Kemppainen with 6.739 seconds. The top ten qualifiers all recorded an elapsed time in the 6 seconds.
In Super Street Bike Mathias Bohlin (6.95 seconds) and Ida Zetterström (7.11 seconds) couldn't improve their Friday numbers, but the two riders remained in the numbers one and two positions. Anders Blanck improved to 7.20 seconds to claim the number three position, with Bjorn Friström fourth and Vesa Ruhanen fifth.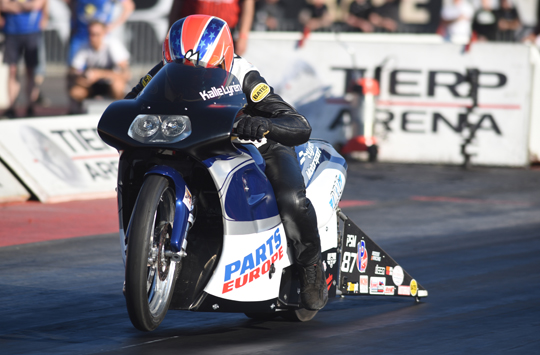 In Pro Stock Motorcycle Kalle Lyrén improved to a great 6.97 seconds to claim the number one position, with Fredrik Fredlund close behind with 7.01 seconds. It will be a close fight in eliminations between these two riders.
Super Comp Bike had its first elimination round on the Saturday. There were no qualifying round for Super Gas Bike on the Saturday.
Eliminations for the Tierp Internationals will start tomorrow morning.