Welcome back to FIA European Championship Adam and Dmitry
We welcome Adam Flamholc back to Europe as he is going to contest the 2019 FIA European Pro Modified Championship. This year it will be in a two-car team together with Dmitry Samorukov out of Russia who will race a freshly built Camaro. The two cars are soon to be shipped to Europe after going some test rounds in the US.

-Another busy and fun season is around the corner", says Adam. "The last three seasons I've been working with SMP Racing in Russia as well as helping customers in Europe and in the US, and at the same time I've been racing my -63 Corvette. I really enjoy working with my friends in Russia and helping other teams, but because of all these commitments I haven't been able to race a full series more than twice in my 25 years of racing. That might change the way things look now.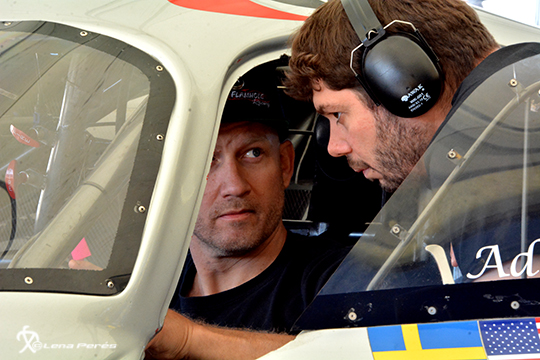 Adam and Dmitry have been working close the last three years, and now they moving to the next level going to Europe for a full FIA Pro Modified season together.
The Flamholc Racing crew together with Chris Duncan have worked hard on Adams Dan Page-built Mustang, to make it legal for racing under the NHRA and FIA sanctions. Chris Duncan Race Cars was contracted to build the brand-new Camaro -68 for Dmitry Samorukov. Two new engines have been built at the Flamholc Racing shop in Cape Coral, with two new superchargers from Mike Janis of Jan-Cen racing Engines.
-The first test for the Mustang was in February and it felt good", says Adam. "And at the NHRA winter warm-up in Orlando first weekend in March we went 5.86s with the Pro Mod Mustang and 3.80s with the Corvette.
Adam is now getting ready for the 50th anniversary of the Gatornationals next weekend!
-Hopefully it will be a good learning experience for us to race against the best Pro Mod teams in the world! Says Adam.
A couple of weeks later it will be time to take Dmitry's new Camaro to the track for the first time for testing, and then ship both cars to Europe, where the two-car team will run a full FIA tour.
The Flamholc workshop in Florida, where the family now have their residence, is where the cars getting the best treatment for 2019  season.
"Before we take the Mustang out, the guys at Signtastic in Sebring will make sure it looks great with new colours and a new design".
Big thanks to our sponsors:
SMP Racing and RDRC, Amalie Oil, 5 Day Plantation Shutters & Blinds, R&R connection rods, Diamond Racing Pistons, Line2Line Coatings, Malmö Motorrenovering (MMR), Auto Collection, Signtastic, Davies Technologies, and Kvinesdal Auto.
-And as usual", says Adam, the biggest thank you goes to my family that lets me do what I do.