Two in a row for Thomas Olsen
After winning his first EDRS Pro Nordic MC Pro Stock Motorcycle championship in 2017, Thomas Lysebraate Olsen started the season as the favourite to win the 2018 title as well. The young Norwegian rider and his Brothers in Arms Racing team lived up to those expectations as Olsen claimed his second consecutive title in 2018. Olsen finished the season on a high note with his first 7.0-second run and that was well deserved after the hard work in a far from trouble-free year.
Thomas Lysebraate Olsen claimed the title in 2017 after finishing in third position in 2016. The 27-year-old rider from Norway started his title defence with a win at the Tierp Internationals, but suffered problems with a shock absorber at Alastaro. After his home race at Gardermoen, the Summit Racing Equipment Internationals at Tierp Arena was the highlight of the season. Olsen had been close to his first 7.0-second run several times, but 7.10 seconds seemed like an unbreakable barrier. Then, in the final against Kalle Lyrén, the Brothers in Arms Racing machine stormed to a stunning 7.05 seconds! Olsen and his team were over the moon with that well deserved new personal best, and, you could almost forget, a second EDRS Pro Nordic MC Pro Stock Motorcycle title.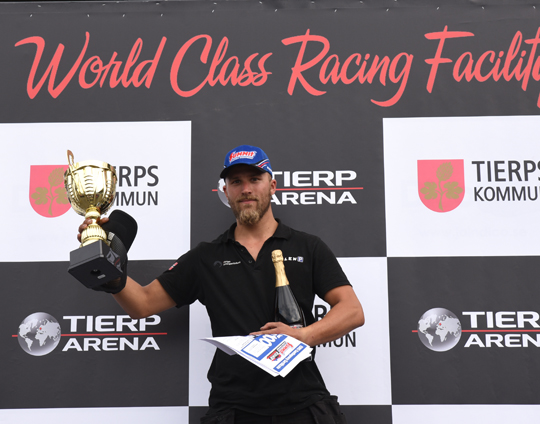 You won the championship last season. How do you look back at last season?
I am incredibly proud to be part of this team and the family we really are. To be able to win the EDRS championship both in 2017 and 2018, was something I never imagined a few years back in time. All the hard work, all the time we spent on the racing operation and the costs of it really has made my life feel like being on a rollercoaster for the years we have been competing in Pro Stock Motorcycle. After we saw the results starting to come around, the progress in our understanding of the tune up of the bike and that the goals we set for the season were within reach, it really made us push ourselves extra and give it all.
What was your best race and what was the most important race for winning the title?
The most important race through the season was the last race at Tierp Arena. We knew there were going to be more competitors and tougher competition. We started to get a pretty good grip on the tune up of the bike, and even the rider was performing well and consistently.  We were far from having a killer tune up, but we felt we had a good chance to perform well and to be in the top of the field at this race. The best round was the final against Kalle Lyrén.  A round I will never forget, and the best round I have ever experienced.  It was the best ET we had through the season (7.05), and we reached one of our goals for the season in that round, to get below 7.10 seconds. I can remember all the details from that round like it was yesterday. Like when Kalle shifted to 4th gear just before I was going to do it, and it made me short shift. It was such a close race, it was totally wild. Kalle won that final well deserved, and he is for sure our toughest competitor.
Most proud of in 2018?
What makes me most proud, is our team and what we have achieved together the last two seasons, and also that they managed to put up with me all that time. The experience and knowledge I have accumulated through the last four years, have made me comfortable both as a rider on a Pro Stock Motorcycle and as an engine builder as well. I know I still have a lot to learn, but it actually makes me proud to have come to this point.
Worst/toughest moment of the season?
The toughest thing about this and previous seasons, is to get a budget together and finance the racing operation. We made some pretty huge investments in our racing operation in the beginning of the season, and the lack of money haunted us through the season. Towards the end of the season, I made a decision to call it a day and skip the last races. I just ran out of money, and there was nothing left anywhere, no reserve! The response I received when I brought the bad news really warmed my heart. I would like to send a big thank you to Lin Amundsen and the NMF (Norwegian Motorsport Federation) for supporting us, and making it possible for us to attend the last EDRS race of the season. Also a big thank you to our great sponsor Payback Lubricants Norway AS and Frank Jørgensen for the extra support he gave us, that made it possible for us to go to Mosten Raceday and try to defend our title from last year.
Toughest competitor in 2018?
There is some real tough competition in this class and that has made us focus extra hard to be able to achieve our goals. But this is only on the racetrack! In the pit area we're one big happy family. It's a great group of people which we enjoy a lot. On the track Kalle Lyrén by far has been our toughest competitor, because of his skills, and their professional routines and consistency.
People/companies you want to thank?
I would like to thank two people who are really close to me. That is my dad who is also my crew chief, and Tony Sundstrøm who is one of my best friends and our tuner. I also would like to mention our sponsor and good friend Frank Jørgensen, who runs Payback Lubricants Norway AS. He has been with us both years we won the EDRS championship and his products have been an important part of the complex package needed to win the championship. We hope to keep him onboard in the future. Also a big thanks to the Lyrén family, who have supported us the whole way and shared knowledge, experience and have been there as technical support.
Plans and goals for 2019?
Our plan for the 2019 season is to take a break from racing as competitors. Most likely we will still be around. The thought is to reload and upgrade to get back strong and bad! I notice that the racing requires so much of my time and so much energy. It's time to get the life outside racing back on track, and get some worries out of the way to be able to come back and focus 100%. You will all notice when there is an orange lightning going down the quarter mile, then we're back! So in 2019 the title will go to one of our fine competitors and good friends. We know how much it takes to win a title like this and whoever wins it at the end of the season, he or she really has worked for it and deserves it. And let's not forget, my older brother plans to get a licence and run SSB. If that works out, our team is growing, since he's also part of Brothers in Arms. Stay strong and we'll see you all at the racetrack soon.