Anita Mäkelä, Andreas Arthursson, Sandro Bellio and Bengt Ljungdahl number one qualifiers at Tierp Arena
After a mind-blowing second day of qualifying Anita Mäkelä (Top Fuel), Andreas Arthursson (Pro Modified), Sandro Bellio (Top Methanol) and Bengt Ljungdahl (Pro Stock) claimed the number one qualifying positions at the Summit Racing Equipment Internationals at Tierp Arena and will lead their respective categories into Sunday's eliminations at the fifth round of the 2018 FIA European Drag Racing Championship.
Cooler air and perfect track conditions made the second day of qualifying of the Summit Racing Equipment Internationals at Tierp Arena one to remember and for the record books. Especially in Pro Modified qualifying was mind-blowing with Europe's first 5.7-second run and a new European record.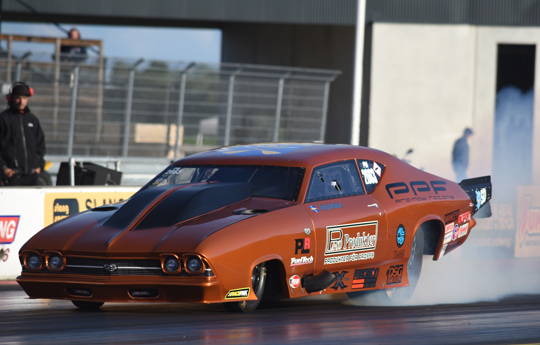 The 5.83 seconds of Andreas Arthursson from Friday qualifying was by far not the limit for the Swedish turbo Chevelle driver. Arthursson's first run of Saturday qualifying was an ever better 5.80 seconds, to reset the European Pro Modified record to a stunning 5.756 seconds at 415 km/h in his second run of the day, the first 5.7-second Pro Mod run in Europe. The Swede proved he could repeat it with another 5.76 seconds at 414 km/h in his third and final run of the day.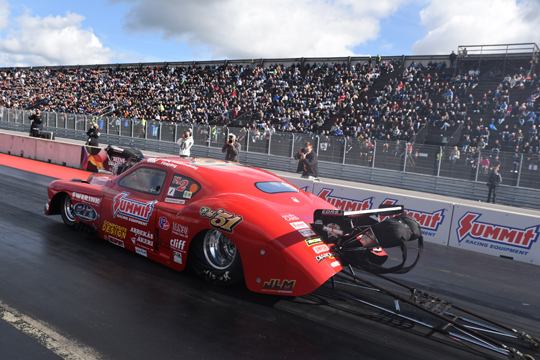 Jimmy Ålund bounced back after a poor Friday qualifying by claiming the second qualifying position with 5.85 seconds.
Roger Johansson reset his personal best to 5.86 seconds to end qualifying in third position. David Vegter also improved on his Friday performance with 5,900 seconds and is fourth. Reigning champion and championship leader Michael Gullqvist improved to 5.935 seconds and is in fifth position. There were no fewer than seven drivers qualifying in the 5-second zone.
Although there were many improvements in elapsed times and changes in the qualifying order, the Top Fuel teams struggled with all kind of mechanical problems. Friday leader Anita Mäkelä improved to a great 3.895 seconds to remain the number one qualifier, but the championship leader suffered a severe engine explosion at the finish line. Mäkelä will face Stefan Gunnarsson in the first round of eliminations.
Antti Horto improved to 3.94 seconds and jumped from fourth to second position and will face team mate and Hockenheim winner Liam Jones in round one tomorrow.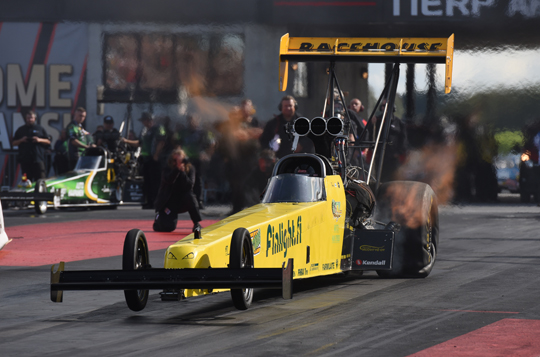 Timo Lehtimäki reset his personal best to 4.07 seconds, making the top three all Finnish. Patrik Pers surprised with the number four qualifying position, but his elapsed time was only 4.94 seconds. There was a major upset as reigning champion Duncan Micallef once again had engine problems, finished qualifying in ninth position and will not start in Sunday's eliminations.
In Top Methanol Sandro Bellio remained the number one qualifier. Jonny Lagg surprised with a new personal best of 5.347 seconds and jumped from sixth into the number two qualifying position.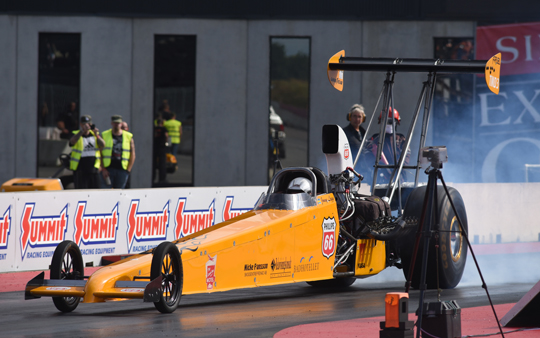 Dennis en Timo Habermann improved to 5.370 and 5.378 seconds respectively, but the German brothers are the numbers three and four after five runs.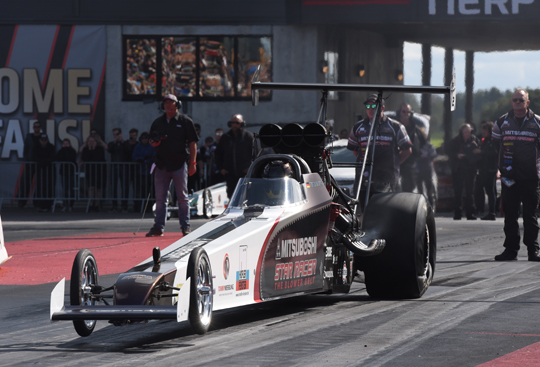 There were many improvements, changes in the qualifying order and a new leader in Pro Stock. Bengt Ljungdahl stormed to a great 6.575 seconds to claim the number one qualifying position.
Michael Malmgren once again proved his great form by recording 6.59 seconds and jumped into the second qualifying position.
Thomas Lindström improved to 6.607 seconds and is the number three qualifier, with Friday leader Jimmy Ålund, who didn't make a run today, in fourth position. Stefan Ernryd, the number two in the championship behind reigning champion Ljungdah, is only fifth.
Eliminations for the Summit Racing Equipment Internationals will start Sunday morning.
For all qualifying results and elimination ladders: http://www.dragracing.eu/results.asp
For live reports and detailed results see eurodragster.com: http://www.eurodragstereventcoverage.com/live/2018summitracingequipmentinternationals/default.asp