Liam Jones, Timo Habermann, Jimmy Ålund and Michael Malmgren number one qualifiers at NitrOlympX
Liam Jones (Top Fuel), Timo Habermann (Top Methanol), Jimmy Ålund (Pro Modified) and Michael Malmgren (Pro Stock) claimed the number one qualifying positions at the NitrOlympX at the Hockenheimring Rico Anthes Quartermile and will lead their respective categories into Sunday's eliminations at the fourth round of the 2018 FIA European Drag Racing Championship.
An almost sold out Hockenheimring saw some spectacular racing at the second day of qualifying for the NitrOlympX. Although the sun was burning on the track, there were some major improvements in the elapsed times and many chances in the qualifying order. In two categories there was also a new number one qualifier when the fourth and final qualifying round was completed.
Top Fuel was the only category where the top three remained unchanged. Thus Liam Jones claimed the number one qualifying position with his Friday elapsed time of 3.943 seconds, with reigning champion Duncan Micallef only 0.003 seconds behind in second position with 3.946 seconds.
Antti Horto was the only top six driver who could improve on his Friday performance with 3.966 seconds, but the Finnish driver remained third. Jndia Erbacher and Anita Mäkelä will enter the eliminations as the numbers four and five, while Mikael Kågered finished qualifying in sixth position. Kenni Neergaard improved to 4.12 seconds and is seventh with Urs Erbacher eighth. Stig Neergaard is the first alternate.
In Top Methanol Timo Habermann stormed to a great 5.315 seconds to claim the number one qualifying position.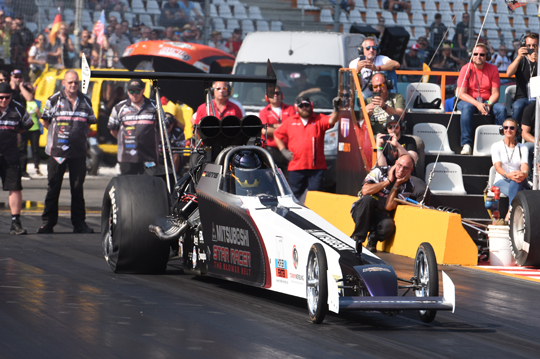 There was also a major improvement for Dennis Habermann as the German driver raced to a great 5.358 seconds to jump from fourth into the second position.
There was also an improvement for Jonny Lagg, but the Swede dropped one spot and will enter eliminations in third position. Sandro Bellio is the first Funny Car in the field in fourth position.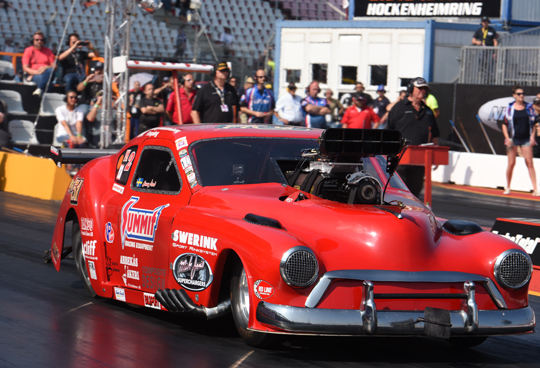 There were many improvements and changes in the qualifying order in Pro Modified. After three aborted runs Jimmy Ålund stormed to a stunning 5.956 seconds is his final run to claim the number one qualifying position.
In his fourth run Andy Robinson recorded exactly the same elapsed time, but his speed was 1 km/h slower so the British driver finished qualifying in second position.
Friday leader Michael Gullqvist couldn't improve on his earlier performance and dropped two places into third position. Kim Kristiansen and Jan Ericsson also recorded 5.9-second runs and claimed the fourth and fifth position. Roger Johansson was the first driver in the six seconds with 6.02 seconds and the Swede will enter the eliminations in sixth position. David Vegter couldn't improve on his Friday performance and Friday's number two dropped into seventh position.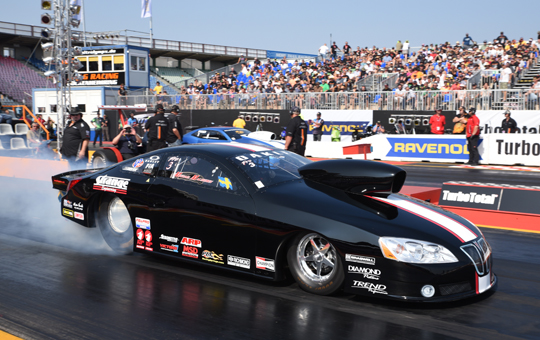 In Pro Stock Michael Malmgren surprised with a great 6.63 seconds to take over the number one qualifying position from Bengt Ljungdahl.
The reigning champion from Sweden couldn't improve his elapsed time and finished qualifying in second position, with championship leader Stefan Ernryd third and Robin Norén fourth.
Eliminations for the NitrOlympX will start Sunday morning.
All qualifying results: http://nitrolympx.bw-timing.de./
For pit notes and live reports and detailed results see eurodragster.com: http://www.eurodragster.com/live/2018nitrolympx/