Vesa Lipponen, Rikard Gustafsson, Mathias Bohlin and Thomas Olsen winners at EDRS Pro Nordic MC round 1 at Tierp Arena
Vesa Lipponen raced to victory in Super Twin Motorcycle at the season-opening Tierp Internationals at Tierp Arena. After stunning eliminations the rider from Finland defeated Marcus Christiansen in the final. In Top Fuel Motorcycle Rikard Gustafsson was in a class of his own and took the win in a string of 6.0-second elapsed times. In Super Street Bike Mathias Bohlin was the upset winner as the Swede defeated reigning champion and number one qualifier Mogens Lund from Denmark in the final. In Pro Stock Motorcycle the trophy went to Norway with a win for Thomas Lysebraate Olsen.
Beautiful weather conditions at Tierp Arena on race day. In Super Twin Motorcycle number one qualifier Vesa Lipponen advanced to the final after defeating Roman Sixta and his Finnish countryman Lasse Leponiemi. In the final the rider from Finland had to face Marcus Christiansen, who went to the final after defeating former champion Samu Kemppainen and Svein Olaf Rolfstad.
In the final Lipponen improved on his earlier performance with a stunning 6.307 seconds to take the win over Christiansen.
In Top Fuel Motorcycle there were two major upsets in the first round as both Sverre Dahl and Jan Sturla Hegre, the numbers two and three qualifiers, were defeated. Rikard Gustafsson, the number one qualifier with a stunning 5.81 seconds, had no problems and advanced to the final to take the win over Peter Andersson.
The eliminations in Super Street Bike were close and exciting. Mogens Lund, the number one qualifier, defeated Mark Hope in the quarter final and Robert Nilsson in a very close semi final. In the final the Dane had to face Mathias Bohlin. On his way to the final the number three qualifier defeated Kimmo Pulakka and a surprise semi finalist Alex Hope, as the British driver took the win over number two qualifier Vesa Ruhanen in the quarter final.
After his record breaking 6.98 seconds in qualifying and his great numbers in eliminations, Lund was the clear favourite to win the final, but Lund ran into problems while Bohlin recorded a great 7.13 seconds to take the win.
In Pro Stock Motorcycle Thomas Lysebraate Olsen from Norway had no competition and took the win. The reigning champion made the most of the situation by recording great 7.1-second elapsed times almost every run.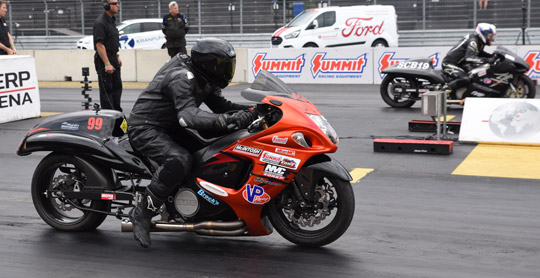 In Super Comp Bike Ulf Fridolfsson, the number nine qualifier, was the surprise winner after the Swedish rider defeated the number one qualifier Anders Gerdtsson in the final.
In Super Gas Bike Jami Oksanen defeated Ellen Ødegaard to take the win in this 9.5-second index category.
The EDRS Pro Nordic Motorcycle Championship continues June 28 – July 1 with the FHRA Nitro Nationals at Alastaro, Finland.
Results: http://www.dragracing.eu/results.asp
The points standings and more photos from the Tierp Internationals can be found on other parts of the website: http://www.edrspro.com/