Duncan Micallef wants to take a second TF crown back home to Malta
For Duncan Micallef 2017 will be a year to remember forever. He claimed his first FIA European Top Fuel Championship, won three races, was crowned Maltese Sportsman of the Year for the second consecutive time and had numerous prize giving galas to attend with the official FIA Prize Giving ceremony in Versailles, Paris, as a highlight. The Top Fuel champion took some time to think about the future, but decided to come back for a title defence. The Maltese Lion is still hungry and wants to take another trophy back home to the island of sunshine.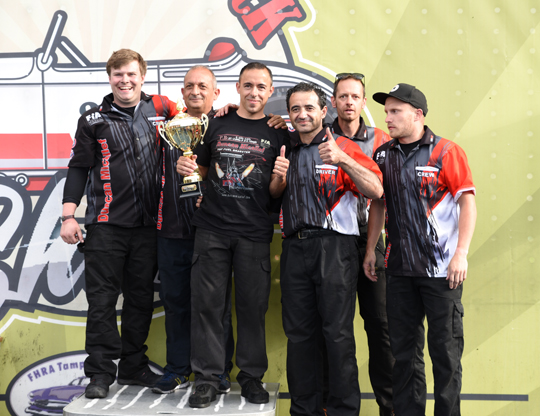 Duncan Micallef's route to the top of the FIA European Top Fuel Championship started late 2016. In August 2016, at Tierp Arena, the Maltese driver was back behind the wheel of the Rune Fjeld Motorsport Top Fueler and surprised with an impressive 3.91 second run, followed by two 3.896 second/312 mph runs at Santa Pod.
At once Micallef was one of the favourites to win the 2017 FIA European Top Fuel Championship. The RF Motorsport driver lived up to these expectations with three back to back wins at Tierp Arena, Alastaro and Hockenheim. His loss in the quarter final at Tierp Arena in August was his first and only elimination round loss of the 2017 FIA season. Until that moment unstoppable on his way to the title, Micallef suddenly was threatened by team mate Antti Horto, who came back in striking distance. But at Santa Pod Micallef made an end to all uncertainty and claimed the title with a win in the first round over Jndia Erbacher, to advance to the final (which wasn't run due to rain). Although it was not the first FIA European Championship in drag racing for a driver from Malta, it was the first one in the Top Fuel category.
It's a few months ago, and the new season is starting soon, but Micallef is still looking back with great joy. "2017 was for sure my best season so far, and I reached the goal that I have been working towards for the last six years. Coming from a personal best in 2016 and being the fastest man in Europe gave me a lot of motivation for 2017. Setting that record during the 50th Anniversary of Santa Pod, and the fact that I will keep that record on the asphalt track forever, is a big pride for myself and the whole team. I always told Rune Fjeld that all we had to figure out was to have a consistent car, and then we would do it. The car showed that, after many years, as we tried to get it right since 2013, finally our moment was there to prove that we had the right setup for not only to become champion, but to set other records as well. Winning three back to back events, running the fastest side by side and three 3-second runs on one day in eliminations, that all brought me in a position I never believed it would be possible to be in!"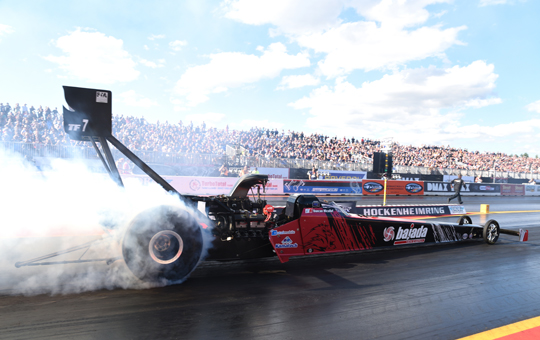 It is difficult for Micallef to point out what was his best race of the season. "Every race was important for me and we won three out of the four events that were run to the end. Our motivation was to do every run as it was our final run. No mistakes were permitted. But the most important race in my opinion was Hockenheim. It looked like we sealed the championship, but I am a man who will stay on his toes until he really reached his goal, and that was my run against Jndia. There was so much pressure on that run. If I lost that run, I could lose the championship if my friend Antti Horto could make it to the final and win the event. Before the engine started, I can only remember that I was emotional and so motivated to go into this special run. I also remember that just after the 60 feet I had to lift the pedal to settle the car after a tyre shake. In the meantime I saw Jndia in front of me, but my maturity told me to do the right thing. The car hooked again and rocketed past the finish line. For me, and I am still feeling it right now, it was like heaven opened the door for me. For sure it wasn't an easy journey, but when you arrive there, you appreciate every single second you passed from!"
After winning the championship, Micallef had a busy winter with many prize giving ceremonies. Making use of this attention, he also did his very best to put the sport of drag racing in the spotlight. "This winter we had a lot of work to do. Being in that position for my very small country, Malta, is very important, and one of my targets is that one day motorsports will be respected in Malta, which it has never been in the past. Therefore I went to all possible media to deliver my message of how important it is not only to be in this position, but also to tell all Maltese youngsters that everything is possible. I also explained how motorsport is important for our country and how good we are at it, as I was not the first Maltese driver to win a championship and will not be the last one either. That gave me a lot of respect and I was awarded as the Maltese Sportsman of the Year 2017. I also won that title in 2016. Trying to be the ambassador for our Future Motorsport, we are working very hard to get the Hal Far racetrack homologated for our European championship one day. Apart from that I am also working to get other motorsports respected in our country."
"I was also invited for the FIA Prize Giving gala in Versailles to get my best trophy ever. That was an amazing night and special in every way. I was also lucky to be with the president of the FIA Drag Racing Commission Lars Pettersson. We had a lot of discussions about the future of drag racing. But apart from all this, I also had to think a lot about what to do in 2018, which wasn't an easy time for me. But in the end, I decided to go for the FIA European Top Fuel Championship once again in 2018. I had other choices in mind, not easy choices. But I decided to stay there and to improve on 2017 as much as possible."
With this said, we also know Micallef's goal for 2018. "Our main goals for this season are very simple. Drag racing is the most unforgivable motorsport on earth, and this is because we have the least time, or I can better say no time, to fix mistakes during the run. Therefore I have to say that our target is to make the least possible mistakes and to put all our strength into it. I am a very low profile person, therefore we will do everything to have even better results, which is normal, but I'm not going to predict anything at all, not even the numbers we hope to run. But my biggest and everyone's goal is, to be at the same level as those in the NHRA series one day. I may sound a little bit like James Bond or Tom Cruise, but this is my motivation and I am sure that I have all the back up from my team in that. They have my spirit and motivation too."
It will not be a surprise that Micallef will once again race for Rune Fjeld Motorsport, and the Maltese driver is happy to announce that he will have the same crew as last year. "Last year I was very cautious to have a full team in every event, and to stay with them. That worked well. My goal was to keep the same team. I explained to them that we need to look for those tiny inches where to improve and I'm a lucky guy to have the same crew for 2018. And that is very good news for me and my sponsors. My sponsors are my car's best friends. I feel so lucky that also the sponsors from last year will stay with me in the new season. No new names so far, but I hope that this time I will have some backup from the Maltese Sports Committee!"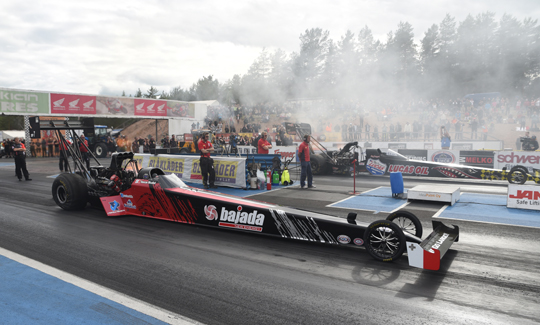 With the number one on the wing of the car, Micallef is the one everybody is hunting after. "My main rivals? Everyone will go to the track to win and set records. We as a team respect every single competitor out there. In Top Fuel I learned that everyone can win or lose and the smallest thing in your car can change your day. My main rival will be the car I race against in my next run. Being the number one doesn't change anything, 2018 is a new year for everyone and we all have to start from zero!"
Although there is a lot to be proud of, there is one special thing Micallef wants to highlight. "Believe it or not, I am really proud of being the champion for RF Motorsports in the year the team celebrated its 40th anniversary. Rune Fjeld is a legend in European drag racing and for me, working with this man is something special and makes me proud. He doesn't speak so much, but he works his ass off every single day on his cars, and I don't think there is anyone else doing this in Europe. He also sent one of his cars to Malta and we made the first 300 mph pass there in 2017, which is a big pride for our Maltese Hal Far Raceway."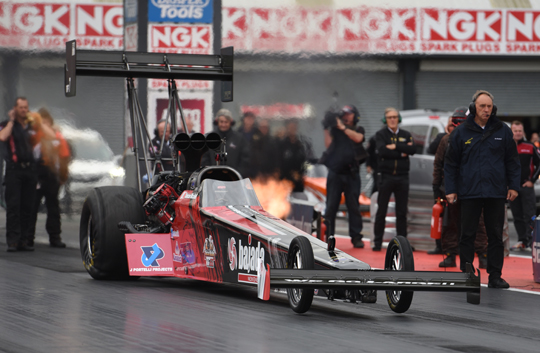 "Finally I would like to say a big thank you to all those who helped me and my team to get there in 2017. I promise you all that we will try our very best for 2018. I wish all my competitors all the best, and we will try to present the best possible show to our spectators and petrol heads."