What a weekend! An impressive number of visitors with a huge interest in our sport


With all of 83 812 visitors, to be exact, this year's Bilsport Performance & Custom Motor Show in Jönköping turned out to be the second largest event as regards to the number of visitors during the 48 years it has been going on. Speedgroup was of course on site to attract more participants and larger crowds to our sport, and we managed it well.
Birgitta and Lana is packing bags to hand out to our visitors.
Birgitta having fun with the bags.
Thousands of Summit EDRS Dragracing Series bags were packed with goodies and information that was distributed to visitors in the Speedgroup booth during the show. Among other things, there were Summit Racing's special catalogues with great offers and other useful things for drag racing from Finnlines, Auto Verdi, Tierp Arena and city of Tierp.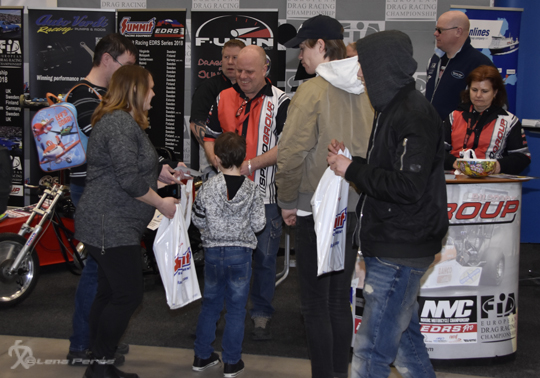 Busy time in Speedgroup booth.
We had a Junior Dragster and a Junior Drag Bike in place that children could try, and it was very popular indeed. Also present in our booth were Daniel Plakidis from VP Racing Fuel and Marko Granlund from Finnlines with some great deals for the upcoming racing season. In addition, we had a display of our contingency sponsor Auto Verdi's oil pumps and rods that attracted a lot of attention. Tierp Arena and the city of Tierp were also part of our display. As well as Stefan "Myggan" Jansson with his black and cool Super Pro ET Chevrolet Bel Air -57 and Nils Lagerlöf with his Super Street Bike which they´ll be racing in the Summit Racing Super Series this summer.
Marko Grönfors from Finnlines had good offers for the season.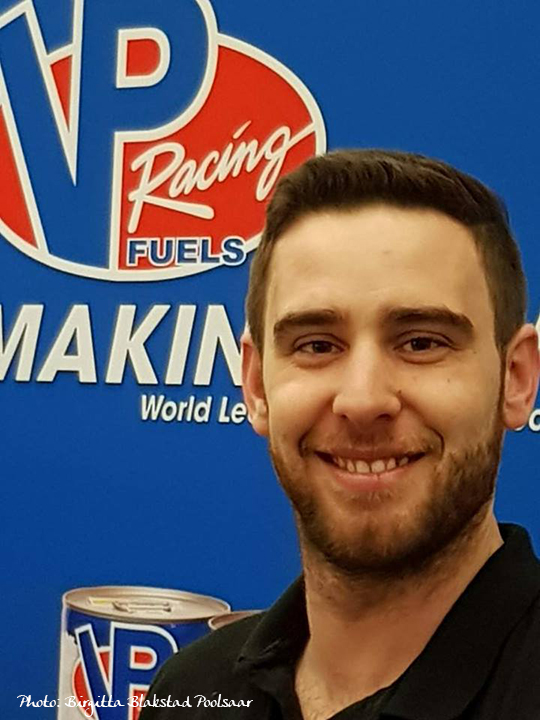 Daniel Plakidis representing VP Racing Fuel in the booth.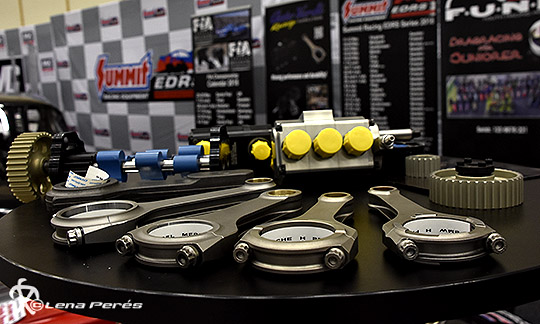 Auto Verdi on display in Speedgroup booth.

Birgitta and Lana in the booth. Tierp Arena and City of Tierp also on display. 
It was in all a very enjoyable weekend with an incredible variety of interesting, odd and amazingly beautiful creations on show. We met a lot of drag racing friends during the weekend and among them were Lars Inge Johansson with his very special Pro Custom Chevelle 66, Pelle Eriksson from Wulcan Racing, Andreas Sjödin with his Top Dooslammer Chevelle, the crew from Sundsvall Raceways and many more.  We'll be going drag racing in just a few weeks from now, first out is Vårgårda. Get ready!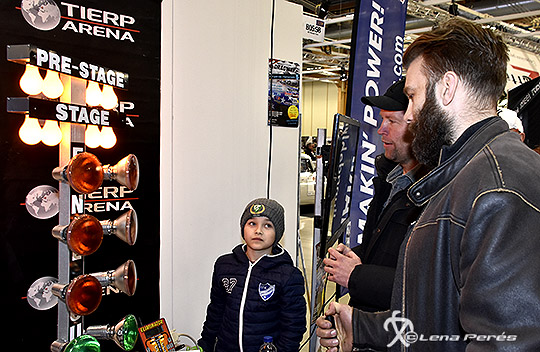 Popular activity for visitors. Get the best reaction on the tree.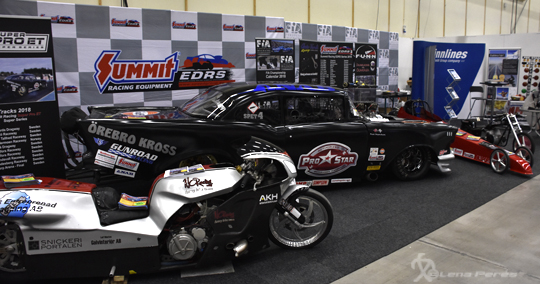 Stefan Jansson and Nils Lagerlöfs vehicles on display in the booth.
Another popular activity for the children was testing the Junior Dragster and Junior Bike.
We also found a few other dragracing people at the show. Among others we can mention Wulcan Racing who got their car back from US and are this season racing in Top Doorslamer. Team member Pelle Eriksson and doughter in the booth this day. 
Most of us know Lars-Inge Johansson, former Pro Modified racers. At this show he had his own made beautiful Chevelle Pro Custom 1966 on display. Amazing work of art.
In Sundsvall Raceways booth we found Andreas Sjödin, chairman in Top Doorslammer Assosiation, and girlfriend. He was informating about Summit Racing EDRS Series Top Doorslammer series.
Sundsavll Raceway also did invite a big rooster right on time for Easter. Can anyone guess who was hiding in that costume?