Back to Tierp Arena for the grand finale of the EDRS Pro Nordic MC
The Dico International is the fourth round and grand finale of the 2017 EDRS Pro Nordic Motorcycle Championship. Two months after the championship kicked off at Tierp Arena, the EDRS Pro Nordic MC is back at the state-of-the-art drag race facility north of Stockholm. Roman Sixta (Super Twin Motorcycle), Thomas Lysebraaten Olsen (Pro Stock Motorcycle), Mogens Lund (Super Street Bike) and Jan Sturla Hegre (Top Fuel Motorcycle) enter the final round as the leader in their respective categories. But with more than 100 points for a race win, everything is still possible. Emil Östlund and Iiro Reinola are the leaders in EDRS Pro Nordic MC Super Comp and Super Gas Bike, but they are also far from safe.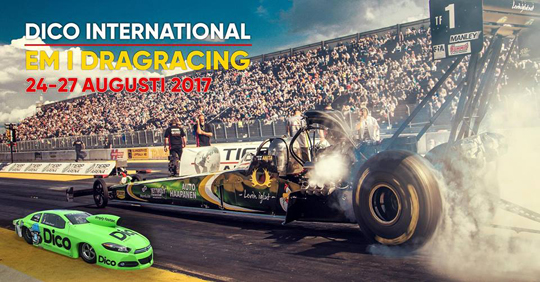 The EDRS Pro Nordic Motorcycle Championship had a great 2017 season with all eliminations completed in all three races. After the kick off in June at Tierp Arena, the teams had excellent races at Alastaro and Gardermoen as well, and now head back to Tierp for the grand finale. Top Fuel Motorcycle and Super Twin Motorcycle had three different winners so far this season, Super Street Bike two, and only Pro Stock Motorcycle was dominated by one rider. Let's hope the season will end with another great race and maybe even new records. Looking at the large numbers of entrants in almost all classes, and some ultra-fast non championship contenders, the Dico International will be exciting.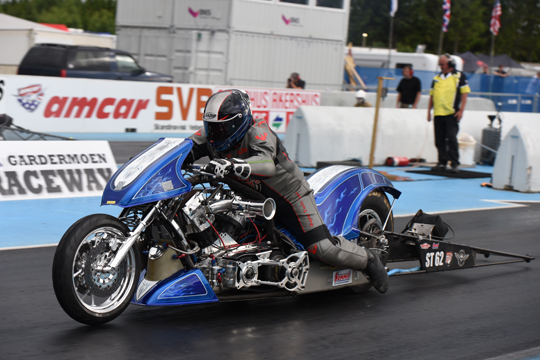 Super Twin Motorcyle
In contrast to last season when Samu Kemppainen was a dominant force, the EDRS Pro Nordic Super Twin Motorcycle Championship had three different winners this season. Anders Hörnström was the surprise winner at the opening round, while Teemu Kettula's victory on home ground at Alastaro was an even bigger upset.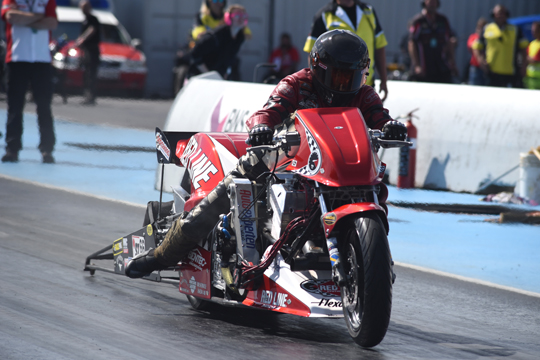 At Gardermoen Tommy Grimes and Per Bengtsson's The Beast bounced back after a devastating engine explosion in Finland and won the race. But none of them is leading the championship, as that is mister consistency, Roman Sixta. The rider from the Czech Republic was quarter finalist at Alastaro, semifinalist at Tierp and runner-up at Gardermoen, and being both quick and consistent, Sixta is the well-deserved leader as all other title contenders also scored some bad results.
After his Gardermoen victory Grimes is only six points behind the leader, with Greger Johansson in striking distance, 23 points short of Sixta.
And never underestimate the still reigning champion Kemppainen, the number four in the championship. When the Finn is back to form, even the gap of 34 points doesn't have to be a problem. Alastaro winner Teemu Kettula is fifth and Svein Olaf Rolfstad sixth, only three points short of the Finn.
All favourites are at Tierp Arena and with 17 entrants, they will first have to qualify to stay in the title race. Hörnström, Lasse Leponiemi, Petri Mattsson, Ismo Mäenpää and Jaska Salakari are only a few to mention who can disturb championship dreams. One thing is for sure, Super Twin Motorcycle will be exciting.
Top Fuel Motorcycle
Jan Sturla Hegre, winner at Alastaro, is the leader in the EDRS Pro Nordic MC Top Fuel Motorcycle class. Reigning champion Thomas Pettersson didn't win a race so far this season, but once again the Swede is the most consistent rider and is in second position, only 12 points behind Hegre.
Sverre Dahl, the quickest rider in Norway, missed the Alastaro race and is third, 45 points behind his leading countryman. Rikard Gustafsson, winner in Norway, is fourth in the championship, but will not win the title as the Swedish rider skips the Tierp race. Peter Andersson, the surprise winner of race one at Tierp this year, his namesake Peter Andersson, and Shaun Branch make the field to six.
Pro Stock Motorcycle
With eight entrants and  seven of them having a fair chance to win the race, Pro Stock Motorcycle has by far the best and quickest field this season. With three wins out of three EDRS Pro Nordic MC races this season, Thomas Lysebraaten Olsen is the clear leader in the championship.
The young Norwegian rider has 382 points and is 92 points ahead of Timo Savolainen, the Finn he defeated in the Alastaro and Gardermoen final. Strange things must happen for Olsen if he doesn't win his first EDRS Pro Nordic Pro Stock Motorcycle title. But it's drag racing, so you never know.
Alex Hope is the number three in the championship, but as the English rider skipped the Gardermoen race, he is too far behind to claim the title.
Kenneth Holmberg is back at Tierp and the same can be said about Tierp Internationals runner-up Robert Karlsson. There is also a welcome return for outgoing champion Kalle Lyrén. The Veidec Lyren Motorsports team had a lot of work in recent months to repair the bike after the Tierp Internationals crash, but if all parts arrive in time, Lyrén will be back in action.
Special attention will be paid to Fredrik Fredlund, the multiple FIM European Pro Stock Bike champion from Finland. It's his first EDRS Pro Nordic MC race of the season and apart from having fun, Fredlund always has one goal, and that is to win every race he takes part in. Bo Thorselius takes the field to eight, but looking at the elapsed times, it will be difficult for the Swede to qualify in the top six.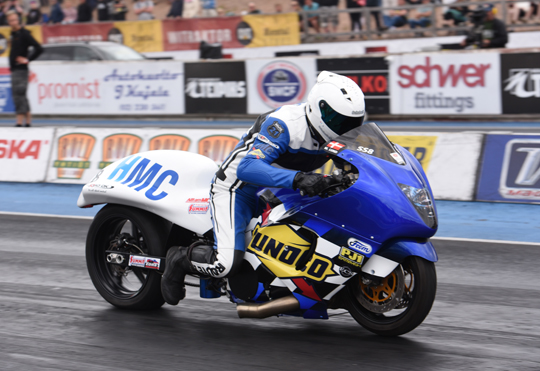 Super Street Bike
Mogens Lund is the man to beat in EDRS Pro Nordic MC Super Street Bike this season, and as only Robert Nilsson succeeded in that mission once, the Danish rider is the leader after three races. Lund recorded stunning elapsed times this year, won the first two races of the season in dominant way and was finalist at Gardermoen.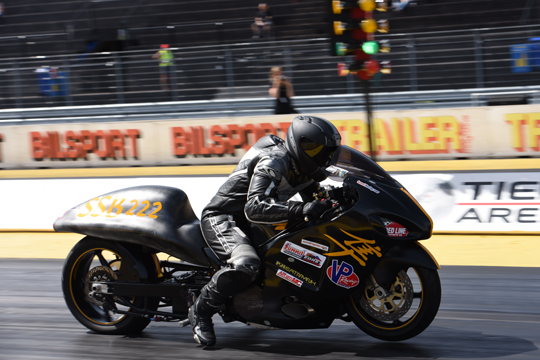 Nilsson won in Norway, but as the Swede skipped Alastaro, he is only in fourth position in the championship, too far behind for having a chance to claim the title.
But apart from Lund and Nilsson there are more riders who stepped up to the next level and were dramatically quicker than last year, making the 2017 SSB championship to one of the best ever. Anders Blanck was runner-up at Tierp and Alastaro and semifinalist at Gardermoen. The Swedish rider with a Norwegian licence is in second position, 71 points behind leader Lund.
Triple semifinalist Vesa Ruhanen from Finland is in third position, but 112 points behind Lund. Behind Nilsson, Kim Hilander is fifth and Robert Häggblom sixth. Henri Kolehmainen is the outgoing champion, as the Finn is in seventh position after a far from trouble free season so far.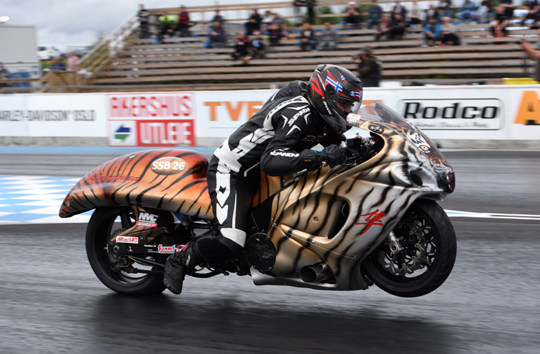 Although they don't have a chance to jump into the top three of the title race, never underestimate riders like Mathias Bohlin, Dag Wagenius, Emil Östlund or former champion Björn Friström, who had so many traction problems so far. And don't forget the two female riders in the field, Ida Johansson and Ida Zetterström. From England come Mark Hope, the regular EDRS Pro Nordic MC contender who skipped Norway, and Gary Bowe. It's great to see one of the quickest English riders in the EDRS Pro Nordic MC, as Bowe is one of the members of the exclusive European 6-second Super Street Bike club. Don't be surprised to see Bowe with Lund or Nilsson on the Tierp podium on that late August Sunday afternoon.
Super Comp Bike
Kimmo Rantala, Toni Suokas and Tomas Jonsson won one race this season, but it is two times runner-up Emil Östlund who is leading the championship in the 8.5-second index category.
Rantala is second, 29 points short of the leader, and Jonsson third. All three will be at Tierp Arena to fight for the title and who will succeed Bianca Nilsson, the number nine in the 2017 championship who is too far behind to claim a second consecutive title.
Super Comp Bike has 13 entrants at Tierp including the numbers four up to six in the championship, Rasmus and Peter Östlund and fan favourite Kathrine Wagenius.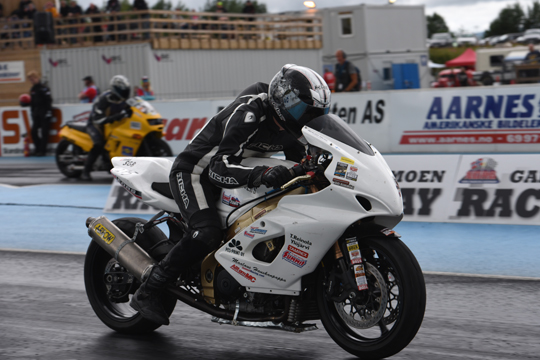 Super Gas Bike
With four riders, all from Finland, separated by only 17 points, everything is still possible in the Super Gas Bike category of the EDRS Pro Nordic MC. Tierp Internationals runner-up Iiro Reinola is still leading the championship, with Kari Rautanen second, only 14 points behind. But Rautanen is still missing on the Dico International entry list.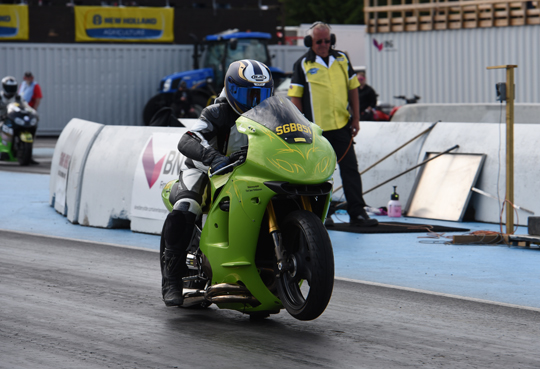 Heikki Koskinen is third and Jari Malinen fourth and these two Finns are only 16 and 17 points behind leader Reinola and can make the final race to a thriller. One of these four will succeed Janne Koskinen, the 2016 champion who stepped up to Pro Stock Motorcycle at the end of his championship winning season. Magnus Pollack won the first Tierp race and is back for more in the final race of the season. A new name for this season in Super Gas Bike is Micke Ölen, making the field to five so far.
Qualifying for the EDRS Pro Nordic Motorcycle Championship in Top Fuel Motorcycle, Super Twin Motorcycle, Pro Stock Motorcycle and Super Street Bike will start Friday August 25, while Super Comp Bike and Super Gas Bike will have their first qualifying runs on Thursday August 24.
Dico International, Tierp Arena, August 24-27, entry list:
http://www.dragracing.eu/event_details.asp?c=y&id=368
For the EDRS Pro Nordic MC Championship points standings, see: http://www.edrspro.com/ Points Standings 2017