Great racing between showers at Tallhed
It´s not easy for organizers to create a dragrace event when the weather Gods not co-operating. But Färnäs Night Cruisers manage to do the very best of Midsummer Festival anyway. Friday was on and off when it came to the weather, but two qualifying rounds was done.
The race track was as good as ever an some personal best was done. Saturday, unfortunally rained away. So the teams had to entertaine them selfes that day. Some went on tour in the nabourhood to explore the beautifull landscape there is, like Storstupet (Big Cliff)  and Helvetesfallet (Hells fall). Sounds exciting, doesnt it.
Oskar Norling did win the Junior Dragster class.
But sunday they were all back on track for elimination. And all classes was able to be done before the rain came in the afternoon again, just after the price giving ceremony. Well done to the organiser that manages to finish the Midsummer Festival 2017.
Classes:                                   Q1:                                     Winners: 
Stock/Super:                              Theodor Brandt                 Anders Eriksson
Pro ET                                          Thomas Olsson                  Thomas Olsson
Super Pro ET                              Arild Langseth                    Arild Langstedt
Street                                            Torbjörn Israelsson          Rolf Berglund
Super Pro Street                         Hans Knutes                       Dick Ivonen
Super Comp                                 Veronica Sörensen            Siri Johansen
Super Gas                                    Håkan Mattsson                 Annica Larsson
Super Street                                Uffe Lundgren                    Uffe Lundgren
Pro Street                                    Mikael Norén                      Johan Källberg
Jr Dragster                                 Fanny Olsson                      Oskar Norling
Super Gas Bike                          Daniel Nyman                     Daniel Nyman
Super Comp Bike                      Tomas Jonsson                  Tomas Jonsson
Jr Drag Bike                              Linus Tröjbom Berggren  Linus Tröjbom Berggren
JrD Version:Sec RU Malin Sörensen, Win Oskar Norling, RU Eskil Dahls 
Pro ET Win Thomas Olsson RU Ulf Zackrisson
SST Win Uffe Lundgren RU Åke Törnqvist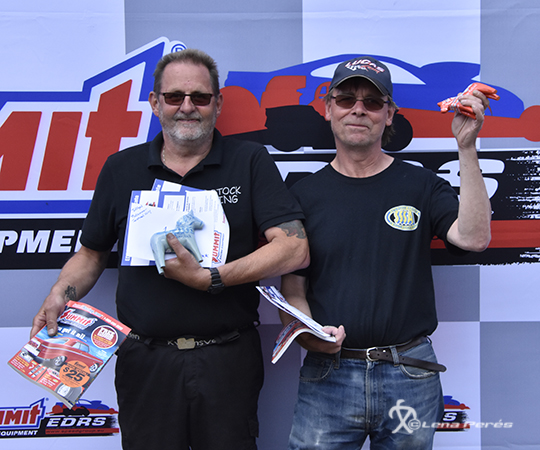 S/ST Win Anders Eriksson RU Kjell Ericsson
SG Win Annica Larsson RU Håkan Mattsson
SPET Win Arild Langseth RU Stein Oddvar Karlsen
SC Win Siri Johansen
Street Win Rolf Berglund RU Torbjörn Israelsson
SP St Win Johan Källberg RU Mikael Norén
SP Win St Dick Ivonen
JrB Win Linus Tröjbom-Berggren RU Anna Rosander