Sunny sunny days at Vårgårda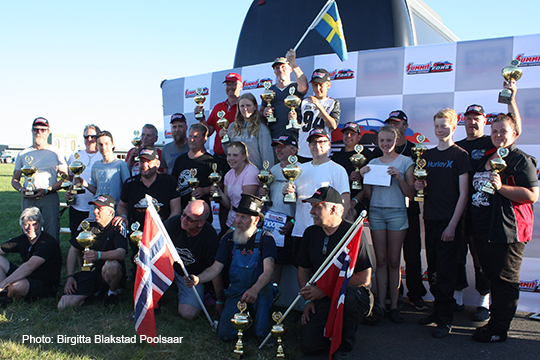 Vårgårda Raceway had splendid weather all weekend!  13 classes, of which 10 included in Summit Racing EDRS Series, was run in the sunshine.
All eliminations were run smooth and steady with no upsets. Also, very little clean-ups as well.
Last year´s EDRS winner in Stock/Super Stock, Nalle Eriksson was beaten in the semi-final by Jonny Åberg, who also was the winner at Vårgårda Dragway Nationals and Runner up was R Johansson.
Micke Nilsson won the Super Comp final against M Rosander and in Junior Dragster, that this event also was part of the Swedish Championship, due to some time keeping issues, the final of the Junior Dragsters had to be run twice. Pontus Garefelt ended up as winner and a very runner up Jacob Pripp.
In Junior Drag Bike we had five competitors, the final was won by T Christensen and Runner up was Anna Rosander.
Jr Dragbike Tim Christensen
Jr Dragbike Anna Rosander
Speedgroup´s 2 seat dragster had all in all five test and tune rounds with Linda Siviikko at the wheel, and a full run with a very satisfied passenger.
Classes:                                        Q1:                                                    Winners:   
Stock/Super Stock                         J Åberg                                               J Åberg
Pro ET                                             H Nordström                                     H Holmström
Super Pro ET                                 J Borén Stolt                                      T Abrahamsson
Super Comp                                  M Nilsson                                            M Nilsson
Super Gas                                      P Wickman                                          P Wickman
Super Street                                  U Axelsson                                          Å Törnqvist
Pro Street                                      K Marum                                             G Liljegren
Jr Dragster                                    E Eriksson                                          J Pripp
Super Comp Bike                         T Nilsson                                            P Rundström
Jr Drag Bike                                  T Christensen                                    T Christensen