Vårgårda Dragway Nationals 2017 is up next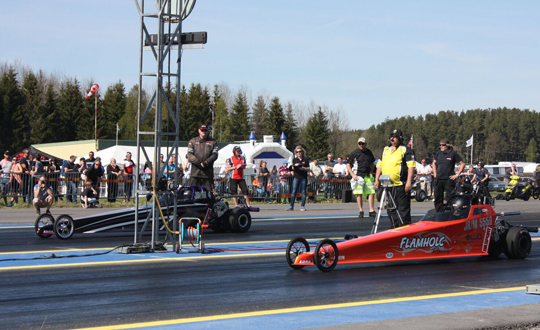 The third race in a row in Summit Racing EDRS Series this month is Vårgårda Dragway Nationals 2017 . Vårgårda Dragway is a very popular track and 110 teams have register for this event!
The fastest class this weekend is Stock/Super Stock and of course we find Anders "Nalle" Eriksson from Borlange on the list. He took the EDRS series win last year and we presume that he is aiming for this title this year, as well.
In Jr Dragster, we find a respectable amount if racers signed. 22 at this very moment, young racers are going to fight about Summit Racing EDRS Series points, as well as Swedish Championship points. Good luck all youngsters!
In Pro Street and Super Pro ET we find a lots of racers from our neighbour county, Norway, which we find very hyggelig, as they say over there. And also number 1 from last year in Super Street Ulf Axelsson is comming.
-We got a new record in participating teams this time, says Fredrik Westberg who is the chairman of SHRA Borås who is the organizer of the event. That gives us a great feeling. We also introducing a new class this year PRO Twin Bike that is a Swedish Championship class. And we are also very proud of the filed in Stock/Super Stock. And that we got all this Jr dragster drivers signed, it´s going to be a big challenge to take a win in this class. Else there is no much new things done here, except for a new timekeeping carriage have been built.
So now we´re looking forward to another exciting drag racing weekend at the west coast of Sweden. Be there or be square, as they say. See ya folks!!