VP Racing Fuels join 2017 Speedgroup contingency program
VP Racing Fuels are a familiar name in all forms of motorsports, but their products have their roots in drag racing! "If it's fast, we're in it," said Marc Wesler, VP Racing Fuels' International Sales Manager. "But it's important to remember where it all started, and that's with the entry level drag racing competitor." To reinforce their commitment to both the Speedgroup program and the EDRS participants, the world leader in race fuel technology will join the 2017 Speedgroup contingency program. "It's a small token of our appreciation to our customers, but it also shows a commitment on the behalf of VP that we are committed to the European motorsports customer."
VP Racing Fuels were founded in 1975 by a racer from South Texas, Steve Burns. Burns is still involved in VP's Research and Development programs, but the company is currently owned by Alan Cerwick. VP Racing Fuels are headquartered in San Antonio (Texas), have close to 200 employees nationwide and have blend facilities in Newark (Delaware) and Terre Haute (Indiana) along with sales offices in Commerce (Georgia) and Temecula (California). VP Racing Fuels are a global company with multiple distributors across Europe.
"VP Racing Fuels are the world leader in race fuel technology. VP currently produce, package and distribute world class race fuel. VP have fuelled all forms of motorsports on land, sea and air since 1975. Along with race fuel, VP also produce a line of performance chemicals, known as VP Madditives and VP Performance Lubricants. Through our branding program VP Racing Fuels have over 150 branded gas stations across the USA," said Marc Wesler, International Sales Manager of VP Racing Fuels.
But what makes VP Racing Fuels products so special?  "VP Racing Fuels use only high end base stocks and a proprietary blend of components. VP Racing Fuels are lifestyle company, many of our managers and employees who are part of the VP family during the week, depend on VP Racing Fuels in their tank on race day. Every gallon we blend is intended to win a race," said Wesler, who has a background in motorsports event and facility management and is an avid drag racer and overall motorsports enthusiast himself. "It's important to remember that not all race fuels are created equal. VP Racing Fuels currently blend over 70 different types of fuels to ensure that each competitor is getting the exact fuel for optimum performance from their application. After all, 'our passion is your performance'."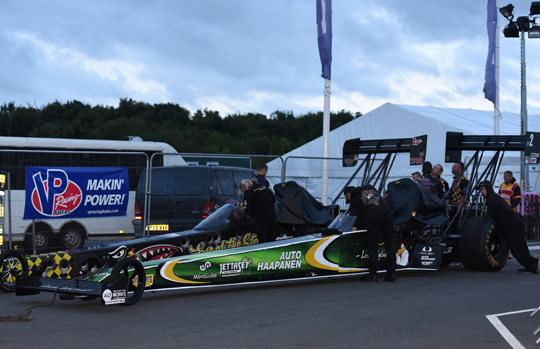 Although VP Racing Fuels first made a name for itself in the drag racing community, over the last two decades VP has become a household name in all forms of motorsports. Those motorsports include road racing, motocross racing, go karts, dirt and asphalt oval track racing, powerboat racing, land speed records and many more. "We have a saying at VP, 'if it's fast, we're in it'," said Wesler with a smile but a serious undertone. VP Racing Fuels are currently associated with more than 60 series or sanctioning bodies as either the official fuel or a subsidiary partner!
VP Racing Fuels join the Speedgroup contingency program this season and there was a good reason to do so. "Speedgroup is an important part of growing the VP brand, not only across Europe as part of the EDRS, but also globally. With the contingency program we want to reinforce our commitment to both the Speedgroup program and the EDRS participants."
Drag racing and contingency programs play a major role in VP's marketing strategy. "It's important that as a company we stay loyal to the people that started with VP, and that's the grass roots drag race competitor. Over 42+ years in business we have found growth in multiple forms of motorsports and we are happy to be associated with all forms of motorsports and not only drag racing. But it's important to remember where it all started and that's with the entry level drag racing competitor."
Categories in the Speedgroup VP Racing Fuels contingency program are: Competition Eliminator, Street 10.5, Pro Street, Stock/Super Stock, Super Comp, Super Gas, Super Street, Junior Dragster, Pro ET and Super Pro ET, and the bike classes: Pro Stock Motorcycle, Super Street Bike, Super Comp Bike, Super Gas Bike and Junior Bike. "We chose the categories in which we felt racers would benefit most from a contingency program. We are happy to be involved and supporting the EDRS. The program will be run through any of our European distributors."
Website: https://www.vpracingfuels.com/
VP Racing Fuels Speedgroup EDRS Contingency Program
Products: Racing Fuel
VP Racing Fuels awards winners with USD 200 and runners-up with USD 100 in the car classes: Competition Eliminator, Street 10.5, Pro Street, Stock/Super Stock, Super Comp, Super Gas, Super Street, Junior Dragster, Pro ET and Super Pro ET and the bike classes : Pro Stock Motorcycle, Super Street Bike, Super Comp Bike, Super Gas Bike and Junior Bike
Conditions: Decals well visible on both sides of the motorcycle, proof of purchase (copy of receipt) to be presented when making claims
Claims handled via Speedgroup, Birgitta Blakstad Poolsaar
Form of pay-out: gift certificate
For all information about Speedgroup's contingency program: