Simpson Europe become Speedgroup contingency partner for 2017
'Simpson, driven by safety'. These four words describe exactly what Simpson stand for. "In personal safety products that are designed to work together to create a safety cell, I would say we are market leader," said Jan Phersson, founder and owner of Simpson Europe. With immediate effect Simpson Europe join Speedgroup's contingency program with helmets and fire suits for the classes Pro Modified, Pro Stock, Pro Street, Top Doorslammer and Junior Dragster.
Simpson Race Products have been in the motorsport safety business since 1959. It all began with brake 'chutes for drag-cars. In 1967 Simpson was the first company to manufacture Nomex fire suits for racing. Since then, Simpson have developed more than 200 innovative products for motorsport safety and became one of the leading brands in the world. Simpson Europe, founded and still wholly owned by Jan Phersson, aka JP, is the European Master Warehouse Distributor for Simpson Race Products.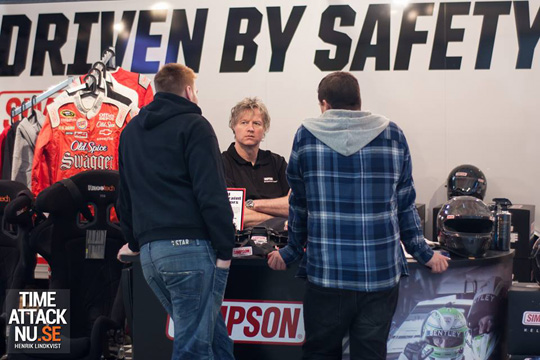 "We started as Simpson Sweden, somewhere around 2004. I was inspired by Simpson USA and the great trackside service they had. I figured a similar operation would work in Sweden. I was a drag racer and as we all know there are many hours with not so much to do at the race track, so I needed something to do. We did well in Sweden and I was asked to do Scandinavia as well. During the first five years drag racing was probably 90% of our business in Europe. We started with trackside service at the Scandinavian events and still attend the large event at Tierp Arena in Sweden with our semi-trailer. We would love to attend both events, but since we do many different motor events and one of the big FIA European Championship events at  Tierp Arena collides with another big event, we can only do the August FIA race," said JP about the early years of Simpson Europe and their rapid growth.
"I've always had a great interest in business development and my ideas were in line with what the USA management had in mind, so a process to add FIA homologations to the product portfolio began. FIA homologation is needed in Europe for other forms of motorsport then drag racing. With products that also had FIA homologation in the portfolio, I was asked to re-introduce the Simpson brand all over Europe. Today we deliver to all European countries, inside and outside the European Union. We also have dealers in Russia. We sell direct to end users, teams, dealers and distributors. One major contribution to our success is the focus we always have had on teaching customers, organisations and dealers about how to use safety equipment to be as safe as possible. We founded Simpson Motorsport Safety Academy about eight years ago, that has since been our platform for sharing knowledge and creating long term relations with customers. We have four employees and at events and depending on the season we add up to three more people," said JP about the company that has its headquarters in Umeå, Northern Sweden, the city with more drag racers per capita than any other city in Sweden.
But what makes Simpson products so good? "Simpson products are not necessary the best products in all areas, but if you consider what we call 'The envelope of safety', which means personal safety products that are designed to work together to create a safety cell, I would say we are market leader.  Simpson have been around since 1959 and our focus is only on personal safety products. Our team consist of racers that work on the field, we join tests, we do on site product development and take a great part of developing new and improved safety standards (FIA, SFI, SNELL). I would like to believe that our customers appreciate our deep knowledge about personal safety in motorsport."
Although it all started in drag racing for Simpson Europe, nowadays many other forms of motorsport are their playing field. "Drag racing is where our heart is, that is where our roots are from. Drag racing is a motorsport where everything is taken to extreme levels, so what we have learned from drag racing can easily be channelled down to rally, rally cross, drifting etc. For Simpson Europe, drag racing is an important part of their business, it is growing, but not as fast at other motorsports where we were unknown until a couple of years ago."
This year, Simpson Europe join Speedgroup's contingency program with helmets and fire suits for the classes Pro Modified, Pro Stock, Pro Street, Top Doorslammer and Junior Dragster, and there is a good reason to do so. Jan Phersson: "We like Speedgroup's way of trying to develop and at the same time consolidate European drag racing. We love our customers and feel that we need to give something back to people that trust and believe in our brand. Contingency sponsorship is a good way to do that. It's a good way to build brand awareness and create long term business relations. Contingency and what I call brand activation are the most important part of our marketing strategy. Products that are in use on racers are the best PR a brand can get. Brand activation is the main marketing tool we use today."
JP also explains why the company choose for the products 'helmets and fire suits' and for the classes Pro Mod, Pro Stock, Pro Street, Top Doorslammer and Junior Dragster. "The Pro and Pro Street categories are crowd pleasers, they have high costs for equipment and a contribution from our side is appreciated by the racers. Junior drag is important as we can meet and educate them early how to become safer in motorsport. We not only sponsor with contingency checks, we also do Simpson Motorsport Safety Academy seminars. Helmets and fire suits are the most visible products and usually bought as a package, so to make it easier to take part in the contingency program we only choose those two categories."
Website: http://www.simpson-europe.com/
Simpson Europe Speedgroup Contingency Program
Products: Helmets and fire suits
Simpson Europe award winners with USD 200 and runners-up with USD 100 in the Car classes: Pro Modified, Pro Stock, Pro Street, Top Doorslammer and Junior Dragster
Conditions: Decals well visible on both sides of the vehicle, no proof of purchase needed, Simpson only need to know the racer uses Simpson Products (Helmet and Suit)
Claims handled via Speedgroup, Birgitta Blakstad Poolsaar
Form of pay-out: gift certificate
For all information about Speedgroup's contingency program: