Time for some Kunc-family racing
A new Pro Modified car is on the way out on the tracks. Kunc family have now introduced their Tim McAmis Pro Modified 1963 Corvette. The first test race was at Kjula Dragway in September.
-It's about 12 years since I last sat behind the wheel, says Peter Kunc who is the first driver.
The team includes Peter and his two sons Acke and Simon. Two more guys are working on the car, Micke Bengts and Tomas Agerheim, who is a work colleague to Peter. And we can also see that another well-known guy is hanging around the team. Michael Gullqvist turned up at the test-run at Kjula Dragway.
FIA Pro Modified driver Michael Gullqvist showed up, off course, to help the guys out. 
Normally Peter and Simon work in Gullqvist's team at the European tracks. But this time the rolls have reversed.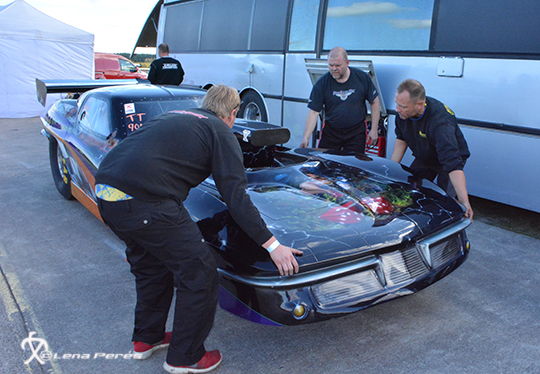 Peter and he´s team mates getting the car ready for start.
Simon and Alexander "Acke" Kunc are 25 and 23 years old and are born and raised in Hässelby Stockholm by Peter and Madelene. Simon hasn't been heavily involved in motorsports before.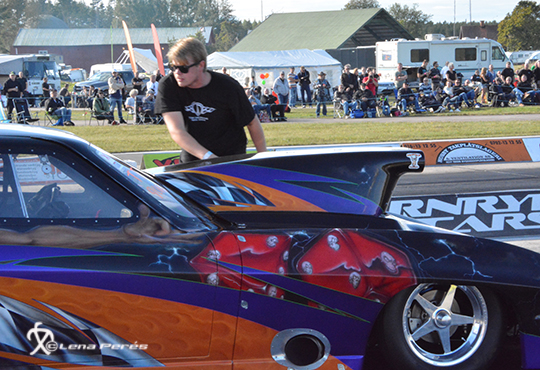 Acke in action getting dad in right position at the tree.
-I have always been more of a physical sports guy, says Simon. I have been testing most kind of sports, mostly floorball, where dad was a trainer as well. But as dad also had the racing interest my brother and I have been hanging around watching events since childhood. We have always liked it and now it´s awesome that we're starting our own family team. Acke and I are planning to take our licenses next spring and then we have to work hard to get mum in to this as well.
Simon is also involed in FIA racing as he is a member in Michael Gullqivist Pro Modified team.
Acke has been involved with racing a little bit more than Simon. When he´s not working with that, he is a crane truck driver and likes to hang out with friends.
-The interest in cars started of course through dads interest, says Acke. All through childhood, drag racing was the coolest thing you ever could be involved in, and so far that hasn't changed at all. Now it´s an even bigger interest and next season is going to be like a dream, when we have our own team.
First start with the new car was at Kjula Dragway in september with Peter at the wheel.
The car, a 1963 Corvette, is imported from the US, and comes from Tim McAmis, the same guy who constructed Gullqvist's Camaro. Mc Amis is big in race car building in USA. It was driven by Tim Mc Amis and Randy Hagerty from Arizona before it came to Sweden.
-We bought it in February this year, says Peter. The car has a 738 cc nitrous engine and we have rebuilt it for the European rules.
Teamwork at Kjula Raceway.
The first event ever in Europe was at Kjula Dragway in September where Peter took the wheel to check that everything was ok with the car and to feel the power of it. The car went fine in the first burn-out but died a bit after half-track. But next round everything went just fine. Some small adjustment is needed and then it´s ready to rock´n roll.
The car worked just fine. 
-It felt just perfect so far! says Peter. I wanted to be the first in the car as I have, at least, some experience of driving, says Peter. It´s a while ago since I raced but once you get in the car it´s all there, again. We are still going to work in team Gullqvist, says Peter. But now we also going to develop our own family-team.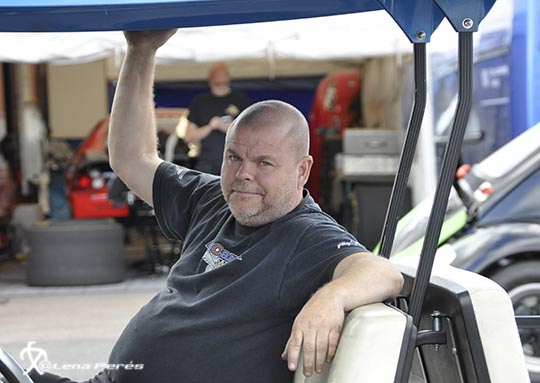 Peter Kunc is very happy to start this project with his sons. Now they just have to convince Madelene (mother of boys) to get in to the team. 
Peter has been interested in drag racing ever since he visited Mantorp Park at age 17 together with Micke Gullqvist.
-Drag racing and football is my big passions in life, says Peter. And this is really awesome we are doing this in the family now.
The Team Kunc is now racerady for 2017 season.
Next season is planned to test the car more and to participate in some of the EDRS event, and probably in Pro Street or Super Pro Street at first. But the plan is to race in Pro Modified when the team gets warmed up.
-This is the most fun you can have, says all of the guys. And once you started it´s hard to let go of it.
RACECAR FACTS:
Brand: Chevrolet Corvette -63
Chassi: Tim McAmis
Engine: Gene Fulton 738 cui
Nitrous: 3 step system
Fuelsystem: Magnaflow
Effect: 2000-2500 hp
Gearbox: 4-gear Lenco
Wheels: 36" Goodyear