EDRS Pro Nordic Motorcycle Championship enters round two at Alastaro
Less than one week to go and the EDRS Pro Nordic Motorcycle Championship will have its second race of the season at Alastaro Circuit in Finland. After a great opening round at Tierp Arena, the Tierp Internationals winners will try to increase their lead in the championship, while the rest of the pack will try to catch up with the leaders to still have a fair chance in the championship after two races. Samu Kemppainen, Kalle Lyrén, Rikard Gustafsson and Henri Kolehmainen were the winners in Sweden, while the finals in Super Comp Bike and Super Gas Bike were rained out and so these categories will have their first race winners at Alastaro. Who are the favourites to end their Sunday afternoon upside down in the water barrel?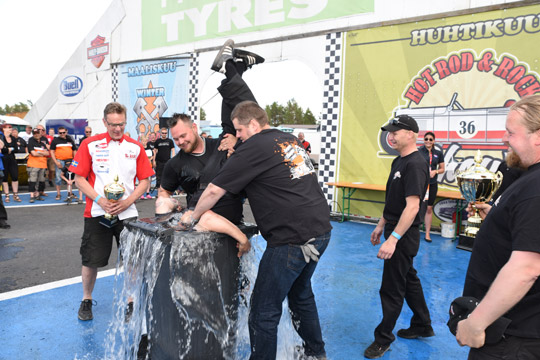 After the kick off at Tierp Arena, the FHRA Nitro Nationals at Alastaro is the second round of the four races in the EDRS Pro Nordic Motorcycle Championship. Qualifying at Tierp Arena was badly affected by the rain, but eliminations showed what great racing can be expected this season. Samu Kemppainen and Henri Kolehmainen will enter their home race as the leader in their respective categories after their Tierp win.
Super Twin Motorcycle
There are no fewer than 13 entrants in Super Twin Motorcycle, and with six riders from Finland, the home crowd has plenty to cheer for. Samu Kemppainen is of course the clear favourite. The reigning EDRS Pro Nordic MC champion was in a class of his own at Tierp, being both quick and consistent. Looking at the first race of the season, the toughest competition will come from Norway with Hans Olav Olstad and Vidar Ravnsborg, and the Swedish runner-up at Tierp, Greger Johansson. Per Bengtsson is out for revenge after his first round exit in Sweden. The same can be said about Svein Olaf Rolfstad as the Norwegian rider had to withdraw from the Tierp race after suffering problems with the team bus. Finnish riders who will get the support of their home crowd are Vesa Lipponen, Ismo Mäenpää, Harri Piensalmi, Tierp rookie Aku Lantto, and the so far in the EDRS Pro Nordic MC unknown Torsti Kettula. Also new to the EDRS Pro Nordic MC (although he was on the Tierp entry list) and all the way from Denmark is Marcus Christiansen. Erling Opheim from Norway didn't qualify at Tierp but will try to do better in Finland.
Pro Stock Motorcycle
In Pro Stock Motorcycle Kalle Lyrén impressed at Tierp with great numbers close to the 6 second zone and a dominant race win. The Veidec Lyrén Motorsports rider is the clear favourite in Alastaro too, but after their problems at Tierp Arena, there are at least two riders out for revenge. Ellsa Karlsson hit the reflectors at the finish line and lost valuable points with that disqualification. For Kenneth Holmberg it was even worse. After the Main Event, the Swecomposite rider was also hit by serious mechanical problems at Tierp, and didn't qualify. Holmberg hopes to end his period of bad luck at Alastaro. For Timo Savolainen, Alastaro is his home race. The Finn showed great form at Tierp with a new personal best and will try to do even better at his home track. Thomas Olsen was the surprising finalist in Sweden. The young Norwegian will try to repeat  that result in Finland, and without the mechanical problems he had at Tierp, he might make it to the next step on the podium. Fredrik Kempe will go for as many runs as possible to gain more experience in the technically complex Pro Stock Motorcycle category.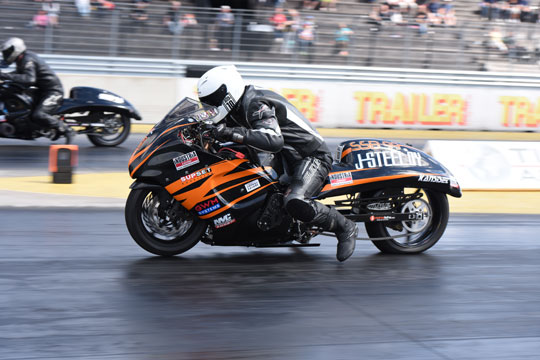 Super Street Bike
With 17 entrants, the Super Street Bike riders will again have to do their very best to qualify for the 16-bike elimination ladder. The Tierp Internationals winner Henri Kolehmainen will do his best to win on home ground too, but it will tough, as for the first time Richard Stubbins and Alex Hope will be at Alastaro too. Both will be out for revenge, Stubbins for his lost final, and Hope for his first round red light. Reigning champion Björn Friström didn't have a perfect start of the season, and the same can be said about regular frontrunners Anders Blanck and Nils-Ola Andersson. All three want to do better at Alastaro. Mogens Lund was semi-finalist at Tierp, and as he solved some problems with his new bike in the last two weeks, the Dane might surprise with a final. As the Tierp Internationals once again proved, in Super Street Bike eliminations everything is possible, so Leif Larsson, Kimmo Pulakka, Emil Östlund, Roberth Häggblom, Pelle Lakmaker, Jani Kumpulainen, Vesa Ruhanen and Robert Nilsson can also surprise. For the young Ida Johansson, Finland is her second Super Street Bike race, and as she did very well at Tierp, Alastaro will be a new experience.
Top Fuel Motorcycle
Top Fuel Motorcycle has three entrants at Alastaro. Rikard Gustafsson and Thomas Pettersson, that were in the final at Tierp and will be back for more. But Tierp winner Gustafsson will get some tough competition as reigning EDRS Pro Nordic MC Top Fuel Motorcycle champion Jan Sturla Hegre is also on the entry list. The Norwegian rider will start his title defence at Alastaro.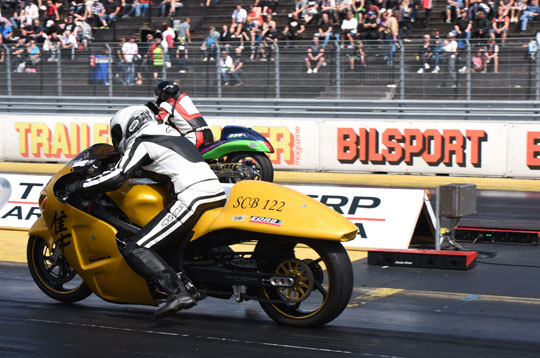 Super Comp Bike
It's great to see 19 entrants in Super Comp Bike at Alastaro! At Tierp the final had to be cancelled as the rain came back with the finalists almost ready to start their burn out. This category will have their first ever EDRS Pro Nordic MC race winner at Alastaro. Peter Svensson was the number one qualifier at Tierp, but Anders Gerdtsson, Kathrine Wagenius and Bianca Nilsson were the semi-finalists. With riders from Finland, Sweden and Norway it will be interesting to see which country can take that first win in this always exiting category.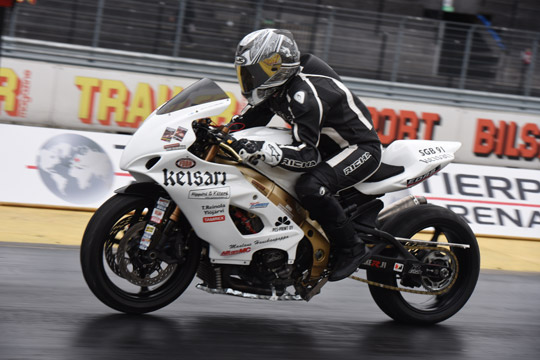 Super Gas Bike
Super Gas Bike had the same rain problem at Tierp as Super Comp Bike, and so there is also no winner here so far. Janne Koskinen and Magnus Pollack were in the final, but with seven instead  of four entrants. it will be more difficult to reach the final once again.
Qualifying for the EDRS Pro Nordic Motorcycle Championship at Alastaro will start on Friday 8th July, with two more rounds on Saturday 9th July. Eliminations will start on Sunday 10th July.
Text and photos: Remco Scheelings