Good racing with a vintage touch at Sundsvall Raceway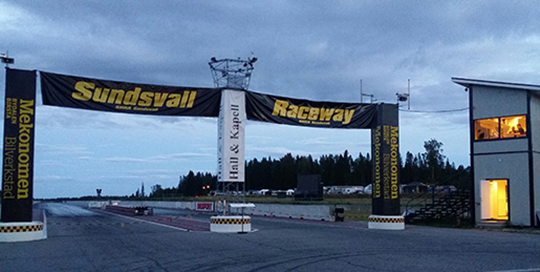 Sundsvall Raceway is one of few racetracks in Sweden that host almost all classes from Jr Dragster up to Pro Modified. 
This time all classes are represented except Pro Modified. Instead Top Door slammer going to have a go on the track. A spectacular class with beautiful hot rodcars make a show for the spectators. Sundsvall is probably one of the highest track above sea-level in Sweden. The road to the track is very steep, and you need good speed in the uphill parts. But when you arrive it´s a very nice place, all worth the long travel thru the woods. -New for this year is that the Scandinavian Vintage Dragrace Association (SVDA) is invited to the event and right now it's about 15 teams registered, says Tommy Edström.
More to mention about the participating teams are the leader in Jr Dragster class Lucas Karlsson. He is there to defend his leading point in the series towards Simon Andersson and Patrik Lind, the three top drivers right now in the series who also going to be on site. Expect a thrilling weekend at Sundsvall Raceway 1-3 July.
This weekend is a very busy weekend for EDRS racers. But the event is divided on three countries, Valle in Norway, Haapsalu in Estonia and Sundsvall in Sweden. Which shows EDRS is a global series.
More information på:
http://www.shrasundsvall.se/Hem/Nyheter/dragracing1-37-2016/
Results: http://www.dragracing.eu