Julie did the best round at Thunder Valle, Main Event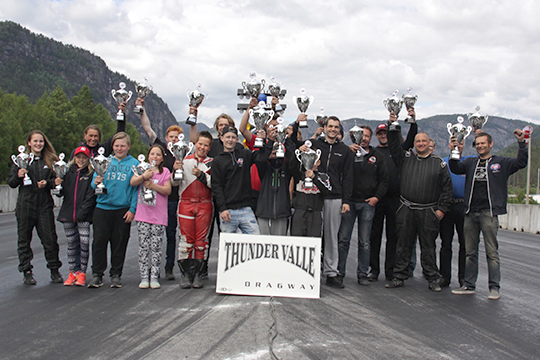 Jens Petter Jevnaker have made a sum of Thunder Valle that had their first race of the season last weekend. About 60 drivers, from Norway and Denmark, in different classes signed in to Åraksøyne Air and Motorsport Centre last weekend.  The purpose was Thunder Valle, Main event. 
After a week of hard work from Jæren Dragrace Club and locals from around the track (this is located on a runway which normally is used for planes and parachute jumping), 201.17 meters of well-prepared drag strip was ready for some serious racing.
Classes went from junior dragster and junior bike to Pro Street cars and Super Comp bike including the special Norwegian class Small Tire Stock Suspension.
The first teams arrived on Wednesday, in good time for the race.  Majority of teams arrived Thursday evening and Friday morning, in time to have a couple rounds of qualification on Friday.  They managed to have 5 qualifying rounds on Friday, before the rain stopped the race.  Best round of the day was Julie Nataas with 4.97 and 224 km/h.
Saturday morning the sun was shining and racing started from 09.30.  The track was a bit cold in the beginning, but as soon as the sun warmed the track, the work in advance paid out.  Rune Løvhaug targeted a 4 second run, but unfortunately he missed it with 3-hundreds of a second.  Best run was 5.03 and 225 km/h.  Pretty close.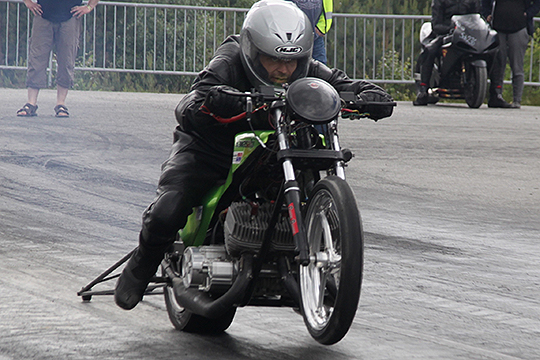 After some hours of dragracing, it started raining.  Luckily not for a long time, so the planned Street Legal race was held as planned.  3 rounds of qualificastion and elimination in the 5 classes in Street Legal (Junior Dragster, MC, Street, Bracket and Bad Boys) later, there again was time for some serious racing.  Several drivers had their best qualification results in the 2 rounds Saturday evening.  Anyway, 15 rounds of qualification in 2 days racing is not bad. There was just one 45 minutes cleanup in the track. There was a Ford Mustang Funny that suddenly had a 2 inch hole a place where it should not be a hole.  That caused some spilled oil which needed to be cleaned up.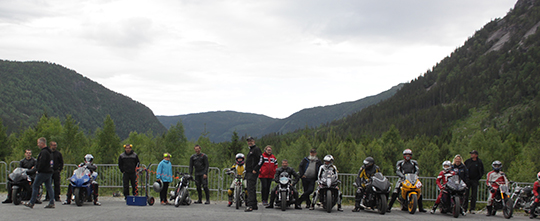 Sunday morning started in the same way as Saturday.  The sun was shining, but a little cold.  3 rounds of qualifications before the eliminations started.  When it was just 4 final races left, it started raining again.  It was just a typical summer rain, so they managed to run the last races after 45 minutes. 
It was a weekend with nice, good and tight racing – just the way it should be.  Jæren Dragrace Klub was satisfied and it seemed like the drivers had the same opinion, since the all gave an applause to the arranging club and their helpers.  Many of the drivers have already promised that they will be back on the next event, which is already in a couple of weeks.  Of course, if there are some new participants, they are also very welcome. The weekend July 1 to 3, the second event of the year will take place.  If you are interested you can find information and more details at their web site; www.jdrk.net.
Jens Petter Jevnaker
Classes:                                                Q1:                                                         Winners:
Jr Dragster:                                        Bent Arild Ström                            Håvard Kongshem
Pro ET:                                                Joar Amundsen                               Kristoffer Andersen
Pro Street:                                          Rune Lovhaug                                  Rune Lovhaug
Super Pro Street:                              Björn Hultberg                                 Stig Pedersen
Jr Bike:                                               Per Erik Emilsen                              Per Erik Emilsen
Super Comp Bike:                             Mikkel Olssen                                   Mikkel Olssen
Super Gas Bike:                                 Mikkel Jensen                                  Mikkel Jensen
Photogallery updated at: https://www.dragracingeurope.eu/edrs/thunder-valle-2016/