FIA European Drag Racing Championship continues at the state-of-the-art Tierp Arena facility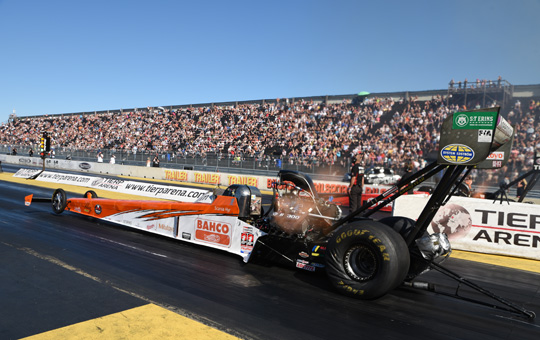 After a great start at The Main Event at Santa Pod Raceway, the teams of the FIA European Drag Racing Championship travel to Tierp Arena, the state-of-the-art drag race facility north of Stockholm. Can Stig Neergaard, Jonny Lagg, Bruno Bader and Jimmy Alund repeat their strong Santa Pod performances, or will the chasing group catch up with the provisional leaders? New competitors will start their European campaign in Sweden and with a healthy entry in almost all Pro classes, and the fact that Tierp Arena is almost a guarantee for European records, the Tierp Internationals (June 16-19) is a race everybody is looking forward to. 
Tierp Arena hosts the second round of the FIA European Drag Racing Championship. The state-of-the-art facility north of Stockholm proved its quality, and offered some of the best drag races ever seen in Europe. Looking at the great start of the season in England, the 2016 Tierp Internationals promises to be no exception, and a spectacular, action packed programme can be expected. Qualifying for the Pro classes will start Friday, June 17 and will continue Saturday, June 18. Eliminations are scheduled for Sunday, June 19.
Top Fuel
Stig Neergaard was the proud and well-deserved winner of the season-opening Main Event. The Dane will do everything he can to leave Sweden in the number one position. But Anita Mäkelä is out for revenge after her early exit in England. The Finnish fan favourite had one of her best ever race weekends in August last year at Tierp, and reset the European record several times. And more drivers want to improve on their Main Event performance.
Reigning champion Micke Kågered had some serious problems and lost in the final, while multiple champion Urs Erbacher had an early exit in round one.
In his second Top Fuel season, Liam Jones from England wants to win races and the title, and with a semi-final finish at his home track, Jones made a good start to the season. For Stefan Gunnarsson and Björn Mårtensson, Tierp Arena is their home track, and the two Swedes will be supported by many fans.
Steve Ashdown made his Top Fuel debut at The Main Event and will do a limited schedule. At Tierp Arena the talented young Norwegian driver Birgitte Bremnes will take over the driver seat of the second Rune Fjeld Motorsport car. Don't be surprise to see this young lady shine with round wins in Sweden. As Janne Ahonen had to withdraw his entry, there will be eight Top Fuelers at the second race of the season.
Pro Stock
Jimmy Alund's win at Santa Pod was not the biggest surprise of The Main Event, but it was good to see that the gap to Bengt Ljungdahl in his new Gray Motorsports Camaro was less than 0.03 seconds in qualifying. Don't be surprised to see a new European record in Pro Stock at Tierp, as in testing in May, Alund impressed with 6.48 seconds. Thomas Lindström was strong in eliminations at Santa Pod, while Magnus Petersson and Michael Malmgren will need the points they missed in England after a round one exit. Rookie Stefan Ernryd's goal will be to get more experience in the ex-Allen Johnson Dodge Dart.
But 'the six from Santa Pod' will get some extra competition, as four other teams will start their season at Tierp Arena, and that makes the number of entrants to ten. Hannu Kalliomäki from Finland surprised in his home race at Alastaro last year and can be extremely quick in his ex-Greg Stanfield Pontiac GXP. Robin Norén is a successful and young Sportsman racer and will make his Pro Stock debut at Tierp. Last but not least we will see Jonas Boberg with a new car, and Simon Gustafsson.
Pro Modified
Like at Santa Pod, with 22 entrants from Sweden, Switzerland, Denmark, The Netherlands, Germany and Kuwait, Pro Modified is the largest Pro class at the Tierp Internationals. Bruno Bader dominated the English race, but regular championship contenders like reigning champion Michael Gullqvist, Mats Eriksson and Johan Lindberg will do everything they can to avoid another Swiss victory. Thomas Stiefel, David Vegter and team mates Norbert Kuno from Germany and Hussain Al Shammari from Kuwait were at The Main Event too and are looking for points to be not too far behind after two races.
The British Pro Mods are not at Tierp, but instead of the British drivers, there will be a large number of extremely quick Swedish Pro Mods. At least five of them can win the race and beat the regular FIA European Championship contenders. What to think of Anders Nilsson, race winner at Alastaro last year, Urban Johansson, Andreas Arthursson or Fredrik Fagerström.
For all other Swedish favourites, check the entry list and you'll see some more ultra-fast Pro Mods. From Denmark comes Kim Kristiansen with the ex-Marc Meihuizen Pontiac Firebird, a very competitive car. It will be interesting to see what the Danish driver can do in his first FIA race with this beautiful car.
Top Methanol Dragster
At The Main Event Chris Polidano had the quickest and fastest car on track, but at the end of the day, Jonny Lagg was the winner. At Tierp Arena the Swedish Santa Pod winner and 2014 FIA European champion from Malta will meet again and will have a serious fight for the event win. Polidano doesn't want to lose too many points so early in the season, and will be out for revenge. The English competitors skip the Scandinavian rounds, and so the Tierp Internationals has two entrants in Top Methanol Dragster.
Top Methanol Funny Car
Top Methanol Funny Car was not contested at The Main Event. This spectacular class will kick of their season with the Tierp Internationals. With five strong entrants, two from Sweden, two from Finland and one from Germany, the first race of the season promises to be a great one.
Reigning FIA European champion Leif Andreasson will meet tough competition from the two Finns Johnny Oksa and Ari Pietilä. Last year's number three and four in the championship showed what they were capable of last year, but were not consistent enough and couldn't do all races to beat Andreasson. But this season that might be different and they want to go for that number one. Mikael Larsson was involved in nasty crash at the 2015 Tierp Internationals, but made his comeback in August and as he lives only 40 km from Tierp, it is his home race. For Jürgen Nagel it's a few years ago he was at Tierp. Now the German is back for his first outing of the season and will at least go for new personal bests. And with personal bests, Nagel can win races.
Link to the entry list: http://www.dragracing.eu/event_details.asp?c=y&id=299
Text and photos: Remco Scheelings