EDRS Tierp Internationals 2016 is on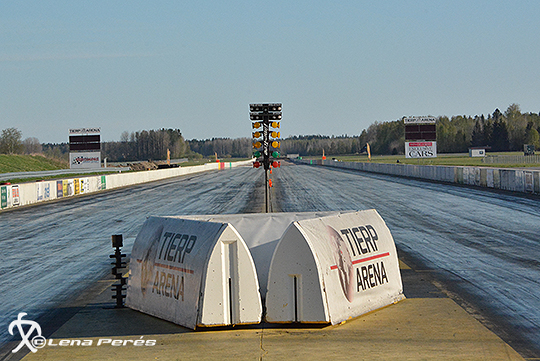 Soon this area will be filled. About 300 teams have signed in to Tierp Arena for the Tierp Internationals next weekend. Expectations are high for the event and it´s going to be a stunning racing weekend for all who will be there.
Tierp Arena is still one of the best dragracing tracks in Europe, if not in the world. All of Europe's top team come together here for a big battle a twice a year. Many European records have been set at Tierp and this is what we expect this weekend as well. The arena has been continually upgrading over the last few years, and is now an even better facility than it was at the beginning.
-Over the last two years we have been finishing the main building with VIP areas, Lodges, Restaurant and so on with great view over the track, says Pierre Tillaeus. Plans for upcoming season are to make our two European Championship races grow even more and also arrange our first concert ever at the arena.
-Future plans are to build a track for international Rallycross events, hopefully finished by 2017, says Pierre.
At the moment there are three people working full time at Tierp Arena and of course a lot more during race weekends. The track is prepared, as usual, by Kalle Brinell and is in record setting condition.
Among many others we find in Pro Mod we find a new team. Rolf Simonsson has taken a step up from Competition where he raced last  year, ending the season in 10th place. In Competition we can welcome the beautiful Audi A5 Turbo in what Jens Eklund won the series in last year.
Super Street is a class that increases at this event. With 15 racers it's a good start for the class to stay alive. Here we also find a long time no see participant. Jennifer Gustafsson from Borlange, who has ben a champion for several years in EDRS and previously NDRS, is now back behind the wheel. Jennifer came from the Junior Dragster ranks many years ago.
That is what Julia Borén Stolst did as well. These two former Jr dragster drivers are now mothers of two children each, and are getting back in the seats again. Julia is now driving a Super Comp dragster where here father Carl- Erik Kihlman is the crew chief.
Pro Street have the impressive amount of 33 participants, a very popular class. And the drivers are from all over Europe.
In the more or less Swedish class Stock/Super Stock, we find this time three drivers from UK, which is nice as the class is very small in Great Britain. One of them is Rick McCann, who now actually moved to Sweden, just to be able to run in the class. Then we have the Williams family, Nic and Daniel who have their cars stationed with the McCanns family, who live close to Tierp Arena. They come over as often they can to race in Sweden.
In the Super Street Bike class we, this year, find one girl. Ida Johansson is taking on the battle with the guys. And we have two drivers from UK here also. Richard Stubbins and Alex Hope have taken the trip to Sweden this time.
This is just a few of all participates during the weekend. It´s going to be an exciting race weekend for all of the Tierp Arena visitors, spectators and racers. And as said, the track is prepared for a lots of records.