Stefan Ernryd from Team Manager to driver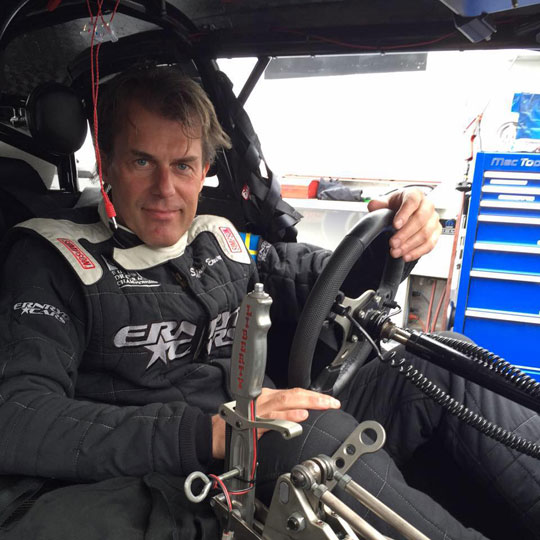 Having been Team Manager for Team R/T for five years, Sweden's Stefan Ernryd is stepping up and driving his own Pro Stock, an Allen Johnson Dodge previously campaigned in the USA by Richie Stevens.
"After testing and gaining an NHRA licence we shipped the complete race-ready car to Sweden", Stefan told Eurodragster.com. We have done a few small jobs on it as well as rewrapping it in a new colour as well as the trailer I bought from Jonnie Lindberg.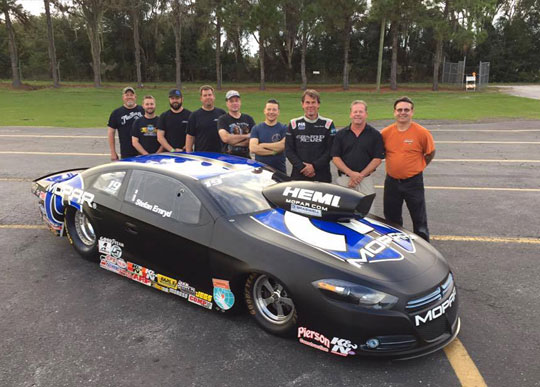 "We tested at Tierp Arena and after struggling with some electrical problems we made a full run of 6.70 so we still have some work to do before we come to Santa Pod for the Main Event. The competition is tougher than ever with Jimmy Ålund making two 6.4-second runs at Tierp, Bengt Ljungdahl also ran a nice 6.52 at the same test. Our car will be in the same range, we just need to get more rounds and experience. My Crew Chief is Ulf Wagnhester who used to drive Pro Stock in the car which Simon Gustafsson drives now. My clutch guy is Jari Eerola who has been with me for several years with my previous Super Street Dart, he also worked on Bo Pettersson's Pro Stock team as clutch guy. Erik Almström works with the transmission and rear end, he has raced Street cars and worked in Pro Stock a few years ago. Pekka Lampinen is a true Mopar enthusiast and is our all-round guy."
"Our sponsors are Ernrydcars, my own company which celebrates thirty years in business this summer; Hansen Racing, the biggest parts supplier for US cars in Sweden which is also celebrating this year with fifty years in business; Navterra, a US / Swedish car export company located in Detroit, is also on board."
"We are aiming to contest the full season this year. It's going to be interesting and we are all excited!"
Special thanks to Tog and Eurodragster.com for sharing this news item.