Another busy season for Kenneth Holmberg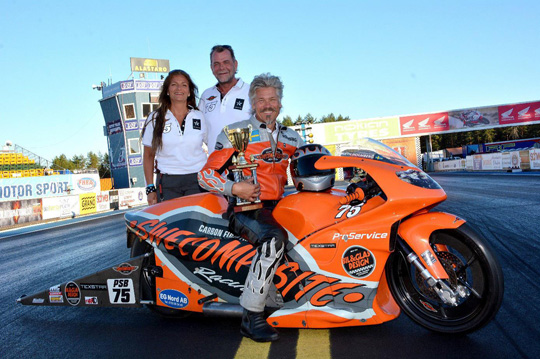 Kenneth Holmberg and his Swecomposite Pro Stock Motorcycle team are working hard on their preparations for a busy 2016 season.  "We are working hard on updating the bike and on appearing at some partners/company events during the spring. There is a lot of planning to be done for 20,000 kilometers of travel during the race season", said Kenneth Holmberg. 
"We will run all the races in the FIM Europe and the EDRS Pro Nordic Motorcycle Championship this year, but priority is the FIM European Championship. Some of the highlights will of course be the races at our home track Tierp Arena on 16th – 19th June and 25th – 28th August. There we have the chance to meet our Swedish friends and partners. The goal is of course top positions this year, as we have finished fifth and sixth in recent years in the European Championship and were fifth in the EDRS Pro Nordic MC."
The season begins with some test runs at Tierp Arena in early May, or the test day before The Main Event at Santa Pod. Then it's the first race of the European Championship at Santa Pod Raceway. "We are really looking forward to this season because we have made many engine and chassis modifications, and we have a number of new partners who make it possible for us to race in Pro Stock Motorcycle", said Kenneth.
Tekst: PR
Photos: Lena Perés