Pro Stock news for 2016 season
As the 2016 FIA European Drag Racing season approaches, kicking off at Santa Pod, England in May, there is much news in the class to relate.
For the 2016 season, NHRA have mandated the use of Electronic Fuel Injection (EFI) engines. The familiar hood scoops of Pro-Stock cars are no more, at least for the American racers of the NHRA. In Europe, the teams will be allowed to continue with naturally aspirated, carburettor power plants for the 2016 season. An EFI team would be allowed in to competition this year, however there are no such equipped teams therefore it is a largely irrelevant point.
2016 may well see a larger field than recent years as a result of this move. Teams that had always wanted to run in Pro-Stock have found cars available in the US whose operating teams are building new cars rather than updating older ones. This has meant that several more cars have been on the market thanin previous years, and a few of those have come to Europe.
One notable addition to the entry list will be Stefan Ernryd, the owner at Ernryd cars and previous sponsor of the Thomas Lindström Team R/T Dodge which carries the number one plate this year. Stefan has decided to step up from sponsoring to driving and has purchased an Allen Johnson Dodge which was previously campaigned by Richie Stevens in the NHRA. Stefan is planning to race at the season opener and the Scandinavian rounds and see how things come together. Stefan has an experienced crew chief in ex Pro-Stock driver Ulf Wagnhester and has bought a full race trailer from Lucas Oil Top Methanol Funny Car champion Jonnie Lindberg. Stefan has licenced for Pro-Stock in the car over in Florida and had his licence countersigned by none other than Jimmy Ålund. "I told him he will grow to regret signing that licence" says Stefan with a smile.
Simon Gustafsson will be returning with the Samantha racing Dodge, and plans to run the normal calendar. Simon says "for us, Malta is a question mark at the moment, it depends very much on the deal, so we wait to see what happens there. We will test at Malmo and we are going to run at the normal FIA events and chase results."
Bengt Ljungdahl who was on the start list last year in an ex Michael Malmgrens car, has purchased Shane Gray's 2015 race car. The Ex Malmgren car has now been sold to Pro-Stock newcomer Jonas Boberg, who will race it in the class this year.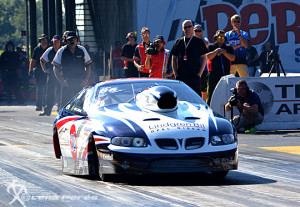 Jonas will test at Malmo and run the two Tierp events. Jonas keeps mostly the same crew as he has been with in Super Pro Street, and will run an ex Tommy Leindahl engine while they learn the car and the systems. That is not where the link with Tommy ends, as the crew chief on the Jonas Boberg team is none other than Tommy Leindahl himself.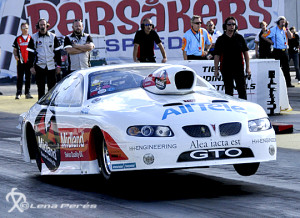 Robin Noren has bought the ex Mats Jacobsson Pro Stock, and will compete in the class this year. Robin plans to compete at the two Tierp events and Alastaro, and then may enter the finals at Santa Pod dependant on how things go.
Jimmy Ålund, is going to have some fun over in the US this year racing a Stock/Superstock 1970 Chevy Nova at Pomona, Gainesville and Charlotte before he comes back over for the European Pro Stock season. Jimmy will race at all the events, and will include Malta if the logistics can be worked out. With no plans to race Pro Stock in the NHRA this year, Jimmy will have all his attention and resources focussed on Europe to challenge Thomas Lindström for the number one plate.
Thomas has some new J&J power under the hood for 2016 wrapped up in a new look car and trailer designed by Nina Lindström. since the sponsorship with Ernryd cars ended last year. Thomas tells me that new sponsors have been contacting the team and that there are still available slots on the sponsorship side. "Winners attract winners so sponsors who would like to be associated with a race team that has a proven record and a high profile presence can continue to contact us" says Thomas.
Magnus Petersson has some new sponsors in the form of MPM Oils and Mekonomen. Magnus and Martin have been working hard throughout the off season to increase the horsepower and they will definitely be a force to be reckoned with in 2016.
2015 saw a Pro-Stock debut for Hannu Kalliomäki in an ex Greg Stanfield Pontiac GXP which set the number one qualifier position in round one at Alastaro last year. Hannu plans to add both Tierp rounds to his race schedule this year as well as Alastaro. He proved last year that he has horsepower and speed, so the cars that will be contenders at Tierp will definitely number more than the 8 that will qualify.
News by:  Ian Hart