Brothers in Arms Racing shine at Oslo Motor Show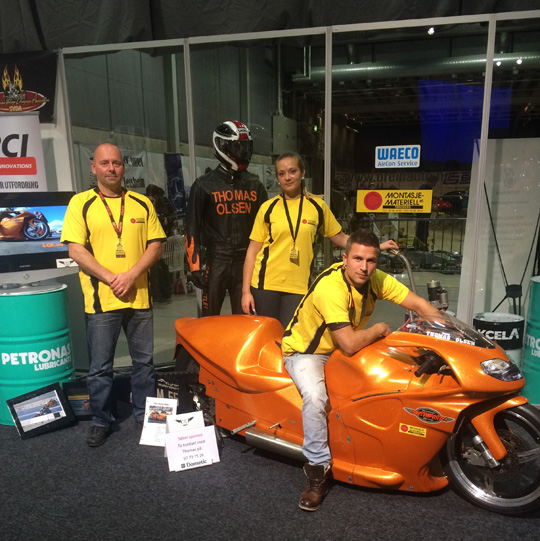 Thomas Olsen and his Brothers in Arms Racing team did a great job last weekend in not only representing their own team, but also the sport of drag racing in general at the Oslo Motor Show, Norway's biggest meeting for motor enthusiasts. Many questions were answered about their beautiful Pro Stock Motorcycle and the sport of drag racing, and with their enthusiasm, the team members were real ambassadors for the sport and gave many visitors a first taste of what drag racing really is. 
When the racing season is over, it's time for the racing shows. Shows are always a good place to promote your team and the sport, and meet the fans. The Oslo Motor Show is the most important motor show in Norway and was held from 23rd to 25th October.
"We were asked to exhibit our bike at the Oslo Motor Show this year", says Emma Olsen, team member of Brothers in Arms Racing. "The Oslo Motor Show is Norway's biggest meeting place for any person with interest in motors. In 2014 the show attracted over 31,000 visitors and this year there were over 40,000 visitors. During the last five years the Oslo Motor Show has consolidated its position as the most important arena for remodeled vehicles, motorsport and equipment suppliers. Everything you can dream of, from custom-built motorcycles and American eye catchers, to road cars, historic vehicles and unique trucks. New in 2015 were the supercars, the Petter Solberg Show, a motorcycle show and Mike Lavallee, a custom artist and owner of 'Killer Paint' in the States. The 2015 edition attracted 150 participants."
Thomas Olsen finished seventh in this year's EDRS Pro Nordic Motorcycle Championship, his first full season in Pro Stock Motorcycle. His Brothers In Arms Racing team had many questions to answer about their beautiful Pro Stock Motorcycle and the sport of drag racing.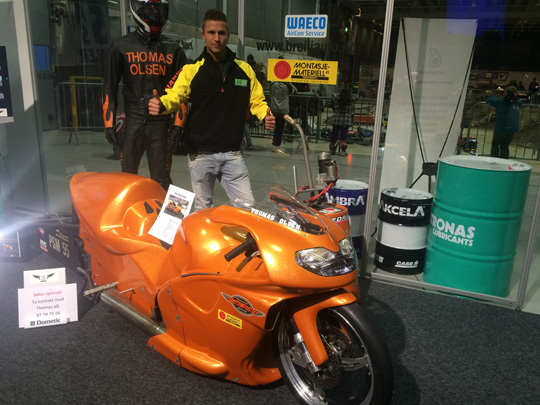 "It was an very positive experience for our team, and we are very grateful that we got the opportunity to exhibit our bike. We got a lot of good attention, not only because the bike is a real eye catcher, but also because drag racing is a sport not so many know very well. The visitors likes it very much that they could see the drag race bike from so close and understand how fast it really is. It was a great opportunity to show off both the sport and ourselves. We got many questions about the sport and hopefully we managed to engage more people towards drag racing. It was also an opportunity to get some interest from new sponsors, and hopefully we will get some positive feedback there as well", says Emma. To conclude: "Now we look forward to the banquet, and of course the 2016 season. We would like to thank Breili Auto AS and Waeco aircon service and montasje matriell AS, as they made it possible for us to exhibit the bike at the Oslo Motor Show this year, and their help through the season."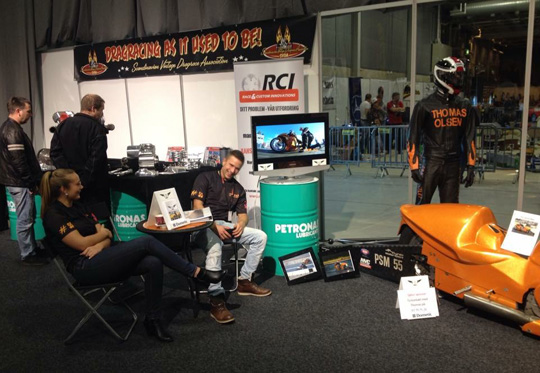 Photos: Brothers in Arms Racing