speedgroup
On Friday March 11th Speedgroup´s Åsa Kinnemar invites teams and stewards to an information meeting in Helsinki, Finland.

The location is FHRA:s office at Malmin Lentoasema (same day and location as the SFI certification)
The meeting is scheduled to 11.00 and last approximately one hour.

The meeting will include information about the FIA European Drag Racing Championship, EDRS, EDRS Pro Nordic and general Speedgroup matters. Sign up is not needed for this meeting.
Any questions please email asa.kinnemar@speedgroup.eu and very welcome to attend the meeting!
---
On Saturday February 13th it is time for the annual swap meet Åby Motormarknad, held in Åby just outside Norrköping Sweden. The event attracts hundreds of vendors of racing parts and thousands or visitors all connected to drag racing.
Speedgroup has a stand at Åby Motormarknad and our staff will be happy to discuss anything connected to the EDRS, EDRS Pro Nordic, FIA Championship or Dragracing SM. Stop by and visit us if you are on site!
For more information about Åby Motormarknad please visit www.abymotorklubb.se
---
EDRS PRO MC  –  NORDIC CHAMPIONSHIP GUIDELINES 2016
---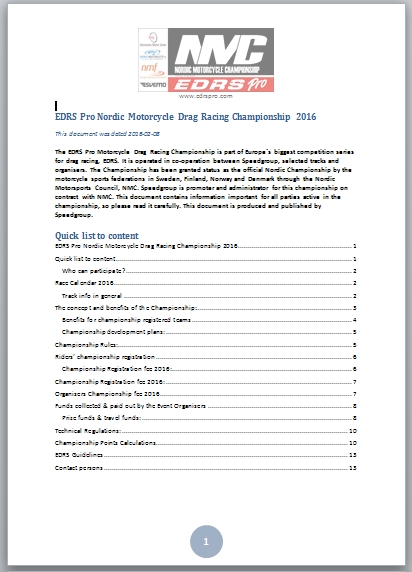 A "must read document" for everyone planning to be involved in the EDRS Pro Nordic Drag Racing MC Championship!
Filled with information about the championship;
– Speedgroups´thoughts and work with the championship
– Competition Classes
– Race Calendar
– Development plans
– Championship registration
– Prize funds levels
– Points calculations
– Media
– Contact persons.. and much more!
Check it out! A link to the document can be found on the "Racers Page" at www.edrspro.com or click the front cover image. 
Please note the document is specific for this championship. The general EDRS Guidelines 2016 document is published at EDRS website www.dragracingeurope.eu/edrs 
---