FIA European Drag Racing Championship continues at Tierp Arena
After the flying start of the FIA European Drag Racing Championship at Santa Pod Raceway, with three more than happy winners, two new FIA European records and 30,000 spectators, the title race continues with the Tierp Internationals at Tierp Arena, Sweden. Will the female winners in Top Fuel and Top Methanol, Ida Zetterström and Linn Fløysvik, be able to repeat their Santa Pod success, and will reigning FIA European Pro Modified champion Jan Ericsson be able to resist the upcoming competition? For the Pro Stock class the Tierp Internationals are the first round of their FIA European Championship and with ten entrants the competition will be tough. The Tierp Internationals are also the second round of the FIM Europe European Drag Bike Championship and with healthy fields in all classes, competition will be tough in this title race as well. The Tierp Internationals will have an action packed programme as the race is also a round for the Summit Racing EDRS Series. With 253 entrants, it's a race meeting not to be missed.
The FIA European Drag Racing Championship continues with the Tierp Internationals on 15th – 18th June, at Tierp Arena, the state-of-the-art drag racing facility north of Stockholm. After the record breaking weekend at Santa Pod, the Swedish track will be in first class condition as well and records might fall again. The Tierp Internationals have healthy fields in all four categories of the FIA European Championship with many new entrants compared to the opening round in England.
Top Fuel girl power
Ida Zetterström claimed the win at The Main Event at Santa Pod and is the proud leader of the championship. The Alandia Motorsport/Rune Fjeld Motorsport driver from Åland, Finland, reset the European ET and speed records in England with 3.773 seconds at 321.01 mph and is in the right form to do this all over again in Sweden.
Susanne Callin finished in the runner-up position at Santa Pod. The RF Motorsport/Slick Tricks Racing driver will be out for revenge in her home country and will try to get back to her winning streak from 2022 when she won the last two races of the season.
Definitely out for revenge will be Stig Neergaard. For the Dane The Main Event was a race to forget as he had all kinds of problems and was not able to make a decent run.
The Tierp Internationals will be the first race of the season for Antti Horto. The reigning FIA European Top Fuel champion from Finland announced before the start of the season that he would only compete in the two races at Tierp Arena. It's certain that the Eagle Top Fuel Racing/RF Motorsport driver will do everything he can to prove that he would have been a title contender if he had been in the position to do all five races. Last but not least Timo Lehtimäki is back in the championship for his first race of the season. The Finn can always surprise, can be really quick and steal some points from the title contenders.  
Top Methanol girl power
All four of the championship contenders who fought closely at Santa Pod, will be back at Tierp for more. And the good news is that there will be two new entrants, both quick enough to make the eliminations even more interesting. Linn Fløysvik was the proud winner of The Main Event, being the first FIA European Championship victory for the female driver from Norway. The Karlsen Motorsport team will try to prove that the numbers they recorded at Santa Pod can be copied at Tierp, and even a bit quicker and faster, and that the victory was not a fluke. After problems in qualifying, Silvio Strauch surprised with a runner-up position in England. The always modest German Engine Ghost team will probably start dreaming of an event win.
Sandro Bellio was not happy at all after The Main Event where the Belgian team suffered engine damage and went out in the semi-finals. The reigning FIA European champion will be out for revenge and will try to gain enough points to feature again in the title race. The same is true for Jonny Lagg, who suffered traction problems in the semi-finals in England and was not happy either. Johnny Oksa and Tony Bryntesson will start their title race in Tierp. Oksa, the 2016 FIA European Top Methanol Funny Car champion, had the intention to do the full tour, but work and other commitments made it impossible for the Finn to have the car ready in time for the opening round in England. Oksa returns to the championship with a Camaro with a Jonnie Lindberg built and tuned engine and a spare JLM engine in the trailer. Bryntesson, a former Top Fuel driver who switched to circuit racing but made a comeback at the dragstrip last season, is back for more.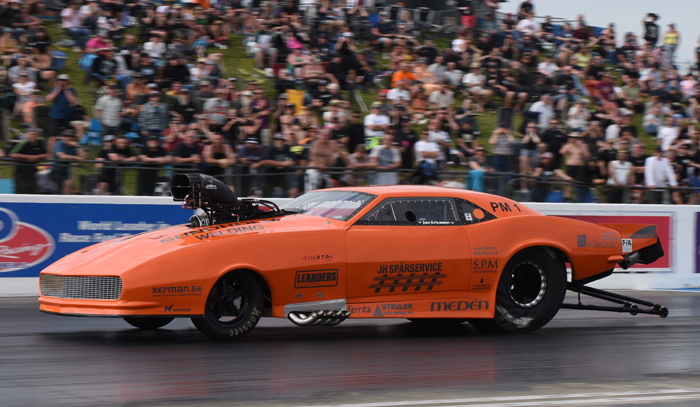 Pro Modified
The Pro Modified category saw some fierce and tough competition at Santa Pod Raceway, and although the British competitors will not be at Tierp, with no fewer than 22 entrants from six countries, and with all the Swedish favourites and some returning quick drivers present, the Pro Modified field is probably the most competitive we have seen in years.
At Santa Pod reigning champion Jan Ericsson claimed the victory and with a string of 5.7-second runs the Swede once again proved to be extremely quick and consistent as well. But Ericsson was not the only driver with 5.7-second runs. David Vegter recorded several 5.7-second runs as well and will be out for revenge after his early exit in the quarter finals. The Vegter Pro Mod Racing driver from The Netherlands has not always been so lucky at Tierp, but will definitely try to turn his luck this time.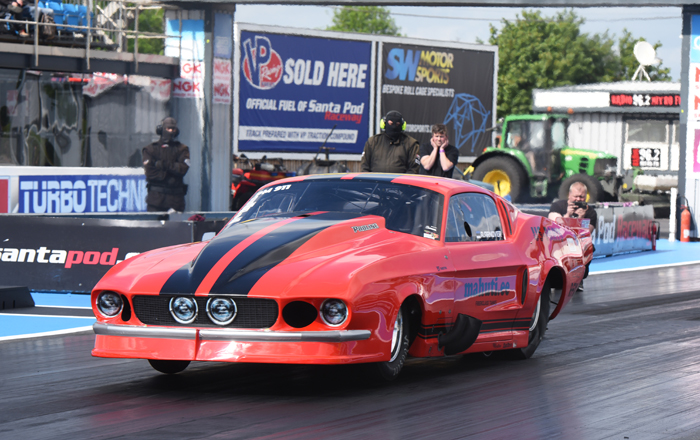 Andres Arnover was not so lucky in England and damaged his turbo engine at least twice, but still the driver from Estonia recorded some great ETs and reached the semi-finals. The list of other drivers who can win at Tierp Arena is almost too long to mention. From the drivers who were also at Santa Pod, home favourites Mats Eriksson and multiple champion Michael Gullqvist, and crowd favourite Fredrik Fagerström are only three of them. But maybe even more chances are there for the two Dutch drivers Michel Tooren and Marck Harteveld, who both reset their personal bests into the 5.8-second zone at The Main Event. Bruno Bader reset his personal best as well, but after his crash in the semi-finals it is very unlikely that the Swiss veteran will be able to race at Tierp.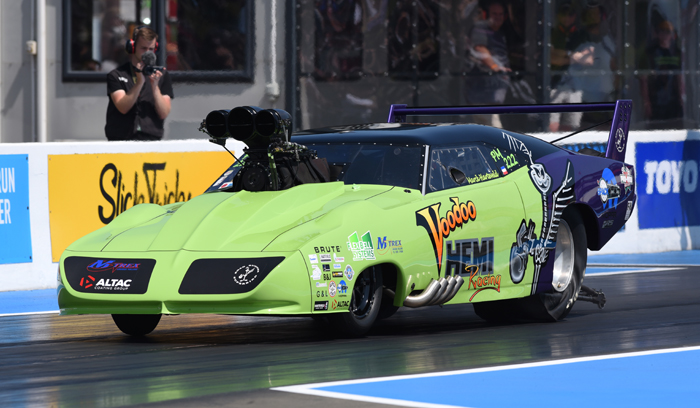 From the drivers who were not at Santa Pod, but who can definitely win at Tierp, we have to mention former FIA European record holder Andreas Arthursson, Roger Johansson and last but not least former FIA Pro Mod champion and reigning Pro Stock champion Jimmy Ålund, who is back in the Pro Mod business in the Old '51 Chevrolet Business Coupe 1951.
Also from Sweden come Olof Andersson, Jan Brännvall, Micke Johansson, Peter Kunc, Marcus Perman, Åke Persson, former Top Doorslammer racer Andreas Sjödin and Jesper Stenberg. Stian Rusånes, who surprised several times last season, is the only competitor from Norway.
The Tierp Internationals will also see the FIA Pro Mod debut of Mike Reymond, son of former Top Fuel driver Kim Reymond, who impressed on his licensing runs at Gardermoen Raceway a two weeks ago.
Pro Stock
The Pro Stock category didn't take part in the English round of the championship, thus the factory hot rods will have their first FIA Championship race at Tierp Arena. With no fewer than ten entrants, Pro Stock will be close again and very interesting. The number one favourite is of course multiple champion Jimmy Ålund in the familiar Summit Racing Camaro. His main rivals will once again be Michael Malmgren (Pontiac), Stefan Ernryd (Dodge Dart) and Robin Norén who impressed last year on his first runs with his new Pontiac GXP. Also from Sweden come Magnus Petersson (Pontiac GTO), Christian Sagelv with the sole Ford Mustang, Tommy Leindahl (Chevrolet Cobalt), Lasse Britsmar (Pontiac GTO) and Simon Ekengren in the second Dodge Dart. Richard Sundblom (Chevrolet Cobalt) will have to defend the honour of Finland in Pro Stock at Tierp.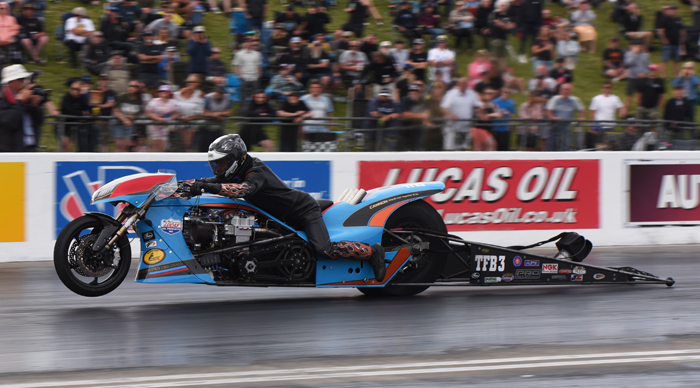 FIM Europe
For the FIM Europe European Drag Bike Championship the Tierp Internationals is also the second round of their title race, and what a round it will be. Every class is filled with almost all of the quickest and fastest riders from all over Europe. Neil Midgley (Top Fuel Motorcycle), Marcus Christiansen (Super Twin Motorcycle), Maurice Bertrand (Pro Stock Motorcycle), Alan Morrison Jnr. (Super Street Bike) and Richard Willcox (Junior Drag Bike) were the winners in their respective categories at Santa Pod. Junior Drag Bike is the only class that will not be racing for points in the European championship at Tierp.
Top Fuel Motorcycle
Neil Midgley was the winner at Santa Pod, Rikard Gustafsson reset the European speed record, and both riders recorded 5.7-second ETs. It was an intense fight that will have a second round at Tierp Arena. But it is far from sure that Midgley and Gustafsson will have a rematch of their Main Event final. With nine competitors, including the two extremely quick Norwegians Sverre Dahl and Jan Sturla Hegre, the Finn Mikko Rajaniemi and of course Rene van den Berg, the two favourites will meet tough competition. Thomas Pettersson, Mike Olie and Eric Richard will enter their Funny Bikes in Top Fuel Motorcycle.
Super Twin Motorcycle
The fight will be even more competitive in the Super Twin Motorcycle class. With no fewer than 17 entrants, Tierp Arena will have one of the largest fields seen in years. Santa Pod winner and reigning champion Marcus Christiansen is of course one of the favourites, but Martijn de Haas will be out for revenge after his early exit in England. But don't be surprised if neither of these two riders will be able to claim a spot in the final, as with Samu Kemppainen, Vesa Lipponen, Ismo Mäenpää, Per Bengtsson, Juha Hintukainen, Anders Hörnström, Greger Johansson, Harri Piensalmi and Marko Lantto almost all the quickest and fastest Super Twins in Europe will be at Tierp. The Tierp Internationals will also see the comeback of Roman Sixta from the Czech Republic with his rebuild bike, and the unique father and son combination of Svein Olav Rolfstad and rookie John Rolfstad. Frank Aaslund, Erling Opheim and Julia Wagner have proved in the past that they can cause an upset.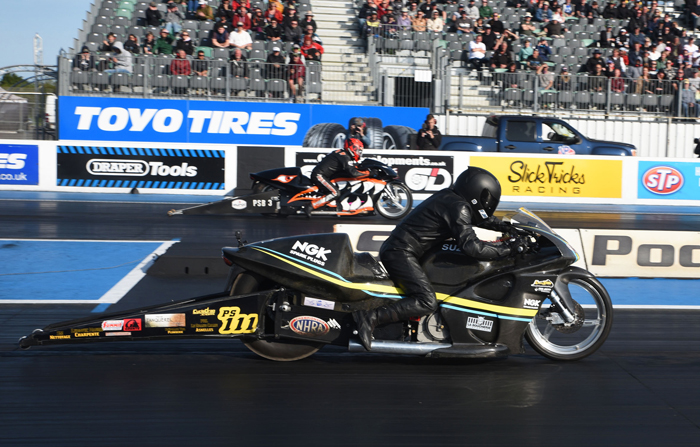 Pro Stock Motorcycle
Maurice Bertrand was the winner at Santa Pod in Pro Stock Motorcycle, with Aswin Le Noble, who pulled a red light, as the runner-up. Reigning champion Martin Newbury will be out for revenge after the problems he had at his home track. Timo Savolainen is a familiar name in the Pro Stock Motorcycle category and let's hope the Finn will finally have a trouble free weekend. Jörg Lymant was a multiple winner in the Super Twin Top Gas class in Europe and steps up to Pro Stock at Tierp. It's also great to see new and young blood enter the Pro Stockers as Tim Christensen will make his FIM E debut in the class at Tierp.
Super Street Bike
There was a great fight in Super Street Bike at Santa Pod, with stunning ETs and a new European speed record. With twelve entrants at Tierp, the competition will be interesting again. The great news is the late entry of Santa Pod winner Alan Morrison Jnr. and his brother Ross! It will be the first trip to Tierp for the Morrisons.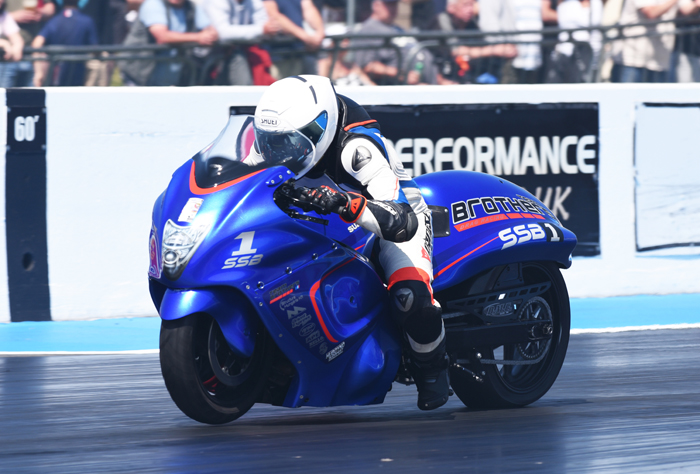 Despite having problems in England, reigning champion and European ET record holder Donat Daniel Lencses made it through to the final, but was defeated on a hole shot. The  rider from Hungary will do everything he can to defeat the quick riders from England. Mathias Bohlin, Mogens Lund, Peter Östlund and Krisztian Jasz recorded great ETs at Santa Pod as well, while Margot Schmidt reset her personals bests. These riders will also aim for a spot in the final. Roberth Häggblom, Wille Skinnars, Dag Wagenius and Clemens Walleit are also forces to be reckoned with.
Summit Racing EDRS Series
The Tierp Internationals is traditionally one of the most important rounds of the Summit Racing EDRS Series. With almost all the classes represented, the 2023 edition is no exception to this. There are large fields in almost all classes, with 32 entrants in Stock/Super Stock, 22 in Pro Street, 20 in Super Pro ET and 13 in Pro ET, with one remarkable entrant in this class, Top Fuel driver Ida Zetterström in a Dodge Challenger. With 13 entrants Super Comp Bike is the bike class with the most entrants.
In total there will be no fewer than 253 competitors at the Tierp Internationals, an action packed race meeting to look forward to and to visit with no excuses to not being there.
Qualifying for the Tierp Internationals will start on Thursday 15th June (Summit Racing EDRS Series), Friday 16th June for the other classes and will continue on Saturday 17th June. Eliminations for the FIA and FIM classes will start on the morning of Sunday 18th June.
Text and photos Remco Scheelings