Successful event at Swedish Exhibition and Congress Centre in Gothenburg
The annual MC Mässan (MC Show) at the Swedish Exhibition and Congress Centre in in Gothenburg attracted some 40 000 visitors in the last weekend of January.
A fantastic weekend for bikers, many new bike models and accessories was displayed. Speedgroup joined the exhibitors of course.
Speedgroup was on site to market our two series, Summit Racing EDRS Series and EDRS Pro. But also, to give general information about all our events and invite people to come and visit us at one (or more) of them when the season starts. Closest, both in distance and time, is the first race in the Summit Racing EDRS Series held in Vårgårda, only 45 minutes' drive north of Gothenburg.

Mikael Alfredsson, representing Speedgroup and responsible for our booth, worked hard to market the fastest motorsport in the world during the expo.
"It's been hectic from day one at this place", Mikael says. "Great to be here, it's a good opportunity to show our services and products and to inform people that maybe has no relation and not so much knowledge about dragracing today. We want to meet with people on all kind of forums, that's why we are involved where we can and try to encourage more and more people to come to our events".
Robert Nilsson brought his Super Street Bike and it was like a magnet and draw a lot of people to the booth, people that wanted to know more about the bike and the class he's competing in. Fredrik Westberg and Göran Molin gave information about the club SHRA Borås and the events that will be arranged at Vårgårda Raceway 2018. On Saturday also Jörgen Hult from the Safety Group joined. He was talking about the very high safety requirements in all dragracing. Daniel Plakidis, from VP Racing Fuels, joined to market VP Racing Fuels and all products they can offer.
"We've made a lot of new contacts in Gothenburg, and in a few weeks we're going to Norrköping for next event, "Åby Motormarknad" and continue our mission, Mikael says. After that we will continue to Vårgårda for offering of marketing opportunities aimed at local business people".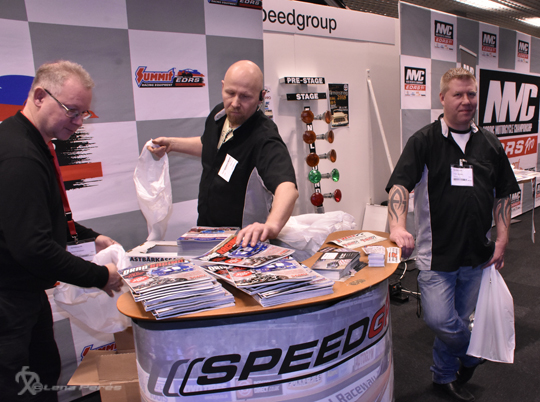 Mikael Alfredsson, Fredrik Westberg and Göran Molin completed Speedgroup Magazine with a 2018 racing schedule. The Magazine was then handed out to people passing our booth.
Funny Bike rider Hasse Eriksson used the opportunity to try his reaction on the practice tree in the booth together with Mikael Alfredsson.
Super Street Bike rider Robert Nilsson brought his bike the show. A real eye catcher for the visitors.
One of our Contingency sponsors, VP Racing Fuels shared the space with Speedgroup, Daniel Plakidis was representing.
SVEMO was of course also represented and there you could meet with Top Fuel Bike rider Rikard Gustafson and his bike. One of the quickest riders/bikes in the world.
Several drag racers showed up. Super Street Bike rider Ida Johansson together with dad Niklas Johansson demonstrated Shinko Tires for visitors and fellow racers.