Midt-Norsk Dragrace Weekend at Frøya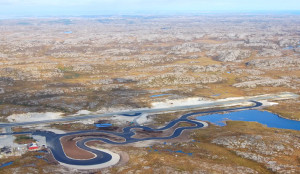 Maja Udtian have provide us with some information about a very exciting EDRS track. Frøya Airport race track is located far out on the Norwegian coast 46,3 meters above the sea level, on the island of Frøya.
Frøya Airport is located on Flatval, about 5 minutes drive from where you get out of the tunnel to Frøya. The track was built as an airport for small airplanes in 1986 by Frøya Flypass DA who´s now the owner of the track together with NMK Frøya (Norwegian Motor Club).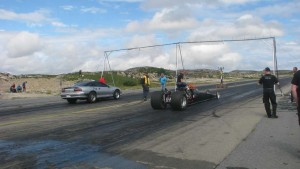 -The track is not in use for scheduled flights, and it has been organizing drag racing and Street Legal since 1987. The runway is 730 meters long and 18 meters wide of asphalt, tells Maja Udtian who is deeply involved in the organization that organize event here, she´s also one of the team members in Islanders Drag racing Team.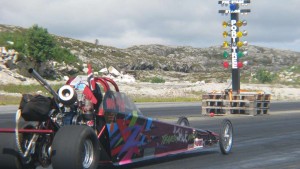 2009 the area, where the airport is located, changed to be a complete motorsport-arena. The runway is now a part of a 1600 meters long track for drifting and the track also includes an 800 meters long go-cart track. The whole area have room for a big pit and it also has a great kiosk where food and drinks are provided.
– For your information the area is 46,3 meters above the sea level and it's either really cold or really warm. We recommend you to bring some warm clothes! says Maja.

After the one event in 1987 was organized, there was no more race before Islanders American Car Club organized an event in 1998.
-Since that, it has been one or two events every summer, tell Maja. Both street legal and drag racing. I 2005 we organized a NDRS event, and the Norwegian Championship has been driven almost every year. As the whole motorsport area was finished in 2009 it has been a lot of events for drifting and go-carts. It has also been several cups in both of those sports. The interest for motorsport is really big here in Frøya and it keeps growing.
This seasons plans is to make a great event 13-15 May. And then it hopefully going to be organized a street legal event during the autumn.
-However, the area is almost fully booked for other events like drifting etcetera from May to September, says Maja.
The organizer hope the upcoming EDRS event will be successful so they can arrange another one next year.
-We are also dreaming of making the track longer and better, but time will show, tell Maja.
The organizers are Islanders American Classic Car Club and NMK Frøya, and people from other motorsport clubs in Norway are coming and work at the event. The Classic Car Club wish for sponsors who can help to continue the good work at the track, and Maja welcome all and everyone that want to help them out.
Classes that is to be run in the EDRS classes in May is Junior Bike, Super Comp Bike, Super Gas Bike, Super Street Bike, Junior Dragster, Pro ET, Super Pro ET, Super Comp, Super Gas, Super Street.
Photos by: Islanders American Car Club and and NMK Frøya