FIM-E Champions review – Rikard Gustafsson FIM-E Top Fuel Bike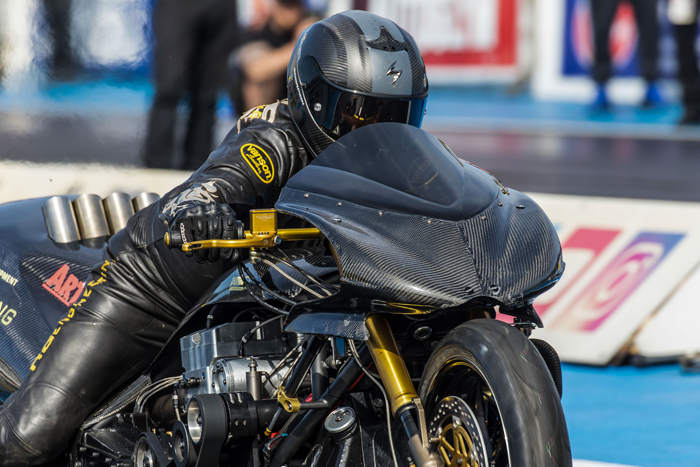 The fastest man in Falkenberg, Rikard Gustafsson took back a fourth FIM-E Top Fuel Bike title (and second in a row) to his southern Swedish base at the end of the 2023 season. For a number of reasons it was a challenging season in the class, both for the RG Engineering team and the class as a whole, but after resetting his own PB for ET and TS (pushing his own European best mark for the latter out to a phenomenal 260.65mph) and banishing the gremlins that appeared in the second half of the season, Rikard is looking forward to further performance gains and another championship run in 2024.
You won your fourth championship in 2023. How do you look back at the season just gone?
This season been special, like most seasons with both ups and downs. The year started very good with new pb in both ET (5.742s) and speed (260.65mph) and we were also really happy for Neil [Midgley] running his pb (5.708s) at the Main Event back in May. Then both rounds in Tierp [June and August] were rained out after we qualified first at both events and were still in the eliminations ladder when the events came to a close, Neil's crash in August was a very sad and hard thing for me and the team. At Hockenheim we hurt an engine but were still at the top of the qualifier list but couldn't run in the elimination due to a broken pulley shaft on the clutch. Then the Euro Finals at Santa Pod was so much hard work, we still hurt engines but manage to run a string of fives and qualify number one. We had to build new engine on Saturday night to be able to make the eliminations. On the Sunday we had solo in the first round and we did just a 100m run to get a ticket. We were still looking for the reason for hurting engines and I came to the conclusion that it had to be the fuel pump. Rene van den Berg was out of competition and he offered his pump and I use some parts to rebuild my pump and the bike was back to how it should work. Second round of eliminations we took out Eric Richard and then defeated Stuart Crane in the final.
What was your season highlight?
Highlight of the season was absolutely the Main Event when both me and Neil were running pb's right after each other and how we laughed and joked after we stopped the bike. I just knew that Neil been 5.70 and had no clue how quick my run was. The rescue team told me the numbers, 5.74 and 260mph and then Cannon came on the scooter to pick Neil up and things got loud of happiness and bad words. This is one of my greatest memories in life and I know Chris [Cannon Hannam] was expressing the same feeling afterwards.
Opportunity missed?
Rain outs at Tierp and missing eliminations in Hockenheim.
Toughest moment of the season?
Toughest moment of the season is Neil's crash at Tierp. I was running against him. After finish line my chute came out and I start to brake. After a few seconds Neil's bike is passing me at 300km/h without any rider. I see the bike crash into the tire wall I can't see Neil. I turn off the track and stop my bike. No one knows anything or what went wrong. Chris and my crew member Ralph are coming on scooters to pick us up. This was a sad and scary moment waiting to know how Neil was doing. This thing we love and enjoy doing became very clear how dangerous it could be when thing go wrong.
Plans for next year?
Simple, the plan for next year is to run the Championship and run quicker.
Sponsors/people to thank?
I want to thank all of my sponsors, MTC, ArtFex, Bentec and many more sponsors and people that help me keep doing this at this level.
Having traced the problems with the fuel pump that contributed more than a few offerings to the God of Speed, Rikard will be very difficult to stop in 2024. If conditions permit, we can see the RG Engineering Puma team pushing towards a fifth title with lower ETs and some ridiculous speeds.
Text and photo: Ivan Sansom & Rose Hughes