A Trio of Scandinavians and a German lead Friday's FIM-E qualifying
The opening two sessions of FIM-E qualifying at the Summit Racing Equipment Internationals, Tierp Arena were an occasionally troubled affair as a number of teams struggled to dial in to the track, but some local knowledge seemed to prove beneficial at the end of the day.
FIM-E Top Fuel Bike saw eight bikes put in qualifiers with Rikard Gustafsson leading both sessions with a 5.9030/247.44 best. In currently in second spot is Jan Sturla Hegre with a 6.1556 from the Norwegian team. In three at 6.1613 is current points leader Neil Midgley but he is out of competition after a shut down departure from the Cannon Engineering Puma and is currently convalescing in a local hospital while being monitored for some broken bones. Neil will fix and we wish him well in his recovery, the bike is another matter after it's solo excursion off the end of the track. Mikko Rajaniemi, Sverre Dahl, Kari Rautanen, Thomas Pettersson and Rene van den Berg complete the qualifying with room for manoeuvre tomorrow.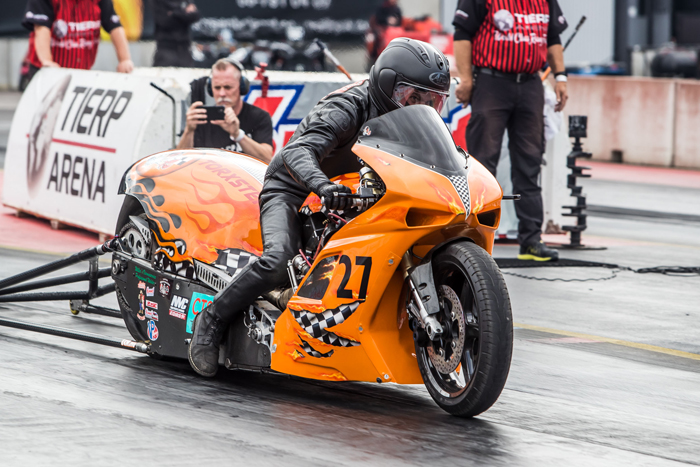 The bumper FIM-E Super Twin field has seen 17 bikes make qualifying attempts, but it's currently looking very familiar at the top of the pile with Marcus Christiansen leading with a 6.2999/221.62 from the Danish championship leading team. Vesa Lipponen is in second with a 6.5559 followed by Per Bengtsson 6.6185, Samu Kemppainen 6.7755 and Marko Lantto 6.8717 rounding out the leading quintet in the six second bracket. A lot of scope to dramatically drop the bump spot tomorrow.
We'd probably have backed a non-Scandinavian at the head of the FIM-E Super Street Bike qualifying, but points leader Brit Alan Morrison Jnr is in second spot with a 6.9942/216.05 and Hungarian record holder Daniel Donat Lencses is in fourth with a 7.2846 (these two separated by Dane Mogens Lund, with a 7.1169, who seems to enjoy the August Tierp event). Top of the heap is Sweden's Mathais Bohlin with a 6.9665 best of the two sessions. Bohlin is another who likes this event having recorded his PB in the 6.7s twelve months ago.
After a couple of meetings with low entries, FIM-E Pro Stock Bike has a healthier seven bike field, six of whom already have numbers on the board with German Joerg Lymant rumbling to a very close to PB 7.3669 from his Buell in his first year at FIM-E level. Current points leader Bertrand Maurice is in second spot with a 7.4491 with additional newcomers in the shape of Tim Christensen and Theodor Vik rounding out the top four.
Three sessions are scheduled for tomorrow (Saturday) to set the ladders for Sunday's eliminations.
Text and photos: Ivan Sansom & Rose Hughes