Gustafsson and Bengtsson gain, Morrison Jnr and Maurice hold onto top spots
Second day of FIM-E qualifying at the Tierp Internationals and hot conditions and a tricky startline led to something of a hit and miss affair across the four categories.
FIM-E Top Fuel Bike saw a bit of smoke and the occasional flame across today's three qualifiers, with Rikard Gustafsson improving to 5.9428/242.27 to take over number one spot from Neil Midgley who takes yesterday's 5.9613 into eliminations tomorrow.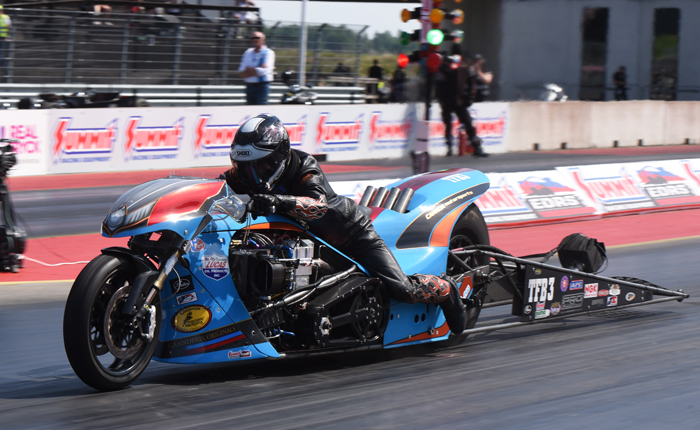 Behind the championship leading duo, Mikko Rajaniemi (6.2291), Rene van den Berg (6.2340), Jan Sturla Hegre (6.3361 – a final session shot delivered the aforementioned flame leaving the Norwegian team with work to do if they are to make the call tomorrow), Sverre Dahl (6.3513), Eric Richard (6.6513) and Mike Olie (new PB at 6.8249) with Thomas Pettersson as alternate for Sunday's ladder.
The FIM-E Super Twin field is led by Swedish legend Per Bengtsson with a 6.3755 from the parallel Beast, Marcus Christiansen had a couple of aborted passes today and sits at second with a 6.3893.
Vesa Lipponen didn't improve from yesterday so remains at three with a 6.5964 ahead of a pair of fellow Finns Samu Kemppainen (6.6663), Marko Lantto (PBing with a 6.8116). Dutchman Martijn de Haas is at seven (6.8899) and Greger Johansson rounds out the qualified top eight with a 6.9668.
The no bar FIM-E Super Street Bike field is also set with an eight bike ladder for tomorrow, and Alan Morrison Jnr holds on to the number one spot with his 6.8127 from yesterday; the field will be nervously looking at his consistency throughout the weekend so far on what is a new track for the British points leader.
In at two is Sweden's Mathias Bohlin who produced a final session 6.8707 best pushing Dániel Donát Lencsés down one spot from yesterday although improved today to a 6.9805.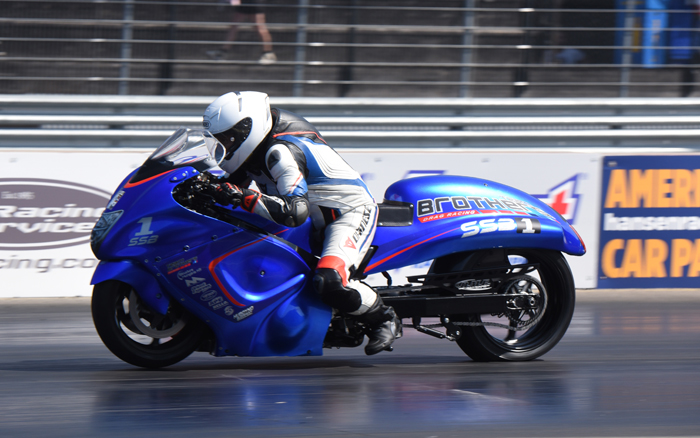 Mogens Lund is at four with a 7.0257 and Ross Morrison (7.0714), Krisztián Jász (7.0945), Peter Östlund (7.1474) and Clemens Walleit (7.6532) round out the qualifiers.
Only three riders have made attempts in the FIM-E Pro Stock Bike class, with Bertrand Maurice carrying over his 7.3653 from yesterday which is fortunate given a couple of somewhat wayward launches today. FIM-E debutant Joerg Lymant is at second with a 7.5441 from his Buell while Aswin le Noble is mired in the eights with an 8.7315.
Text: Ivan Sansom & Rose Hughes
Photos: Remco Scheelings