Championship leaders ahead in FIM-E qualifying on Day One of the Tierp Internationals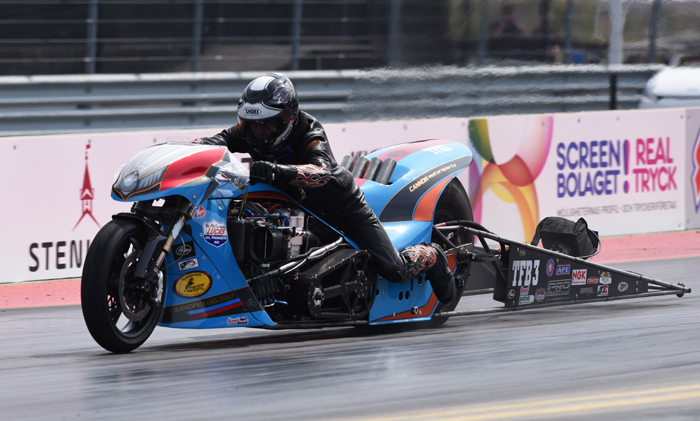 Opening day of FIM-E business at the Tierp Internationals sees all four winners from the first round at Santa Pod sitting on top of the qualifying sheets.
In the premier FIM-E Top Fuel Bike category, the UK's Neil Midgley leads the nine bike field with a second session 5.9613/202.74 on an early shutoff to nudge ahead of Rikard Gustafsson who slowed to a 6.1 after a class best of 6.0508/230.14 in the opening session on his home track.
Finn Mikko Rajaniemi places at number three with a 6.2291 and the top seven on the day end sheet are in the sixes or better with a rumoured three sessions tomorrow to improve.
FIM-E Super Twin has Dane Marcus Christiansen leading the way again with a first session 6.3957/219.02 ahead of Vesa Lipponen's 6.5964 also from the opening stanza.
At the end of day one there are 13 on the qualifying sheet, the top six of which are in the sixes and plenty of scope to dramatically drop the bump spot on Saturday.
A last minute decision to head to Sweden has paid off for Alan Morrison Jnr as the Brit continues to impress in FIM-E Super Street Bike with the Protek rider leading the pack by a bunch with a 6.8127/219.02 ahead of Mathias Bohlin's 6.9436 and Dániel Donát Lencsés at 6.9924. We'd anticipate a degree of tightening tomorrow.
FIM-E Pro Stock Bike has seen three riders making qualifying shots (with some notable absentees from the entry list) with Bertrand Maurice with a best of 7.3653 from a class debuting Joerg Lymant (7.9992 which seems to fall outside of the requirements for entry to eliminations).
Text: Ivan Sansom & Rose Hughes
Photos: Remco Scheelings, Patrik Jacobsson