FIM-E Dragbike championship, Main Event Sunday, Santa Pod Raceway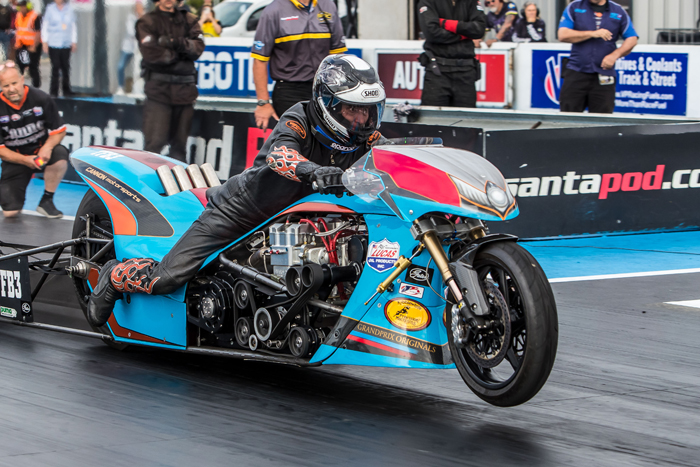 If yesterday could be considered a bit of a tentative introduction to the 2023 FIM-E season, today, the second day of full qualifying, was something very special indeed.
FIM-E Top Fuel Bike
Today's headliners definitely belonged at the sharp end of the Top Fuel Bike category. World class? Most definitely. We predicted there was more to come from Neil Midgley yesterday and he rounded out today holding on to two 5.7s tickets, the second being a very nice 5.7084/245.09 to vault him up the 'world best ET' list to 3rd spot, this being accompanied by a simply astounding 0.9519s 60 foot clocking.
Far from being overshadowed, Rikard Gustafsson improved from yesterday also with a pair of 5.7s ending up with a 5.7424 best for 2nd spot in the ladder (and sixth in that all important world ET list) at huge 260.55mph terminal speed (2nd fastest in the world). Crazy stuff. And then in third we've got another five second bike, this time the unique 3 cylinder PBR Rocket ridden by Al Smith to a 5.9803/223.64.
FIM-E Super Twin Bike
Super Twin saw yesterday's one and two swap places in the final qualifying pairing with Vesa Lipponen carding a 6.2646/212.06 to Marcus Christiansen's 6.916/213.85. Martijn de Haas and Chris van Nimmen didn't improve on yesterday's numbers so remain in third and fourth respectively.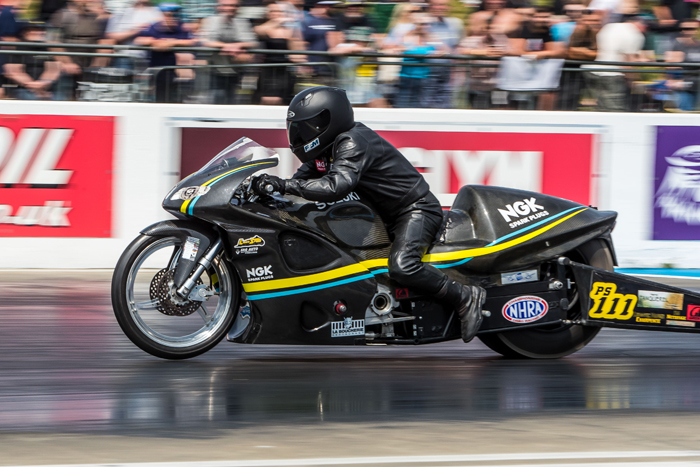 FIM-E Pro Stock Bike
Very limited appearances from the Pro Stock Bike entries (the fragility of the Suzuki powerplants and the scarcity of available cranks no doubt contributing to the 'save it for race day' approach. Of those that did make a run, it was Bertrand Maurice that had the most to smile about, a 7.2624/189.72 pushing him into second spot behind Martin Newbury.
FIM-E Super Street Bike
Yesterday we predicted a six eighty wouldn't hold onto to top spot in Super Street Bike and we'd like to thank Alan Morrison Jnr for proving us right as he stretched his lead over the field with a 6.7618/222.32 despite Daniel Lencsés improvement to a 6.8635/218.25. It is something of a rarity for the low qualifier to have a tenth on the rest of the field in Super Street Bike, but Morrison Jnr is on a strong streak of consistency that should have the contenders for the Main Event title a bit nervous.
FIM-E Junior Dragbike Cup
The Juniors still has Harry Isaacs on top of the heap thanks to his +0.0039s on a 13.30 dial in, but Leah Morrison improved to second spot on the eight bike ladder with a +0.0070s on an 11.41 dial.
Words and photos Ivan Sansom & Rose Hughes