FIM-E Dragbike championship, Main Event Saturday, Santa Pod Raceway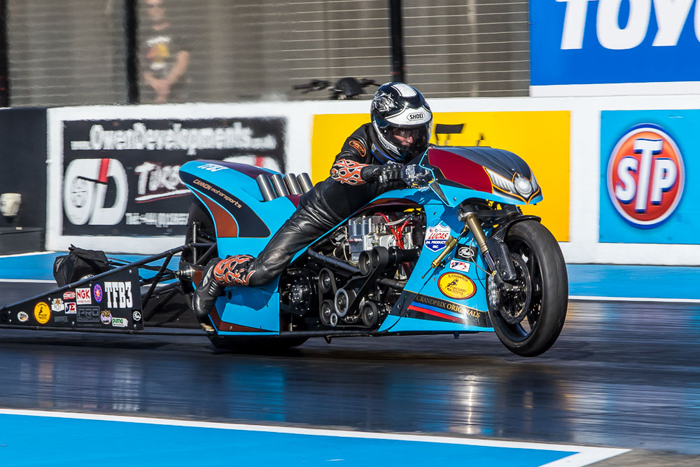 First day of the FIM-E 2023 championship season for the bulk of the classes (the Juniors having already had a full day of qualifying yesterday) and we're two sessions down with another two to go tomorrow.
FIM-E Top Fuel Bike
Neil Midgley heads the Top Fuel bike qualifying table with a 6.0541/201.67 that was far from perfect, up in smoke early and a roll off the throttle way before the finishline tells us there is a lot more to come tomorrow. Rene van den Berg (6.0655/216.15), Rikard Gustafsson 6.1921 at a booming 250.45mph) and Al Smith (6.2026/198.88) round out the top four.
FIM-E Super Twin Bike
Super Twin is headed, almost inevitably, by Marcus Christiansen with a 6.315/220.35 run in the second session alongside Vesa Lipponen's 6.4781/208.00. We'd anticipate quicker times tomorrow and wouldn't bet against Martijn de Haas and Chris van Nimmen improving further on their 6.6 and 7.1 numbers from today.
FIM-E Pro Stock Bike
Some jumpy and bouncing passes in Pro Stock Bike reigning champion Martin Newbury is some way ahead of the rest of the field with a with a 7.1417/184.32 from the Psycleworkz Suzuki which wasn't too bad given Martin is using his small motor.
FIM-E Super Street Bike
Alan Morrison Jnr leads the Super Street Bike field, perhaps no surprise at all after winning last year's Euro Finals. Will a 6.8185/221.13 (to lead Jake Meachaell's 6.8801/217.95) hold onto top spot tomorrow? We're not so sure give the quality of the assembled field.
FIM-E Junior Dragbike Cup
Junior Dragbike is a tight one at the top of the dial-ins, with Harry Isaacs leading the way in his first FIM-E round with a +0.0039s on his 13.30 dial in. The rest of the field are separated by 0.07s on their dial ins.
Words and photos Ivan Sansom & Rose Hughes