FIM-E Dragbike championship, Euro Finals Saturday, Santa Pod Raceway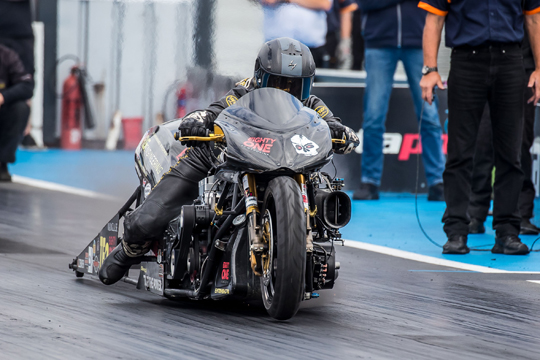 We could almost cut and paste our daily preface from yesterday here as it was very much a repeat with rain delays and cleanups heading towards a late finish for the FIM-E classes until a substantial downpour curtailed activities with only Pro Stock Bike getting their third session in and the rest high tailing it back to the pits after only two qualifiers over Friday and Saturday. Nonetheless today saw a number of PBs and also a World Record which we'll come to at the end of this update.
FIM-E Top Fuel Bike
The solitary Top Fuel Bike session was very nice with five out of the seven entries hitting fives and sixes, rounded off with side by side fives from Rikard Gustafsson with a 5.8383/247.70 to nearly match his low qualifier from yesterday and Neil Midgley on a 5.9943/197.22; this pairing being one of less than a handful of side-by-side fives in European TFB.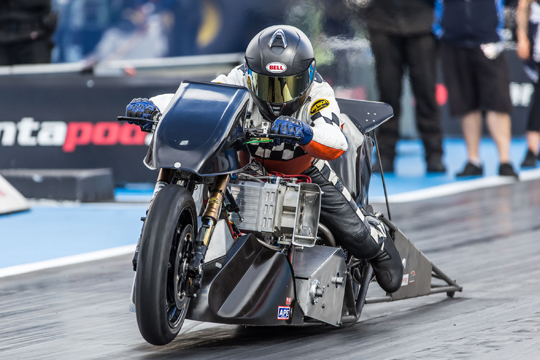 Al Smith improved to a 6.1490/213.07 to maintain third for the PBR Rocket while Eric Richard moved into the top half of the ladder with a 6.6817/199.75.
First round of eliminations could see the title decided as Gustafsson has a bye and his championship rival Rene van den Berg is seventh on the ladder and will have to face Midgley.
FIM-E Super Twin Bike
Once again only Marcus Christiansen and Martijn de Haas made it to the finish line under power but both improved on their second shot of the weekend with a 6.2587/222.55 (the speed is back!) from Christiansen and a 6.5050/209.94 new PB from de Haas to make us sound like Nostradamus in our predictions from yesterday!
FIM-E Pro Stock Bike
Getting their third session in for the Pro Stock class improved things with Martin Newbury taking over top spot with a 7.2124/180.69 after sorting out the transmission issues that slowed them yesterday. Martin Bishop is in at two, Aswin le Noble three and Bertrand Maurice finally got off the start line to complete the four bike field for tomorrow.
FIM-E Super Street Bike
As per yesterday, Super Street Bike was again Super. Steve Venables blasted out a new PB of 6.7030/224.41 on a bodywork shedding pass alongside a 6.7574/220.37 from polesitter Daniel Donat Lencses in an all DME match up.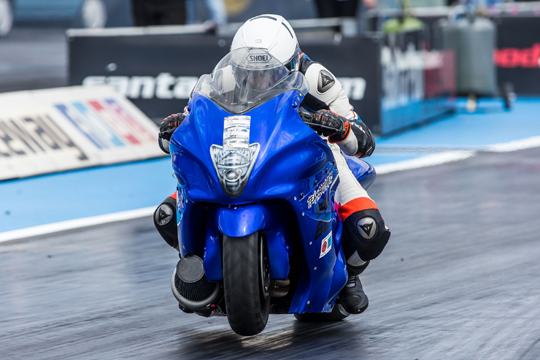 Mogens Lund nudged a bit deeper into the sixes with a new PB 6.9467/212.03 but remains at fifth spot and Mathias Bohlin improved from yesterday to complete the top six in the field all with six second tickets at 6.9921/206.10.
Thirteen bikes completed qualifying passes giving us an all run ladder tomorrow.
FIM-E Junior Dragbike Cup
The Juniors largely broke out in today's session leaving Hollie King on top spot with Marie Rosen being the sole improver from yesterday to take second on the ladder.
Exhibition World Record
Well it is Eric Teboul's last event with the rocket bike that has astounded audiences in Europe and North America over the past decade and a half, and he billed today's pass as a test as he was trying out new settings. Some test pass. How about a 5.0681/263.52 (half track 3.3824.237.37) beating his previous pair of 5.12s from Bradenton in 2013 and Hockenheim last month. One more pass tomorrow and a magic barrier is almost in reach.
Free web stream available via Santa Pod's Youtube Channel here: https://www.youtube.com/c/SantaPodTV and Facebook page here: https://www.facebook.com/santapodraceway
Live ET slips available here:http://etslips.co.uk/Home.html
Qualifying sheets and eliminations ladders will be available here: https://santapodresults.com/2022/
Words and photos Ivan Sansom & Rose Hughes