Time to crown winners in 2022 Summit Racing EDRS Series
2022 drag racing season has come to an end, again and too fast. It is time crown the winners in 2022 Summit Racing EDRS Series and the 2022 Finals is hosted by both Gardermoen and Kauhava Raceways. That will make things a bit more exciting than normal. We can see now, there is a few classes that is all cleared out but in others there´s going to be big battles on both sides of Scandinavia.
Classes in the Summit EDRS Series that is going to be settled next weekend is Pro ET where Drag Finals 2022 is holding the battle. Leader in the table is John Thidé and he is not registered and by that Peter Svensson, #2, have a chance to take the series win, as he is going to race at Gardermoen.
Super Pro ET is going to be a battle between Mikael Nilsson and Isak Lagg who is attend at Gardermoen. #3 Johanna Granholm is not registered so far. Of course, also Alexander Edlund and Björn Romören-Hultberg have a theoretical chance for the top-three places.
In Super Gas we have Annica Larsson at the top in the table, but is not showing up at Gardermoen, just as #2 Håkan Mattsson. That gives #3 Christer Uhlin a chance to take on some points but as there is just two registered in that class, he can't do much about the point standings.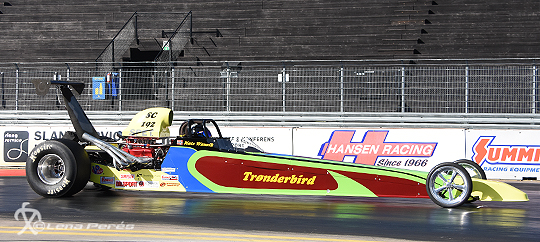 In Super Comp Mats Arntsen Wanvik is in the lead and Mikael Nilsson is not far behind, but as it looks now Mikael is not registered for that class, but he is going to be on site, so he might turn up and take some points, but same here, with just four in the class its not going to generate enough points.
Pro Street is a class that going to generate a fight between Tommy Abrahamsson, who is in the lead with 485 points, just 35 points up on Birgitta Lindstrom's 450 points. Birgitta is racing at Gardermoen which Tommy isn't. And at Kauhava there´s Ossi Oikarinen who can gain exactly as many points as Tommy if he qualifies first and wins the event. If so, Ossi will be the champ for 2022 acc. to the rules.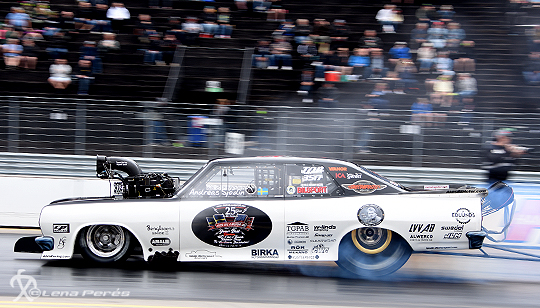 ´Top Doorslammer is interesting as all top three is attending at Gardermoen. Andreas Sjödin is in the lead in the table with 335 points. Kenneth Lingvald is chasing him at 268 point and have chance to step up. Stefan Carlsson at the third spot at 230 points is sure going to give these guys a big fight.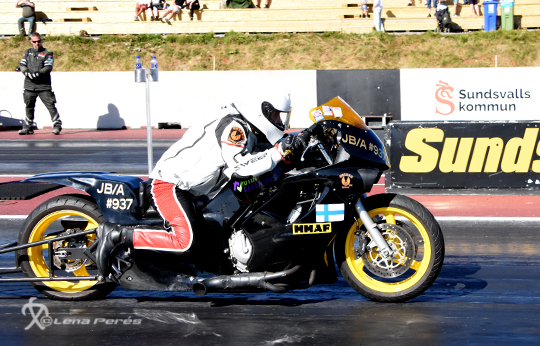 In Jr Bike we have a winner in Jone Sokura Finland. But #2 and #3 is not yet done. Jone Holm #2 is racing at Kauhava and Harry Bruhn #3 is chasing points at Gardermoen this weekend. And Jone Kiljala still has the chance to get to second place. Also, Ole Kristoffer Steen Aas has a big chance to climb up a bit.
Street Bike is a Finnish matter as top three is Eppu Pihlajaniemi #1, Juha Erälähde #2, #3 Jouni Erälähde and Marko Salo, all Finnish riders. And all of them is registered for Kauhava. And they are all in between 44 points. Here it´s going to be a battle.
In Jr Dragster Almathea Granholm already the champ.  Still a chance, though, for Stine Aune Hasslevold, Leevi Kortelainen and Anton Oikarinen to fight for the 2nd and 3rd places.
Super Street we have Åke Törnqvist #1 and Peter Nilsson #2 cleared for the series top.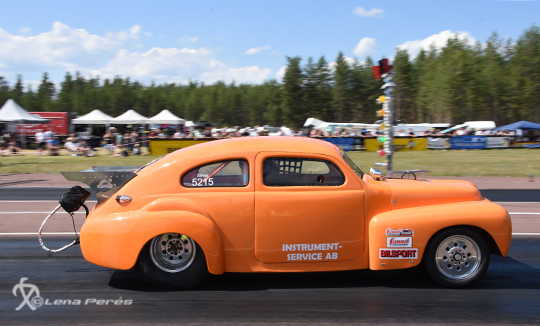 In Street Lars Erik Persson is 2022 Champion and Patrik Wickman Runner UP.
Stock Super Stock we have Theodor Brandt as number one. Yet to fight for Jarmo Markkanen and Jere Lilja who still have the chance for a 2nd place.
In Super Gas Bike Theodor Norling took the win of the season and Mikkel Jensen ended second.
Super Comp Bike Peter Östlund won in Mosten last weekend, but we have not all points there yet, but he looks like to be the champ for 2022. But watch out for Vitalii Melnyk from Finland, because it may be a 32-ladder there, and Emil Östlund is in Gardermoen to save his 2nd place.