Last call for Tallhed, Gardermoen and Vårgårda!
Time is running and its time to register for this three events already! You got until this weekend to decide when, what and where you going to run your vehicles. So, hurry up!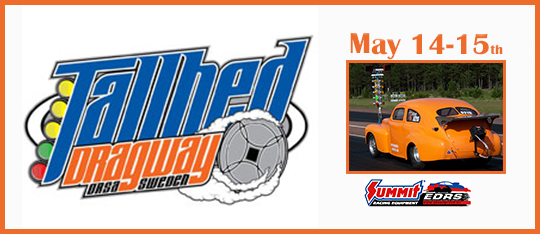 We start the Summit Racing EDRS Series at Tallhed Dragway in Orsa Sweden, May 14-15th. Last registration day is May 3rd, and that you do at www.dragracing.eu. This is a historic dragstrip, cosy and familiar. The evenings are made for BBQ and get-to-gether after a day of good racing. A very nice place to start the season, test your vehicles so all the winterissues are cleard out until the next weekend when Spring Nats at Gardermoen Raceway takes off.
Spring Nats May 20-22nd at Gardermoen Raceway Norway is something you shouldn't miss. A well-prepared track with great crew where you have all opportunities to make good runs during the weekend. Last registration day is already May 1st. This is a very good opportunity to get lots of great data on your vehicles, that will get you fine information for the coming season. And remember, there are no restrictions to get into Norway now, so finally we can travel as we used to do! And the weekend after you can go straight to Vårgårda Nats 9 and participate in the fourth race of Summit Racing EDRS Series event.
Vårgårda Nationals 9 on May 27-29th host not only the fourth race in Summit Racing EDRS Series, but also Swedish Championship in Street, Pro ET and Super Gas. A bit of an extra thrill as it is a directly decisive event for these classes. And the first champion event in Jr Dragster. Last registration day for this full packed event is May 9th, so don't think to long. The season is on and we´re racing again!