Spring is here and Bilsport Performance & Custom Motor Show did started it!
Bilsport Performance & Custom Motor Show at Elmia in Jönköping is over and done for this year, and it was a fantastic place to celebrate Easter at. Lots of outstanding enthusiast project and racing vehicles from all over showed to an audience that broke all records this weekend. A good start on the enthusiast and racing season.
It is for sure a big need to get out and meet new and old friends again after two years of restrictions and isolation. That was very clear when this year's Motorsport Performance & Custom Motor Show at Elmia opened this last weekend. After being closed for a couple of years due to the pandemic, people went to Jönköping to soak up all the beautiful exhibits, and to finally meet all the wonderful people who are involved in motorsport in various ways.
Speedgroup was of course on site and promoted the Summit Racing EDRS Series which starts up in a month. The booth had two popular drivers in the series on show. Fast Freddy Fagerströms stunning fast pickup was one of them, and Stefan "Myggan" Jansson with his black hot Bel Air -57, the other one. Two drivers we´re very proud of having with us.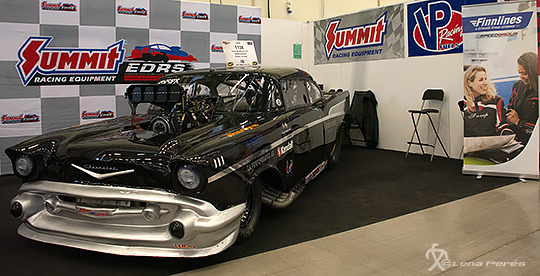 Additional participants in the stand were Autoverdi, which manufactures connecting rods and oil pumps for racing cars and boats all over the world. Among others, many Nascar teams are major customers of the company and of course their products are in most of our European prostock and promod cars.
Summit Racing Equipment's is of course with us as the main sponsor this season also. And we can, with pleasure, announce that Finnlines is happy to ensure that you can travel at the best prices with their ferries this season as well. VP Racing Fuels has good offers when it comes to racing fuel and other good lubricating products. In other words, we can look forward to a fast and furious 2022 season!
Approximately 90,000 visitors could be counted after four intense Easter days at Elmia. Interest in enthusiast vehicles and motorsport in Sweden has definitely not cooled, despite high fuel prices.
Now we prepare for next weekend at Åby Dragracing market in Norrköping. See you there!