Swedes among the world fastest!
RP Racing Facebook site, the top 10 fastest compact 4-cylinder cars in the world are presented. And proudly we can tell that three of them is built in Sweden!
Among teams from Brasilia, Trinidad and Tobago, Australia, and USA we find Krister Adeen, SHRA Avesta as no 8 in the list. With his clean blue Volvo S60, in wich he have put huge efforts, he got down to the figures of 6.440 sec/216.05 m/h. The chassis is also built in the area by the chassis company ME Racing Service AB.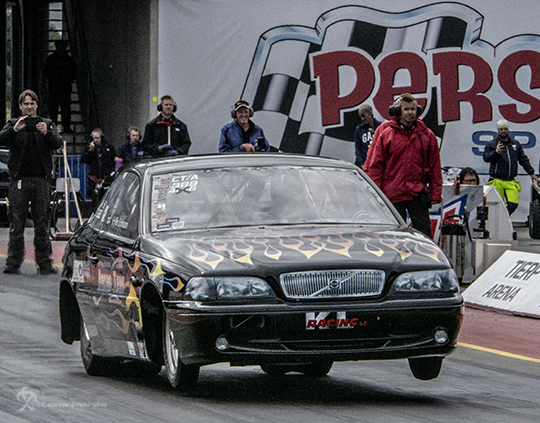 Next up in the list is Pär Eriksson from Borlänge Dragracing Club. He also drives a Volvo but a C70 with a chassis from same company as above. Pär is the 7th fastest in the world at 6.409/214.95.
And then, last but not the less, we have the fastest swede Mathias Stenström SHRA Västerås. He drives a very cool Ford Escort with a 4 cyl Hemi. Mathias is ranking 5th fastest in the world at 6.211/227.17. So, just wait for it! We looking forward to next season.
Big congratulation to these skilled drivers and builders who put Sweden at the world map of the fastest compac 4-cylinder engines. At the top of the list, we find the Canadian Napierville Dragway Racing Team at amazingly 5.951/230.08.
Check out the link: