Licence to win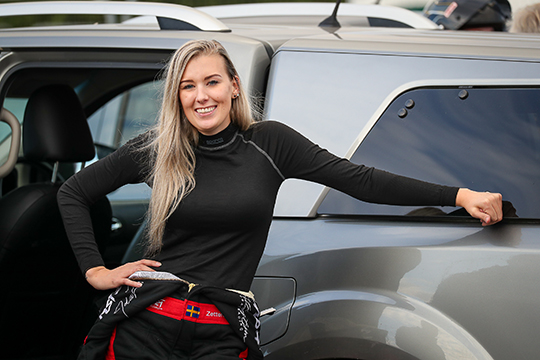 She came to complete her licensing runs, saw the finish line in a superb 3.862 seconds and conquered the Euro Finals Shootout Top Fuel trophy by winning the final over Susanne Callin. In her first full pass Ida Zetterström stormed into the top four of the quickest Top Fuel drivers in Europe, a top four dominated by women. Those who are chasing the 2022 FIA European Top Fuel Championship title know that they have a new force to be reckoned with.
A few weeks after the news came out that Ida Zetterström would step up from Super Street Bike to Top Fuel, the 27-year young driver from Åland, Finland, started her licensing procedure at Santa Pod Raceway.
Under the watchful eyes of nitro wizard Rune Fjeld and his crew, Zetterström made her first couple of runs and immediately impressed. The only missing run to obtain the Top Fuel licence that first weekend was a full pass, as the weather conditions made that impossible.
Zetterström returned to Santa Pod for the Euro Finals Shootout, not only to make that final run and get the licence, but also to take part in her first Top Fuel race, as she wanted to be well prepared for a full season with RF Motorsport in the 2022 FIA European Top Fuel Championship. On the first run on Friday she suffered tyreshake and had to lift.
On Saturday afternoon all the pieces fell into place. Zetterström stormed to the finish line in a jaw dropping 3.862 seconds, the quickest licensing pass ever. Because the blower belt broke, the top speed was 'only' 265 mph (426 km/h), otherwise an even quicker elapsed time would have been possible. With 3.862 seconds Zetterström rocketed into the number four spot of quickest Top Fuel drivers in Europe, behind Maja Udtian, Jndia Erbacher and Anita Mäkelä, remarkably, a top four of only female drivers!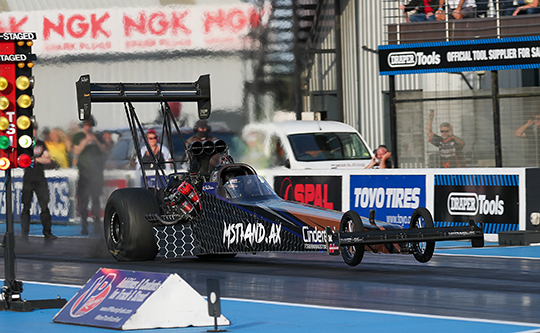 It doesn't need any further explanation to know that Zetterström also claimed the number one qualifying position. In a 4.10 second bye run, where she had to lift as she was getting close to the wall, Zetterström advanced to the final to face Susanne Callin.
The final was also the first time Zetterström had faced someone in the other lane to race against. To make the weekend one to remember and the icing on the cake, Zetterström claimed the win in 4.02 seconds over Callin, who recorded 4.16 seconds. The licence, first race, number one qualifier and a win, it couldn't have been any better.
One thing is for sure, in Zetterström the 2022 FIA European Top Fuel Championship has a strong force to be reckoned with.
Photos Julian Hunt