Rikard Gustafsson, Marcus Christiansen, Mathias Bohlin and Bertrand Maurice number one qualifiers at Tierp Arena
Rikard Gustafsson (Top Fuel Motorcycle), Marcus Christiansen (Super Twin Motorcycle), Bertrand Maurice (Pro Stock Motorcycle) and Mathias Bohlin (Super Street Bike) claimed the number one qualifying positions at the Summit Racing Scandinavian Nationals at Tierp Arena and will lead their respective categories into Sunday's eliminations at the final round of the 2021 EDRS Pro Nordic Motorcycle Championship.
It was a great day of racing with great track conditions and a bit cooler temperatures at Tierp Arena for the second day of qualifying for the Summit Racing Scandinavian Nationals. There were numerous improvements and in three categories there was a new leader compared to Friday's qualifying results.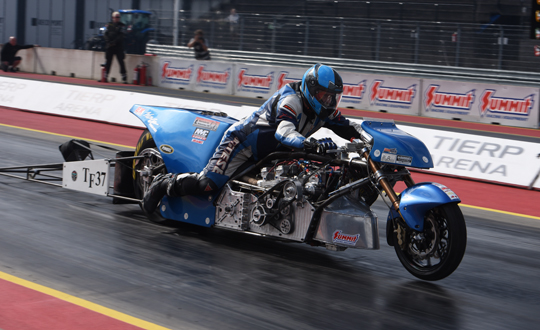 In Top Fuel Motorcycle Rikard Gustafsson stormed to a great 5.87 seconds to take over the number one position from Friday leader Jan Sturla Hegre, who improved to 6.35 seconds. Peter Andersson-Ström remained in third position.
In Super Twin Motorcycle there were so many improvements that Friday leader Juha Hintukainen finished qualifying in fifth position. Marcus Christiansen improved to 6,31 seconds to take over the number one position, with Samu Kemppainen (6,41 seconds) second and Greger Johansson (6,69 seconds) third. Roman Sixta improved his elapsed time to 7.13 seconds but still dropped from second into fourth position.
In Super Street Bike Mathias Bohlin saved the best for the last. In his fifth and final run Bohlin stormed to a great 6.93 seconds to take over the number one qualifying position from Friday leader Anders Blanck (7.26 seconds). Peter Rundström remained third.
Bertrand Maurice from France improved to 7.17 seconds and is in a class of his own in Pro Stock Motorcycle.
Eliminations for the Summit Racing Scandinavian Nationals will start tomorrow morning. For all qualifying results: https://www.dragracing.eu/results.asp