Are You registered for Mid Sweden Nats?
If not, please do as soon as possible! Last weekend, Kjell Petterson, the man with the black belt in track preparation, was at Sundsvall Raceway making an inspection of the track before before it´s time to start up Mid Sweden Nats.
Kjell was positively surprised by what he saw, as the track is basically ready to go. But to make it even better, Kjell and the track group decided to take some rubber off and continue the hard work for a great gripp.
In June there will be a first two days test at the track.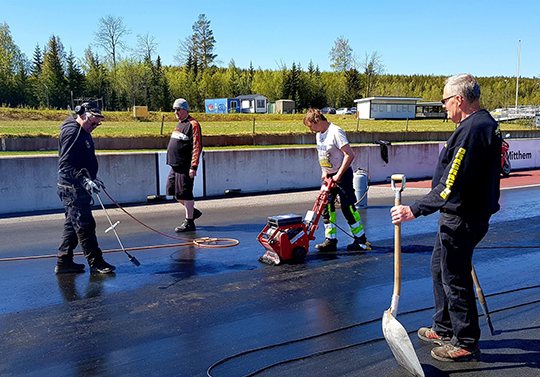 This year's Mid Sweden Nats, in the end of July, is the biggest event in many years at Sundsvall Raceway. Several drag racing series is taking the opportunity to be at the track.
In addition to the Summit Racing EDRS Series, EDRS Pro will do their show, including heavy motorcycle classes and Pro Modified. If that was´nt enough, the Swedish Champions in Pro Stock, Super Pro ET, Super Comp will be decided. Jr Dragster is having one of their Swedish Champions events at Sundsvall Raceway.
-We really hope that the teams take the chance to race at a great track, as we want a large and good starting field, says Göran Svensson, chairman of SHRA Sundsvall. So please, register early. That will get us really encouraged to work the hardest we can to make a fantastic racing weekend here at Sundsvall Raceway!
We wish all racers a warm welcome!
Photo courtesy: SHRA Sundsvall