Congratulation to all winners of 2020 Summit Racing EDRS Series season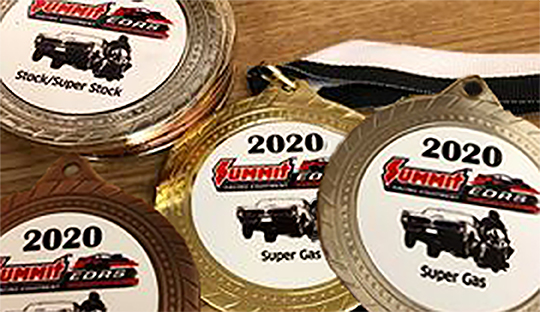 A huge Thank You to all who made this season to what it became. Not what we wanted and planned for, but at least we got something to think back on when the off season now is here.
We are grateful to all the competitors and organizers who stood up and fought for drag racing during this completely different season 2020. You all did what was possible to keep the series going. Many thanks!
And here are the winners in all classes:

Our colleague Simon Groves at eurodragster.com supplies us with a presentation of the winners. The article is up for reading down below and at eurodragster.com, of course, where You also find the motorcycle winner presentation.
EDRS Champions profiled – car classes
We congratulate the Summit Racing EDRS Series Points Champions 2020. The championship was of course shorter with eight rounds compared with 20 in 2019 and much less travelling possible between countries due to pandemic restrictions. With a lower infection rate, Finland was able to host larger fields at Kauhava with the result that Finnish competitors had more opportunity to accumulate points than their neighbours in Sweden and Norway. Accordingly, most EDRS champions in 2020 are Finnish and first time EDRS champions. As many of the champions are new, we provide some information below on each champion and their background in the sport: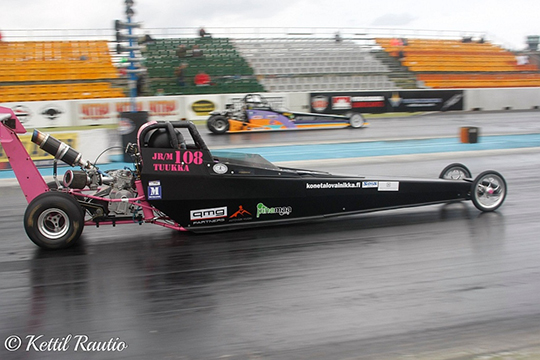 Junior Dragster: https://www.facebook.com/Tuukka108/ Tuukka Riekkinen (from Ruuhimäki, Finland, aged 14) won the champion with a semi-final and two quarter final places in fields of 15 cars in the first two events and 17 in the finale. Tuukka has raced since 2017 when he licensed and was 11th in last year's championship racing a 1998 Ranrace built short chassised dragster.
Pro ET: Rasmus Koivula (from Vantaa, Finland, aged 20) drives a team-built 1967 Plymouth Barracuda with the team title of https://www.facebook.com/miamiviceracing/ Miami Vice Racing, with a best ET to date of 9.516/234kph. He won the title by winning the second and third events at Kauhava, both with seven car ladders. Rasmus has been racing since 2016. More information is on the team's web site at https://www.miamiviceracingfin.com/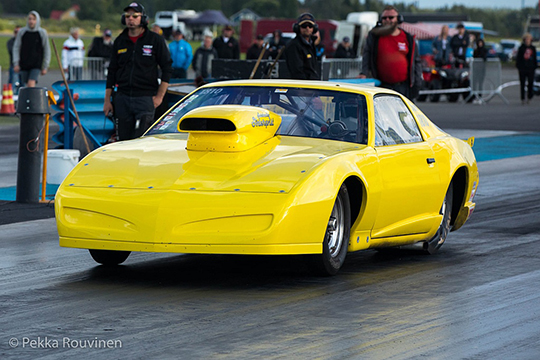 Super Pro ET: Janne Söderqvist (from Pori, Finland) drives a tube chassised Pontiac Trans Am with a naturally aspirated 565ci Dart-manufactured big block Chevy engine. A runner up and two wins gave Janne a big lead in the championship. Although he has raced since 1993, this is Janne's first year in the category.
Pro Street: Ossi Oikarinen (from Lahti, Finland) with the Double Zero Drag Racing Team races a '37 Chevrolet with nitrous assist. Ossi won all three events he competed in, although the fields were 3-4 cars compared with 20-30 in 2019.
Street: Lars Erik Persson (from Ås, Sweden) runs a Volvo PV out of Sunsvall SHRA. The class was only contested in two rounds in Sweden, where Lars Erik won both. His Volvo PV with a fibreglass reproduction body has a Chevy small block 427ci engine for the 8.60 engined class.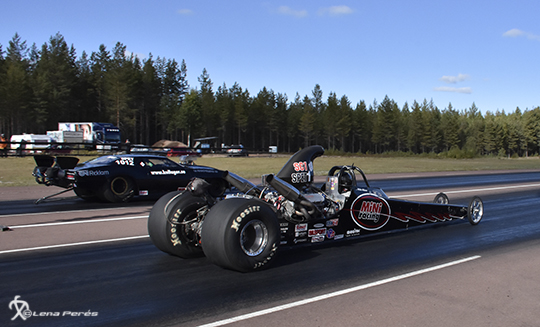 Super Comp: This category was only ran at the second Tallhed race and the Gardermoen NDRS finals. Both only had single entries, the dragster of Mikael Nilsson and funny car of Celina Hanssen, and so they have earned equal points.
Super Gas: Longtime competitor Christer Uhlin (from Malvik, Noway), who has raced in the category since 2004, used trips to the Kauhava, Finland and Haapsalu, Estonia race to gain additional points to allow him to take the title which is his eighth. Christer drives a Ford Fairlane 500 with a naturally aspirated Ford 557ci engine.
Super Street: Mika Patshijew (from Vantaa, Finland) was the champion in his first year in the category, and there was only one race for the title, in Estonia, where Mika was the winner over another Finn and seven Estonians. Mika drove a Plymouth Belvedere. Tõnis Uustalu
Stock/Super Stock: Jarmo Grönman (from Porvoo, Finland) won his first championship in his Mountain Dew Mustang Cobra Jet with a 429 Ninja engine running in Factory Stock/C class. A win in the first race and semi final in the third race were sufficient for him to gain the title as there was only one round in countries other than Finland.
Photo credits: Kettil Rautio, Pekka Rouvinen, Cenneth Schiller, Tõnis Uustalu