A new Pro Mod team from Sweden is race-ready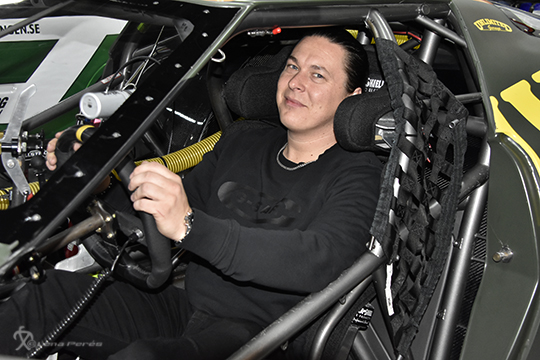 Jocke Andersson is all ready and is eagerly waiting to get out on the drag strips and race. In The Unlimited Garage in Örebro, the Corvette C4 team is now doing fine tuning for that little extra, waiting for the Covid-19 situation to settle.
Jocke Andersson and the team are ready for racing. Daniel Andersson (not in picture), Joakim Nickelsberg, Albin Lager, Johannes Westling, Joakim Andersson
Jocke and his team have built a drag racing car during a couple of winters, which is a little out of the ordinary. Jocke, among other things, has run Pro Street before and got a taste for quick times. To get there, it was time for something faster than a Pro Street car. A Corvette C4 was purchased from Göran and Daniel Andersson. Daniel is known as a team member in the Bröderna Lindahl team. That car has now been updated to be quick enough to run 5.80 elapsed times according to Jocke.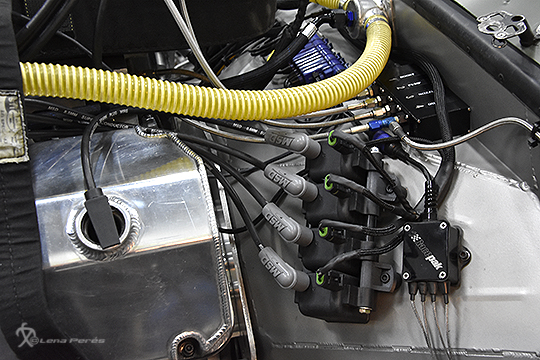 The new ignition system all in place. Jocke says that and the rest of the setup should make the car run 5.80 times.
"Everything is new in the engine," says Jocke. "The ignition system is brand new with separate ignition coils. We removed the stone age magneto based ignition system. Everything worked perfectly at the first start-up, so it will be exciting to see how it works on the drag strip".
The system is common in turbo cars and is considerably stronger than the magneto systems. Jocke may be the first drag racer in Sweden to mount it on a compressor engine. Or are there others that have adopted this? There is a lot going on in the race shops around the country right now, so it's hard to be sure.
Jocke is happy with all the updates on the Corvette.
Jocke has been brought up with racing since childhood. His father Ulf has been in the business for a long time and has raced among other things, a Barracuda and a Nova. In 2012, Jocke borrowed the Nova from his dad and the following year he tested it on the race track for the first time. After that there was no return, drag racing would be in Jockes future. In 2013, Jocke got his license at Tierp.
"I was thinking about racing in Super Gas then but the gearbox gave up", Jocke remembers. "We fixed it and then raced mostly at Kjula Raceway, but won a race at Tierp that Tommy "Tiger" Björk arranged.
Jocke was now completely hooked on the sport and bought a 1969 Camaro that was rebuilt for Pro Street. Among other races, Jocke and team took the car to Sundsvall Raceway was with his dads 620 cu.in. engine from the Nova. In 2016, a 706 cu.in. nitrous oxide engine of went into the car which was then raced in Pro Street for a number of events.
Joakim Nickelsberg is checking that everything is OK in the Corvette.
"I ran 7.50s with it and got really excited", says Jocke, "but I got disqualified a few times as the car was a bit too quick for the class. And 7.40 ETs did not give that real excitement anyway so we decided to buy a TD / PM car instead and go all in. We bought the Corvette from Daniel Andersson and Team Vargön and the engine comes from Pierre "Pirre" Rydberg.
Jocke at Tierp Arena 2018
In 2017, Jocke got his Pro Mod license in Sundsvall and he ran a 6.50 already in one of the licensing runs which inspired them even more. Jocke ran the Top Doorslammer series in 2018 which helped the team to sort out a few issues and also to work a lot with the body and the chassis.
"The plan was to switch to Pro Modified now that all the new car gremlins were fixed", Jocke says, "but due to other commitments, we did not race during 2019 and instead spent time updating the car for Pro Mod. So now the car is ready for the strip and the team is all set to go to test the super cool camouflage colored Corvette. Only a few but important details are missing, safety harnesses and driver's fire suit are stuck in the US at the moment, due to shipping problems associated with Covid-19. Hopefully we'll have that equipment before the next racing opportunity".
Team Jocke Andersson in waiting for racing.
"The first race should have been Tierp in June", says Jocke. "All we can do now is to wait and see. I hope we get some opportunity to race this year. In that, I especially want to thank my sponsors for all the help and support we have received while building this race car. They are an invaluable help for us in accomplishing this. An extra big thanks to our good friend, mentor and super tuner Daniel Andersson of DAN Tech & Racing AB who has helped us from day one with the new car and engine":
Sponsorer:
DAN Tech & Racing AB
Van Langenbergs Entreprenad AB
Örebro Byggnadsplåt AB
Owned.se
Neonom AB
Najs AB
Engvalls Spår o Mark AB
Enemans Alltjänst o Bemanning AB
Svetshuset i Örebro AB
Fe Welding
76 Olja
Hydroscand
Veho Bil
Plåt o Smidesverkstan i Hallsberg AB
Facts:
Driver: Jocke Andersson
Age: 34 years
Marital status: Single
Profession: Industrial maintenance manager.
Manufacturer: Corvette C4
Chassis: Jerry Bickel Race Cars
Engine: BAE 521
Compressor: Mike Janis 14/71
Fuel system: Waterman
Engine control: MSD Grid, MSD Pro 600
Horsepower: Enough for 5.80 times
Transmission: Lenco
Wheels: Weld Wheels
Team: Daniel Andersson of Dan Tech & Racing AB, Joakim Nickelsberg, Albin Lager and Johannes Westling.