Myggan is ready for racing
Activity is now high in the race shops all around the country. Most of our drag racers are ready to get out on the racetracks, but that is a no-go due of the current situation with COVID-19. Meanwhile, we do race shop visits, where there of course is lots of activity these days. "Myggan" in Super Pro ET is just about ready for the strip.
Stefan "Myggan" Jansson, in Tysslinge outside Örebro in central Sweden is craving for racing now. He just got his newly renovated Hemi 451 cu.in. motor fitted into in his Chevrolet 1957. He also upgraded his license to an A3B3 license last season to be prepared for a lower ET than Super Pro ET can offer.
– I had a plan to go faster with this Hemi than I did with the smaller engine, says Stefan. Maybe even step up a class as well. But I shelved that idea after the midsummer race in Orsa last year where I had a major engine failure. So, the racing season with that motor was over and done with.
Stefan had the old engine in the trailer and quickly put it in the '57 Chevy and was able to finish the race. The Hemi engine is now fresh and in place again and expectations are, or were, high for the 2020 season. It's now all up to the circumstances and developments around the COVID-19 virus.
Stefan's drag racing history begins in the late 1990s with street racing.
-I had a 1982 Camaro then", recalls Stefan. The week after I bought it, a compressor was fitted but on the way to the Classic Motor Festival in Ånnaboda, the engine failed big time.
A 1966 Nova -66 was acquired in 2008 and Stefan started to race in Pro ET after getting a license at Kjula Raceway.
– We took that Nova to Mantorp in 2009, he says. We ran 10.77 seconds with it.
Then a Hot Rod showed up in the garage, it is still there, it was raced in the same class for a few years. In 2014, it was time to get a hold of yet another racing vehicle.
It turned out a fairly special Volvo 340 that was saved from the scrap yard. It was an old famous Hansen Racing sponsored Pro Stock car that was campaigned by Stefan "Junior" Svensson and "Lampan" Ramsten of Quartermile Engineering.
– I worked it back to the old design from 1983., says Stefan. We raced it in Super Comp and Super Pro ET and participated in the EDRS series. The funny thing was that we were always too fast with that car in an 8.5 chassis. It didn't matter how we tried to slow it down, we were always too fast. It is the same engine we later used in the Chevy before we got the Hemi.
The Volvo was sold, and the current 1957 Chevrolet was picked up. Its history includes being the Pro Modified car of the Lindahl twins once up on a time and it's gone through a few other owners since. This Chevrolet suited Stefan with better results on the tracks, the car and engine worked much better together.
– In 2018, I won two events and finished as the Runner Up in the Super Series. I also won a local competition "Karlskoga Fastest", says Stefan. At the time I used the old smaller engine. 2019 was not as good unfortunately. When we put the new engine in, we thought the car would run real well, but we the connecting rods went through the block at the Orsa race. We switched to the old engine and continued the season. For the Mantorp race, the Hemi was put together again using some scrap parts and we managed good elapsed times. We ran a best of 4.57 seconds with an engine assembled pretty much by scrap. My worst competitor and best friend Tommy Abrahamsson, who runs in the same class, has helped me tremendously during this time. A big thank you to him.
Myggan and Tommy run some unofficial competitions between them. It should be noted that they usually pit next to each other at the races. Then it might be about who starts the car first thing in the morning and many others tricks to try to psyche each other out.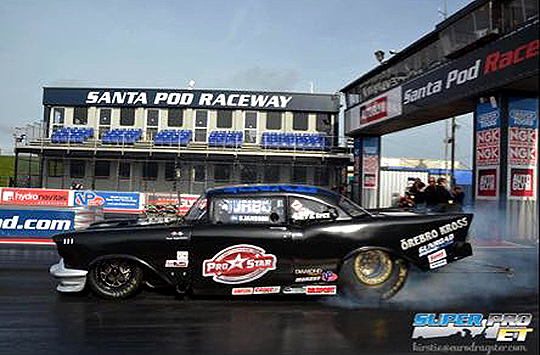 – We also went to England and raced at Santa Pod in 2018, recalls Stefan. That was a lot of fun! It seemed like the people appreciated the car.
Anyhow, the car is now like new and ready to race, renovated rear axle, new gearing and the next version of the 451 cu.in. Hemi is in place. There is only one small detail that needs to be done. and it's some wiring for the computer system. That's a job for the mastermind behind TA Performance, Tommy Abrahamsson, who'll easily fix that.
– The goal this year is, or at least was so far, to win events and to be among the top-3 in the Super Pro ET class and Super Series, says Stefan. I had an expectation of being able to run low 4-second runs over the 1/8-mile and maybe even a 6-second run at full length track. And I have a dream to run in Pro Modified one day but that's for the future. I like Super Pro ET very much, here you can continuously develop yourself, the car and engine. So right now, I'm just driving because I enjoy it, it's important to also have fun when racing.
Stefan would like to give a big thank to his sponsors:
Örebro Kaross
Hansen Racing
Isses Entreprenad
Anab
TA Performance
Family member Hedvig keeps Stefan company in the garage while waiting for the season to start.
Stefan's crew chief Malin Krügel is keeping check on most the things around the farm,  the track and the pits. Here she makes sure that the front of the car will be lifted off for a check underneath.
Stefan has won some trophies over the years and they have their special place in Stefan's workshop.