VP Racing Fuels are more than just Speedgroup's official racing fuel partner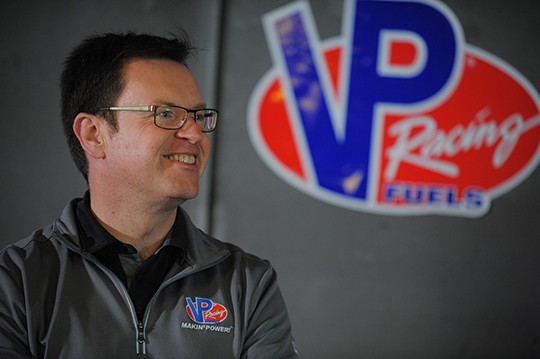 The 2020-season marks the fourth year in the partnership between VP Racing Fuels and Speedgroup. The cooperation started in 2017 when VP Racing Fuels joined the Speedgroup contingency program and was intensified one year later when VP Racing Fuels was named the official racing fuel partner for Speedgroup. Peter Coleman, VP Racing Fuels Business Development Consultant for Europe, looks back at this great period, but even more importantly, looks ahead to an even brighter future.
Soon after VP Racing Fuels joined the 2017 Speedgroup contingency programme, it was clear that both parties wanted to expand their cooperation. This intention was made concrete by signing a three year deal that made VP Racing Fuels the official fuel partner for Speedgroup. This meant that VP was more than a contingency partner only, as Speedgroup and VP would also work together at a number of race and non-race events.
Drag racing and contingency programmes have always played a major role in VP's marketing strategy, as the company's philosophy has always been that it is important to stay loyal to the people that started with VP, and that's the grass roots drag race competitor. VP are not just the official fuel of Speedgroup's Drag Racing Series, but also the official fuel of Santa Pod Raceway and several other championships around the world.
Peter Coleman, from the UK, joined VP in 2018 as VP's Business Development Consultant for Europe. "Much of VP's history is in drag racing and our cooperation with Speedgroup and Santa Pod are testament to that in Europe. Drag racers know that VP is available at many circuits and that it delivers great results every time, but with Speedgroup we are keen to spread the message of responsibility when it comes to handling fuel. Our network of dealers and distributors, particularly across Scandinavia and the UK, is strong, and there should be no need for racers to carry fuel long distances across borders, potentially breaking laws on the way. Our network, including Race Fuel Logistics and Old Hall Performance in the UK, Ljungdahl Racing and JAMS AB in Sweden, Lindtek in Denmark, Fannrem Motorverksted in Norway and Specialty Engineering in Finland, are supported by the contingency programme and should be able to get you any fuel to any location, with sufficient notice of course."
"I visited Tierp for the first time last year, and was hugely impressed with the depth and breadth of competition. At VP, we want to develop in several ways across Europe and a major hurdle was overcome last year when we set up a dedicated warehouse in the Netherlands so that we could expand in a more sustainable way. We want to continue to service all forms of motorsport – so that includes rallying and circuit motorsport where we have some great fuels to offer – without losing sight of our roots. On top of that, a visit to our website will show that we have so much more to offer than just race fuel, there's a selection of additives, coolants and lubricants for both the track and the road – so for fans of the VP brand who know it stands for quality, there's so much more available!"
"Of course, as the world battles the Coronavirus, this is the time for people in motorsport to step up. It's an industry with such an ability to adapt, with the spirit of teamwork and maintaining safety, so I am not surprised to see the technical solutions to medical needs coming from our own sector. When we have taken all necessary steps, and it's safe to race once more, VP will be there with full support. Until then, stay safe!"
VP Racing Fuels were founded in 1975 and are headquartered in San Antonio, Texas. They have close to 200 employees nationwide with five company owned and operated race fuel distribution points in Texas, Indiana, Georgia, Delaware and Tennessee, as well as a regional office in southern California. VP's distribution network of 2000+ dealers around the world extends to Europe, Central and South America, Middle East, Africa, Asia and the Pacific Rim.
VP are now recognized by many as the world leader in race fuel technology, with a catalogue of more than 80 fuel blends and a growing roster of VP-fuelled champions across the entire spectrum of motorsports. The passion and dedication of VP's development team to staying on the leading edge of technology is legendary. Most of VP's employees are or have been racers in one form or another and are driven by the competitive will to win. Together, the VP team intend to solidify their position as the true World Leader in Race Fuel Technology for years to come.